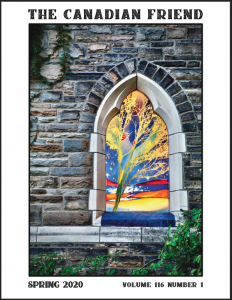 The Canadian Friend is the magazine of Canadian Yearly Meeting and is currently published three times a year to further the work and witness of the Religious Society of Friends in Canada.
Subscriptions for print or electronic versions of The Canadian Friend  are available.
Submissions on almost any topic of potential interest to Canadian Quakers are always welcome. Send submissions and inquiries to the editor (editor@quaker.ca).
Article should generally be between 500-1200 words. Photos and art are also welcome.
For inquiries concerning advertising and rates, contact the editor.
The Canadian Friend is published under a Creative Commons Attribution-ShareAlike 4.0 International Licence. Unless otherwise noted, you are free to share and adapt it, as long as you provide attribution and share any copies or derived work on the same basis.
Issues are available to read on-line, going back to 2001:
December 2020

Subscribers should receive the next issue.

October 15

Due date for this Winter issue

February 1

Due date for the Spring issue

Early April

Readers should receive this Spring issue