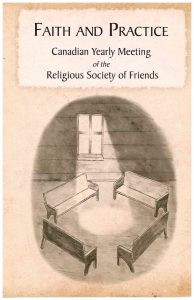 Faith & Practice was created by Canadian Yearly Meeting to provide support, guidance and growth to the spiritual lives of Canadian Friends. By serving as a reference of our values, witness and tradition, the book connects our small community spread across a large country.
Unlike a document that records directives for belief and behavior, Faith & Practice is a collection of writings and quotes selected by Canadian Friends relating to the many facets of Quaker belief. The selections record the insights of Friends inspired by experiences of truth that gave rise to witness and testimony and provides examples of how the Spirit of God can be carried in daily life.
The time will come for renewal and revision to reflect changed circumstances, emerging concerns and new glimpses of truth. We treasure the spiritual insights passed on to us by earlier Friends, but we must also speak to the conditions of our own time. When additions or changes are seen to be necessary, all Canadian Friends are invited to contribute selections from Quaker writings that have been meaningful and inspirational. This process of participation makes Faith & Practice an ongoing project that strives to distinctly express our Yearly Meeting's most spiritual life.
Faith & Practice forms one half of our Book of Discipline – the other half being Organization & Procedure, a guide to Canadian Yearly Meeting's structure and processes. Both volumes are usually printed with "Advices & Queries," a beloved set of counsel and questions worth pondering, which you can read below. There is also a Study Guide to Faith & Practice.
You can buy a copy of Faith & Practice direct from the CYM Head Office using one of these forms:
Faith & Practice Order Form (PDF)
Faith & Practice Order Form (doc)
Faith and Practice is not yet fully available in an electronic format. Samples from each chapter are included below.
Introduction
In former years a book expressing the faith and practice of a Friends Yearly Meeting would probably have been entitled "Book of Discipline." Indeed, "Discipline" is the generic term that is still used. In Quaker usage, the word "discipline," which is related to "disciple," has grown from the root meaning of learning. Thus, a Book of Discipline enables us, if we are willing, to learn to live as Friends, individually and corporately.
Older Books of Discipline tended to make corporate statements of faith and establish explicit standards of appropriate Quaker behaviour. Witness, for example, the earliest document of Quaker Discipline, the "Letter from the Elders Gathered at Balby, 1656" (see Appendix A), of which only the short postscript is familiar to most Friends today. This epistle comprises a set of expectations that were considered to be necessary for the growing new movement.
The fundamental elements of their advice are still vital to our practice although three and a half centuries have passed:
a practical organization of meetings for worship held in
the right spirit;
pastoral care;
responsible family life;
responsible corporate life, including careful registering of
marriages, births and deaths;
social responsibilities in one's employment and public life.
A living tradition grows, however, retaining the best of its past while adapting to the needs of the present. The Yearly Meetings that were formed as time passed, in faraway lands settled by Friends as well as in Britain, felt it wise to provide written guidance for faithful living in new and unforeseen situations. They included not only advice about dealing with outward behaviour but also counsel aimed at nurturing the inner life and fostering spiritual growth.
For a Book of Discipline to be useful in promoting learning, it must reflect the attitudes, experiences and challenges of a given body of Friends at a particular time and place. That is the aim of this Canadian Faith and Practice book.
Canadian Yearly Meeting was formed in 1955 by the union of Canada Yearly Meeting (Orthodox), Canada Yearly Meeting (Conservative) and Genesee Yearly Meeting (Hicksite). These three Meetings had each been using a different Discipline: The Discipline of Canada Yearly Meeting of the Religious Society of Friends (1932), the 1859 edition of the Discipline of the Society of Friends of New York Yearly Meeting and The Book of Discipline of the Religious Society of Friends: Christian Practice, Business Procedure (1929), respectively. One of the necessary tasks immediately undertaken by the new organization was to agree on the Discipline it would follow. Part of this goal was achieved in 1964 when, in accordance with the  recommendations of its appointed Discipline Committee, the Yearly Meeting adopted Christian Faith and Practice in the Experience of the Society of Friends of London Yearly Meeting (1959) as Part One of its Discipline. At the same time, a draft version of Part Two, Organization and Procedure, was being developed, based on the usages described in the Disciplines of the predecessor Yearly Meetings. Since its first printing in 1969 this second component has been frequently modified and reprinted to reflect changes and developments in the organization of the Yearly Meeting.
Christian Faith and Practice has been cherished by two generations of Friends in Canada and it continues to teach and inspire us. For some years, however, Canadian Quakers have recognized that we need to give our own answer to that probing question posed by George Fox, "What canst thou say?" In 1982 Friends minuted their intention to prepare a supplement to Christian Faith and Practice, consisting of passages from the written record of Canadian Yearly Meeting. Extracts from the Minutes of Canadian Yearly Meeting 1955–1993, published in 1994, was described as a spiritual resource rather than a formal  part of the Discipline. Its introduction concludes with the words, "What we have here is a beginning."
During that same decade London Yearly Meeting was in the process of revising its own Discipline, as it had done in almost every generation since its first in 1738. Christian Faith and Practice was destined to go out of print. Thus, in 1998 Canadian Yearly Meeting appointed a small committee to develop proposals for a way to move forward in this matter. Two years later it made the decision to initiate the long-term project of creating its own book of Faith and Practice, which would not only record our Quaker heritage but also express the Canadian Quaker experience. Organization and Procedure continues to serve as an integral part of Canadian Yearly Meeting's Discipline.
What is it that makes our Yearly Meeting's Quaker experience distinctive? Consider, first, who the Canadian Quakers are and where they came from — that is, their roots, in both a geographical and a theological sense. The Quaker settlers who began arriving in the late eighteenth and early nineteenth centuries as pioneers, moving northwards from the newly born United States, were members of established American Meetings, Meetings that would soon be suffering the disruptions and hurts of the unhappy Separations. They brought with them the doctrinal orientations of the Meetings with which they were affiliated as well as the usages detailed in their own Books of Disciplines.
In the twentieth century many small rural communities in Canada, such as those which Quakers had settled, began losing their populations in a general movement of urbanization. Also, especially after World War II, an influx of Friends from England and other European countries contributed yet another background tradition. These arrivals tended to settle in cities, giving further impetus to the start of a new Meeting, often centred around a university. Such embryo Meetings might grow by attracting newcomers with no Quaker background at all. Today a large proportion of Friends in Canada have joined the Society by convincement, as adults; relatively few have grown up in Quaker families and Quaker communities.
It should, therefore, come as no surprise that the writings collected in a Canadian Faith and Practice express different ways of understanding the Quaker faith and, in particular, different points along the Christian-Universalist continuum. The extracts should be read in the same way that we listen to vocal ministry, even when it does not match our own beliefs. Rather than rejecting a message outright, we can welcome it as a means of testing the strength and validity of our own convictions and as a way of enlarging our vision.
Nor should it be surprising that, in this collection, there seems to be a wide gap in time between the foundational writings of the first Quakers in the seventeenth century, mainly in England, and the written offerings of Friends in Canada, where the first Meetings were not established until the 1800s.
Our Advices and Queries caution us to avoid provocative or hurtful language. Friends today have recognized that this admonition has relevance for words relating to gender, especially when used in religious writing. In this Faith and Practice book, a product of the twenty-first century, effort has been made to select extracts that avoid gender-exclusive language or, where necessary, provide clearly indicated modifications. However, it would be distorting the honest intentions of Friends living in past centuries to alter their words in quotations that have become well known and loved. In a similar spirit, the decision was occasionally made to retain an unusual language usage where it was clearly the product of an author's deeply held conviction.
Friends expect a great deal from their Yearly Meeting's Book of Discipline. In her Sunderland P. Gardner Lecture at Canadian Yearly Meeting in 2005, Helen Rowlands enumerated a set of functions such a book is expected to fulfill:
it is used for reading in worship and private devotion;
 it expresses the principles by which our Society is regulated;
 it teaches us some of our history;
it provides a reference point for our Testimonies and values;
it helps us understand the developing nature of our faith traditions.
These functions are especially important in the Canadian situation. We live in a vast land in which just a few Meetings exist, most of them quite small. Isolated from one another by hundreds of kilometres, Meetings are rarely able to foster close contact with one another. Newly convinced Friends in such Meetings may lack channels through which they can grow in their knowledge of Quaker values and practice. We need support and guidance from our Book of Discipline.
When Canadian Yearly Meeting began investigating the feasibility of creating our own Faith and Practice book, Canadian Friends' response to a questionnaire was that it should be inspirational, devotional, challenging and educational; it should be a source of historical information and it should stimulate personal growth. Evidently, Friends will use their book for different purposes at different times.
The form in which the content of our Faith and Practice book is presented may enhance the possibility that these different purposes may somehow be satisfied. Whereas the Elders at Balby did not hesitate to state their advice in the form of directives, it is more typical today for a Book of Discipline to adopt an anthological presentation, following the practice begun in 1921 by London Yearly Meeting. This approach offers written records of the lives, insights and actions of Friends throughout our history, describing their personal experience of the Truth out of which arose the inspiration for their witness in the world. Such writings do not stipulate what we must believe or how we are obliged to behave.
Rather, they are a gift of "patterns and examples," as George Fox charged all Friends to be. They demonstrate convincingly that real men and women, like us, have opened themselves to the Spirit of God and have been enabled to carry that holy spirit into daily life, no matter what situations they found themselves in.
A special feature of Canadian Yearly Meeting sessions has been the preservation of memorable comments of humour and wisdom, called Gleanings, heard throughout the week. The name "gleanings" comes from the practice, in biblical times, of allowing the people to go into the fields to gather what is left after the harvest. Some of these Gleanings, including the year in which they were coined, appear in these pages. Thus we continue to benefit from the harvests of past years.
The time will come for this book to be renewed. It is a characteristic of Quaker Books of Discipline that they are revised after a generation or two in order to reflect changed circumstances, emerging concerns and new glimpses of truth. We treasure the spiritual insights passed on to us by Friends from earlier times, but we too must speak to the conditions of our own times and witness to those who come after us.
From its inception, the creation of our own Faith and Practice book was conceived as a project of the whole Yearly Meeting. The committee appointed to coordinate the task began by calling on all Canadian Friends to work, either as a group or individually, to identify appropriate writings. Whenever the preparation of a new chapter was undertaken, the request sent to every Meeting and Worship Group was for members to contribute extracts from Quaker writings that have been particularly meaningful and inspiring to them. It is this process of participation by Friends that, more than geography or history or any other factor, makes this book distinctively a Canadian Quaker Faith and Practice: the sense of our Yearly Meeting attempting to express its deepest life.
Chapter One — Experiencing the Spirit: Our Faith
For Friends the wellspring of faith is the search for what George Fox and early Friends described as the Inner Light, the Seed, the Truth, the Life, the Power, the Christ within — all leading to an inner awareness through which they embraced and experienced the Sacred and were changed by it. Waiting in silence that brought forth vocal ministry, they discovered a power that challenged them to find their own faith. Friends have found inspiration in the Christian message and in the role and significance of Jesus, but at the heart of this faith is an emphasis on the inward experiential testimony to a way of life that resists creeds or doctrines, inspiring Friends to act out their faith in their everyday lives.
As George Fox said, "We need no mass to teach us, for the spirit that gave forth the scripture teacheth us how to pray, sing, praise, rejoice, honour and worship God, and in what, and how to walk and to behave ourselves to God and man, and leadeth us into all truth, in which is our unity; and it is our comforter and guide and leader, and not men without who say they have not the spirit and power that the apostles had" (Epistle 171, 1659).
For Quakers, the encounter with the Sacred is within, and the inspiration for that encounter may be found in the Bible, in the Christian faith, in testimonies of other Friends, through individual and corporate discernment and through our relationship to other faith traditions and to the natural world. However, the foundation experience is that the Truth is reached beyond words, in stillness, in the hearts of all people who seek God.
1.1 – 1.12 Historic Testimonies
1.7. George Fox wrote the following message to Friends in November 1663 during a time of much  persecution.
Sing and rejoice, ye Children of the Day and of the Light, for the Lord is at work in this thick night of Darkness that may be felt: and Truth doth flourish as the rose, and the lilies do grow among the thorns, and the plants atop of the hills, and upon them the lambs do skip and play. And never heed the tempests nor the storms, floods nor rains, for the Seed Christ is over all and doth reign.
1.13 – 1.44 Spiritual Experiences of Friends
1.20. It seems to me that faith is optimism and cheerfulness, the opposite of despair and giving up. Even in the first half of my life, which was devoid of any religious practice, I had faith — but didn't know it. It was a matter of interpretation of terminology, as well as curiosity, and I am still seeking.
I think of faith in God as a kind of human version of instinct: the Light Within, or as Aboriginal people say, "instructions from the Creator." Quaker silent worship can reveal this right and natural part of us, and I am grateful to have experienced its mystery. I have found, too, that this centering connects me with feelings of justice and equality I have harboured since childhood but didn't know what to do with, and stimulates me to act upon them.
—Edith Miller, 1998
1.45 – 1.57 Prayer and Meditation
1.53.  We must first seek the Light, then follow it…For Friends, silence is a concept that is at once old and familiar, yet in terms of practice very new and strange. Talking, imaging, visualizing obstruct the inner life, and our experiencing it. Silence, not just the absence of talking, needs cultivating and practice for its creative use. It is a way to transform existing into full living. And when we become truly at home with silence, it can be a healing and an interconnecting arm.
—Canadian Yearly Meeting, 1985
1.58 – 1.68 The Inward Teacher: Discernment
1.66. It is good to be reminded that even trying to discern works for us as it brings our spirit closer to God. I don't think of God as something with personal attributes, so I don't feel forgiven by God when I make mistakes, but I can feel the spirit of God working in others when they forgive me for making mistakes.
—Lynne Phillips, 2001
1.69 – 1.101 Quaker Understanding of Christian Faith
1.90. I am Christian because it makes sense to me. It looks to me as if the message Jesus brought was that the divine is accessible to everyone, and that from that dialogue with God flows concern for the people we live among. When John the Baptist asked Jesus whether he was "the one who is to come," Jesus said, "Go and tell John…the blind receive their sight and the lame walk, lepers are cleansed and the deaf hear, and the dead are raised up, and the poor have good news preached to them." In other words, not theology, not theories about the Son of God, but: look at what is going on in our community, and listen to the good news. The good news, as far as I am concerned, was the same as the good news George Fox discovered: that there is one, Christ Jesus within, who speaks if we listen. Except Jesus wouldn't have called the divine spark "Christ Jesus," but "God," or some Hebrew name for the divine.
But that it is THERE is the good news…
It would be unreasonable for me to expect all persons who come into attendance or membership with the Religious Society of Friends (Quakers) to call themselves Christian. I do think it is reasonable to expect all of us to listen respectfully to one another's leadings and insights, which are going to come couched in terms of the stories and myths which are meaningful to the person speaking…
I feel hurt if a Friend misunderstands my claiming of Christianity and thinks I must mean that I am closed to all further revelation.
—Margaret Slavin Dyment, 1999
1.102 – 1.113 Friends and Other Spiritual Traditions
1.102. The 12th day of the 6th month [the first day] of the week being a rainy day we continued in our Tent and here I was led to think on the nature of the exercise which hath attended me. Love was the first motion, and then a Concern arose to spend some time with the Indians, that I might feel and understand their life, and the Spirit they live in, if haply I might receive some instruction from them, or they be in any degree helped forward by my following the Leadings of Truth amongst them, and as it pleased the Lord to make way for my going at a time when the troubles of war were increasing, and when by reason of much wet weather travelling was more difficult than usual at that Season, I looked upon it as a favourable Opportunity to season my mind, and bring me into a nearer sympathy with them. And as mine eye was to the great Father of Mercies, humbly desiring to learn what his will was concerning me, I was made quiet and content.
—John Woolman, 1763
Chapter Two — Faithful Lives
What constitutes a faithful life? Generations of individual Friends have manifested their faith in many different ways and in circumstances both ordinary and extraordinary. Each of us has particular gifts and insights that will lead us along diverse paths. Our task is to develop and use the talents we are given.
Some Friends have been called to an active public ministry, travelling the world to respond to the light in their consciences, inspired perhaps by the example of Jesus or George Fox or Gandhi while never feeling their efforts are quite strong enough. Some give a quieter daily witness to the divine spirit of love and peace within, touching with blessing the lives of everyone they meet. Each person's faithfulness is precious.
In the first part of this chapter several writers explain their understanding of the call to faithful living. In the second, a few examples from Testimonies and memoirs illustrate the thankfulness we feel for the grace of God shown in a faithful Friend's life.
The Afterword offers the confident message that, as each of us responds to the call to be faithful, our own lives become spiritually deeper and richer.
2.1 – 2.5          The Call to Faithful Living
2.5. Sometimes we will be faithful. We will find the strength to do more than we ever thought we could in obedience to a call. Sometimes we will be unfaithful. We will say "No!" to a clear call, lacking courage, or will not even hear our call. We will stumble.
That's how we learn to say, "Oops! That wasn't right. I/We made a mistake. Let's try again." That's why we call our process "experiments with truth." We have to act with the light we have and see what  happens. We also need to remember that God is merciful, present with us whether we are faithful or not.
—Jan Hoffman, 1998
2.6 – 2.22        Thanksgiving for a Faithful Life
In accordance with our Testimony of Simplicity, Friends have always avoided ostentation at funerals and burials. Instead, from the early years of the Quaker movement we have recorded our thankfulness for the Grace of God that we have witnessed in the life of a deceased Friend by preparing a Testimony. Sometimes, too, an individual Friend has been prompted to write an appreciation of a Friend's faithful service. Such records offer us a wealth of material showing ordinary Friends living out their faith from day to day.
 2.15. From the Testimony concerning Nancy Meek Pocock
(1910–1998):
In the late 1960s…[Nancy and Jack Pocock] first opened their home to draft dodgers and deserters coming to Canada rather than fighting with the U.S. forces in Vietnam. Nancy and Jack's commitment to helping end the war by sheltering many, both from Vietnam and the U.S., continued throughout the years of the Vietnam War.
There are many Americans and Vietnamese whose first Canadian home was with Jack, Nancy and Judy.
In February 1975, only months before the end of the Vietnam War, Nancy suffered a great loss when her husband and partner in work and in life, Jack Pocock, died. From that day forward, Nancy devoted her life to helping others. Most important was her work on behalf of refugees from Latin and Central America and indeed all over the world. Her home became a beacon and a refuge for many.
Nancy continued this work throughout her life, working for refugees right up until the end. Even as she lay on a stretcher in the crowded emergency department, she helped to write a letter seeking support for the refugee programme.
Nancy Pocock's name and work are known and remembered around the world. She was invited to Vietnam on five different occasions, the first while the war was still on. Today a medical clinic in Vietnam bears her name, and she was awarded the Medal of Friendship from the Socialist Republic of Vietnam in 1978.
—Toronto Monthly Meeting, 1998
2.23                          Afterword
2.23. To most of us are given some common little jobs every day of our lives. To a very few comes the call to do something extraordinary, some great task. The world abounds in men and women who find happiness and opportunities for self-expression in being faithful in the humble stations of life which are theirs at a given time. If we are loyal to the truth as we see it, and respond with our might in the "common" situations in day-to-day living as we face them, the glow of the grace of God deepens and nurtures our faculties for insight and for recognition of the true worth of things and of [people].
—Ranjit Chetsingh, 1975
Chapter Three — The Meeting Community
Introduction
The Meeting Community is that place where each of us is supported in the life of the Spirit. More than a place or a group of people, it is a state of possibility and an experience of community that underlies our religious life together.
Our community is embodied in the life and witness of Friends. Our experience of the corporate life of the Meeting community, sitting together in worship to discern the will of God, whether in Meeting for Worship or in Meeting for Business, is a process of being open to the direct guidance of God, aligning ourselves with Divine Spirit and recognizing our place in the order of things. This is what sustains us, binds us together. We meet, and we are a Meeting. Deborah Haight, in her 1987 Sunderland P. Gardner Lecture, titled Meeting, distinguished two complementary ways in which Friends use the word "Meeting":
"The easier half to grasp is the usage of Meeting to refer to a coming together at a given place and time for any one of a number of designated purposes: worship, discipline, business affairs, celebration of marriage, memorial to the life of one deceased, planning for and commitment to service by others, and so on. The less easily recognized, but to my mind the primary usage, is that of Meeting as a body of people, a community…I would like to suggest that this sense of Meeting is the primary continuity that accounts for us being the Religious Society of Friends for more than three centuries.
I will even suggest that to lose or never to grasp this sense of Meeting more than anything else jeopardizes our life today and tomorrow as a religious body. Let me try a simple differentiation between these two usages: for the easier we say go to Meeting; for the other we say we are the Meeting. In the first sense we assemble and disperse; in the second we live, day in day out, acknowledged by, known to one another. For the first usage, we need a calendar, clocks, and maps; for the second, we need to be named; we need to know who we are, and whose we are; we need to know by whom we are gathered."
The extracts in this chapter cover the many aspects of being a Meeting. Some describe our worship, our decision-making process, our thoughts on religious education, our care for one another in a society that has no paid pastors, and the fellowship that supports us. Others reveal our associations within the whole family of Friends. Together, the writings show how the inward journey of an individual relationship with God, leading to the outward journey of witness to the wider society, is nourished and strengthened by membership in the Meeting Community.
3.1 – 3.14        Worship
3.1. A Friends meeting, however silent, is at the very lowest a witness that worship is something other and deeper than words, and that it is to the unseen and eternal things that we desire to give the first place in our lives. And when the meeting, whether silent or not, is awake, and looking upwards, there is much more in it than this. In the united stillness of a truly "gathered" meeting there is a power known only by experience, and mysterious even when most familiar. There are perhaps few things which more readily flow "from vessel to vessel" than quietness. The presence of fellow worshippers in some gently penetrating manner reveals to the spirit something of the nearness of the Divine Presence…And it is out of the depths of this stillness that there do arise at times spoken words which, springing from the very source of prayer, have something of the power of prayer — something of its quickening and melting and purifying effect. Such words as these have at least as much power as silence to gather into stillness.
—Caroline E. Stephen, 1908
3.15 – 3.27      Ministry
3.17. The Meeting affects the ministry quite as truly as the ministry affects the Meeting. If those who come together do so in expectant faith, and in genuine love and sympathy with one another, striving to put far from them thoughts of criticism and fault-finding, and praying earnestly that the right persons may be led to speak and the right messages be given, they will not go away unhelped. It is in such an atmosphere that the Holy Spirit can work effectively to bring forth the utterances that are needed, and to  check those that are not required. On the other hand, the spirit of indifference or of cold and unfriendly criticism injures the whole life of the Meeting, and we need not wonder if in such an atmosphere speakers mistake their guidance.
—Discipline, Canada Yearly Meeting (Five Years Meeting), 1932
3.28 – 3.38      Living the Spiritual Community
3.31. There is an undercurrent of concern for deepening the life of the Spirit…[W]e realized it must begin with the inner work of each individual. We must continually pay attention to the Light as it shows us things inside that do not conform to the Light. We must then ask God to transform those parts so we are better able to hear and obey God. As we commit ourselves to this individual process, we as a group will be enabled to hear and obey God. We cannot expect the yearly meeting to be a shining example of a faith community under the direct guidance of the Spirit unless a solid core of members are seriously engaged in living into the Truth, as we are challenged to do by our history and faith.
—Marty Grundy, Clerk of Lake Erie Yearly Meeting, 1991
3.39 – 3.5        Meeting for Business
3.43. We see our meetings for church affairs not as business meetings preceded by a period of worship, but as "meetings for worship for business." Ideally, the sacred and the secular are interwoven into one piece. Believing that all our business is brought before God for guidance, we deprecate all that may foster a party spirit or confrontation. We therefore seek for a spirit of unity in all our decision making.
—London Yearly Meeting, 1986
3.51 – 3.61      Membership
3.57. Membership in the Religious Society of Friends is offered to those who wish to share in the search for divine guidance, according to the manner of Friends. Meeting in worship, Friends gather to experience communion with God. Believing that God speaks directly to each person, worshippers are listeners, ready to receive  God's message. The call to a vocal ministry may come to any worshipper. Membership in the Society of Friends includes the responsibility of attending meetings for worship and for business, sharing in the religious life of Friends, and in the practical expression of our religious faith through our care for each other and service to the wider community.
—New Brunswick Monthly Meeting, 1998
3.62 – 3.75      Companions on the Journey
3.66. Let us not underestimate our own ability to help each other. Perhaps we delegate too much of such responsibility to committees because we fail to see the caring that we ourselves may give. Care can be very simple and yet be appropriate and valuable. A smile can take on a meaning far beyond appearances. We are not always thinking about the other person, but often of how they might think about us. The little things are an important part of caring.
—Canadian Yearly Meeting, 1980
3.76 – 3.84      Religious Education
3.78. "The Spirit of God may emerge from the pages of a book to take wings in the life of a reader." I saw these words recently on a poster, and feel that they express the basic purpose of the library in a Friends meeting…
Since our unprogrammed meetings do not have teaching sermons, a heavy responsibility lies with each person to learn on her own; faith is a maturing process that must go on all of one's life. Reading  thoughtfully somehow sensitizes a person and broadens and sharpens his perception and awareness. Good books seem to hold a mirror up to us, and we see ourselves in reflection in a different light…
Somehow, in our busy lives we must take time to read and reflect. So often we feel helpless about situations beyond our immediate control. But we can become informed about issues, and by becoming informed we find our concerns are sharpened and we are made more open to the leadings of the Spirit.
—Arnold Ranneris, 1971
3.85 – 3.89      The Family of Friends
The Religious Society of Friends often looks upon itself as a family. A person who becomes a member of a Monthly Meeting thereby becomes also a member of the Yearly Meeting and the worldwide Society of Friends. The sense of belonging within the Society is a treasured heritage.
3.89. There have been many unforgettable moments of deeply felt kinship among the world family of Friends. One such moment came during a meeting for worship at the [Friends World Committee for Consultation] Triennial in Oxtapec, Mexico in 1985. Bolivian Friend, Salome Barteloma, rose and prayed in her native language, Aymara. Her heartfelt prayer was not translated into English, as there was only Spanish/English, English/Spanish translation.
When the period of worship had ended, a Korean Friend was heard to remark, "How is it that a Friend from Bolivia knows how to speak Korean?"
—Doris Calder, 2000
Chapter Four — Testimony: Faith in Action
Introduction
Let your lives speak. These challenging words continue to inspire Friends as they seek, in the twenty-first century, to live in the Light.
Early Friends experienced a transforming power when they found their Inward Teacher. Francis Howgill, an early Friend, tells of the sense of the "Lord of heaven and earth…near at hand…We came to know a place to stand in and what to wait in, and the Lord appeared daily to us, to our astonishment, amazement, and great admiration, insomuch that we often said one unto another with great joy of heart: 'What, is the Kingdom of God come to be with men?' "
Friends have always found difficulty with outward forms and written creeds. The Testimonies of our Religious Society have played a significant and uniting role in helping Friends experience the beloved community and a living faith.
In a courtroom a witness testifies to the truth in a given situation. Friends testify in words and deeds to the Truth to which the Inward Teacher calls us. Because the inner promptings so often led Friends to similar actions, these became recognizable behaviours by which one could identify Friends.
This chapter on Faith in Action refers especially to the unfolding understanding of Testimonies among Canadian Friends. The Testimonies of early Friends created a community of faith at a time of political and religious turmoil. They were able to live their Testimonies as a people gathered, guided and ordered by God. We are their heirs. Their faithfulness set a direction and pointed to the future. As Canadian Friends we are seeking to learn more of what is required of us in our own days. We seek to be led by the same Inward Teacher and to be guided, in different times and circumstances, by the same Light within.
4.1 – 4.11        Quaker Understanding of Testimony
4.9. …[S]tart from the premise that to remain silent on crucial issues is to make a conscious decision. It is therefore pointless to remain silent in order to avoid accountability. We will be held responsible for our silence, as well as for our activities; just as the university teachers of the Germany of my childhood were held responsible — morally and fraternally — for their silence and their collaboration with an evil system. We need to think clearly and to speak out together with insights coming from the collective knowledge, experience, and conviction of our community.
—Ursula Franklin, 2000
4.12 – 4.17      Integrity
4.17. We know truth through what we see, read, do and feel ourselves. We dare etching our testimonies every time we state what we deeply believe and do what our soul calls us to do. We learn from the past but live in the present looking to a future for all creation.
We need to affirm our own place in history-in-the-making by living and speaking our truths for ourselves and our children… By taking up the call of our spirit and living life with passion and conviction, we feel the heat of truth and rightness in our heart of hearts. Here, in our stirrings of gut knowledge and intuition, we find our passionate calling to certain beliefs, our lovers, our place in this chaotic world,  answers (or solace) for the questions that confront us. Each of us feels the passion called truth. It's our choice to listen and act or not. The truth in our bones can be scary; it asks us to put our hearts on the line. In following our hearts, however, we will find ourselves in exquisite alignment with the power-filled spirit that we seek truth from.
—Jane Orion Smith, 1994
4.18 – 4.36      Peace
The Peace Testimony is probably the best known of the Quaker Testimonies. The roots lie in the personal experience of the love and power of Christ which marked the founders of the Quaker movement.
The early statements of the Society's corporate witness set the basic principles of the Peace Testimony and served to distinguish Quakers from those suspected of plotting to overthrow the established authorities.
 4.27. Inspired by the Sunderland P. Gardner Lecture presented by Murray Thomson in 2006, Canadian Yearly Meeting in session approved the statement, "Toward a Culture of Peace," which includes these prophetic words.
As a Society, we have refused to condone or participate in war. As a result of our witness and that of other historic peace churches, the right of conscientious objection to war has become a right of all Canadian citizens.
Seventy-five years ago, the work of Friends on issues of peace, social justice and humanitarian relief led to the formation of the Canadian Friends Service Committee. Since its founding this service arm of Friends in Canada has extended its concerns to include solidarity with aboriginal peoples, support for refugees, international concerns of development and peace and abolition of the death penalty.
Since the end of World War II, Canadians have made longlasting contributions toward building a global culture of peace. Canada helped to construct and put into place many agencies of the United Nations, including its major programmes for disarmament, development and human rights. Our country contributed to strengthening institutions of international law. And, until recently, Canadians led and participated in almost all of the united peacekeeping missions. Canada has also been a haven for immigrants and refugees.
To our dismay, we witness a change in our country's moral compass, one that points away from a culture of peace toward a culture of war… The Religious Society of Friends (Quakers) calls on our government and fellow citizens to turn away from a culture of war toward a culture of peace.
We call on our government to redirect vision and resources into an ecologically sustainable planet Earth…
We are part of a great chain of people who care about the Earth. Let us work to protect and restore it again to health… And in such ways we Friends will be faithful to our 350 year tradition. In the words of William Penn, seventeenth century Quaker, "Let us try, then, and see what love can do."
4.37 – 4.44      Simplicity
4.44. If we can attain it, how does simplicity shape our lives?
Needing little, keeping away from extremes, excess, brings an other kind of contentment, a simpler wealth. Simplicity is the essence of stillness, an untroubled way that keeps from grasping, hoarding.
Simplicity lies at the heart of the Quaker way of life. Keeping to simplicity is to realize that it is the Light within that leads us, restrains us, inspires us. Knowing this Divine Light is within, we are all children of the Light, all equal. Keeping to the contentment of simplicity leads to peace. Following the plain truth leads to integrity. So all the testimonies are reflected in simplicity. Need little. Want less. It seems a difficult concept in the frantic haste of the world today. We are surrounded on all sides by voices crying their bad advice to buy (save), conform without question, voices that condone greed and excess. It seems hard going against all the pressures that urge us away. Yet keeping to simplicity is turning back to God, is a relief, is the only thing we can really do…
Early Friends testified against the extravagance and snobbery of English society in their times and turned away from the superfluities of society to wait in stillness on God. They were as concerned as we are that lives too full of triviality and mediocrity overburden and distract us from the essential, the positive, the simple truth that we are children of God, and that the first thing we have to do is love God with all our heart and mind and strength.
—Anne-Marie Zilliacus, 2001
4.45 – 4.52      Equality
4.48. Those that speak against the power of the Lord, and the Spirit of the Lord speaking in a woman, simply by reason of her sex or because she is a woman, not regarding the Seed and the Spirit and Power that speaks in her, such speak against Christ and his Church.
—Margaret Fell, 1666
4.53 – 4.67      Justice
4.55        Solidarity with Aboriginal Peoples
4.58        Human rights
4.62        Transformative Justice
4.64. In the small room where I meet inmates face to face one afternoon each week, the Spirit is   constantly challenging me to leave behind the perceptions and apprehensions that I carry about with me on the outside.
The walls of the prison are constantly dissolving as relationships are formed out of little more than the mutual presence of two individuals who are open to the mediation of an Eternal Listener, if only for a short time.
The spiritual life is a matter of being present in everything we do, with everyone we encounter. This is hard enough to maintain on a day-to-day basis. But in prisons, which stand among the darkest shadows of our human society, the sense of the divine presence is particularly wonderful when it breaks through.
—Keith Maddock, 1999
4.68 – 4.79      Unity with Creation
4.77. We affirm the interrelatedness of nature, spirit and all living beings as expressions of God's creation. This guides us towards a holistic lifestyle which models for ourselves and others ways to heal the earth.
We are responsible for what we eat, wear and use. To paraphrase John Woolman: Let us be open to discern how the seeds of destruction of our planet are present in our ways of living.
We are thankful that so much joy and beauty have been offered to us.
—Canadian Yearly Meeting, 1992
Chapter Five — The Lifelong Journey
One of the miracles of human life is that we remain the same person even while moving from infancy, through childhood and adolescence, into the fullness of adulthood in all its manifestations. Awareness of God's presence comes to us in different ways at different times. Each stage of life offers opportunities for growth in experiencing the Spirit.
5.1- 5.24          Childhood and Youth
5.15. Interaction between adults and youth is very important for understanding each other. But we obviously don't do enough of this, if you look at how intimidated the groups are by one another.
The question is how we create situations that older and younger people can be together in.
I have had the luxury of always having older Friends and role models whom I feel comfortable with, and I'm sure they feel comfortable with me. But through them, I have found out that I am, in some circumstances, the only teenager they can relate to in the way they do. After hearing this shocking news, I started watching my age group from as much of an adult point of view as I could. I realized how right my adult friends were in saying that teenagers are intimidating. I suppose I was a little horrified to figure this out, as I have always loved any time I get to spend with older (and wiser?) people, and wanted to know why other kids my age didn't seem to. I then stepped back and looked at the adults' actions towards us.
And what did I find? They were just as intimidating… So what am I saying? Get out there and learn about each other!
—Beth Curry, 1999
5.25 – 5.28      The Journey Continues
5.26. Early Friends committed themselves to living fully in the Kingdom of God, in gospel order. This concept of gospel order is described by Lloyd Lee Wilson as "the right relationship of every part of creation, however small, to every other part and to the Creator…As one comes more closely into harmony with the gospel order, one's life is filled more and more with the peace that passes understanding, and one's relationships reflect this peace and harmony.
Relationships outside the gospel order, in contrast, are full of tension and conflict, and lead not to greater peace but greater anxiety and clash." (The Quaker Vision of Gospel Order)
In this one can see that greater commitment to God, and to gospel order, leads to strengthened relationships of all sorts and to integrity in the way we lead our lives — which are in relationship with many. But still, the primary relationship is with God. It is a commitment of absolute trust that God is able to support and love us on our difficult path.
—Anne-Marie Zilliacus, 1999
5.29- 5.31        Work and Career
5.31. I married and had three children, and then I realized how imperative it was that my childhood convincement that war or any violence was wrong had to be visible in everything I did. It wasn't a sudden turning on of a lamp in my head; rather it was a deeply centred awareness of a responsibility I must carry and reflect in all I did. So our home became weapons-toy-free from the start. That wasn't easy in a neighbourhood that was heavily led by consumerism, where Johnny 7 guns were the hot item on the street. My children remark today on the feelings they have of wonder that they were never spanked, as their friends so frequently were.
My verbal arsenal of words that can hurt had to be kept in check. I became a freelance writer, and for 25 years wrote scripts for…children's TV… The thing I remember most about that time was that every time I started to write, I closed my eyes and imagined children in all places of Canada, in all conditions of living. From slum ghetto to affluent suburb; from far northern habitation to life on a boathouse; in Chinatown or in a Ukrainian prairie town or on a reservation. All of them had to be reached in my one script, and my message must be one of loving life in all its wonders and challenges.
—Joy Newall, 1997
5.32 – 5.33      Sexuality
5.32. By fostering healthy sexuality in adults and children and by recognizing our individual responsibility for our own actions, we better understand ourselves as loving spiritual beings. God calls us to a wide range of dynamic relationships, many of which are passionate and loving. Only some will be rightly ordered as sexual. Sexuality is an embodied part of our spirituality, and so is sacred.
Sexual love can be one of the most life-giving paths we will explore and has rich and varied forms of expression. Growing into a full and healthy sexuality, from childhood through adulthood,  requires careful nurture and boundaries. The decision to enter into a sexual relationship calls for maturity, spiritually grounded discernment, truthfulness, mutuality, care and respect, and a shared understanding of commitment.
—Discipline Review Committee draft report on "Fostering Healthy Sexuality," 2003
5.34 – 5.42      Marriage and Committed Relationships
5.39. In a Quaker Meeting, a whose marriages have been approved by a local Meeting marry each other in the presence of the community without officiating clergy. Our usual practice is only to approve the marriage of those couples where at least one of the partners has membership in our Religious Society.
Whether or not to support same-sex marriages is decided at the local Meeting level. Some Meetings have chosen to recognize marriage as open to both opposite and same-sex couples, and several have taken same-sex marriages under their care, even when these relationships were not recognized in law as marriages.
Our experiences and discernment on this issue have been partly shaped by the presence in our community of wonderful, loving, committed same-sex relationships.
We have experience of couples in same-sex relationships that are bringing up children in the same loving way we would expect any family we know to do. "Love makes a family." We strongly object to statements by some religious groups that it is harmful to children to be brought up in same-sex families.
Whether a family is a loving and supportive place, or is a harmful place to bring up children, does not depend upon the gender of the parents.
We support the right of religious groups (including individual Quaker Meetings) and clergy, to consent to or to refuse to perform same-sex marriages. We also support the right of same sex couples to a civil marriage and the extension of the legal definition of marriage to include same-sex couples.
—Canadian Yearly Meeting, 2003
5.43 – 5.50      Family Life
5.50. As the boy or girl grows towards adolescence, parents often have to stand back, for other people can frequently give better help at this stage. If the parents' way of life continues to make them acceptable partners in adventures of the spirit, and if they are willing to be called upon when needed, they still have opportunities to help the adolescent, but these opportunities come only now and then in actual words. The parents, however, must hold firmly to their own religious faith and principles, and can help the adolescent best by doing so. Trust, a sense of humour, a ready forgiveness, and the ability to "speak the truth in love" are other elements of the good home background for this age. Parents, too, should be ready to share experiences they have found precious — not only specifically religious but experiences of people, art, music, poetry and nature.
—Friends Education Council, 1952
5.51 – 5.56      Friendships and Close Relationships
5.56. The amount of solitude which is attainable or would be wholesome in the case of any individual life is a matter which each of us must judge for himself…A due proportion of solitude is one of the most important conditions of mental health. Therefore if it be our lot to stand apart from those close natural ties by which life is for most people shaped and filled, let us not be in haste to fill the gap; let us not carelessly or rashly throw away the opportunity of entering into that deeper and more continual acquaintance with the unseen and eternal things which is the natural and great compensation for the loss of easier joys. The loneliness which we rightly dread is not the absence of human faces and voices — it is the absence of love…Our wisdom therefore must lie in learning not to shrink from anything that may lie in store for us, but so to grasp the master key of life as to be able to turn everything to good and fruitful account.
—Caroline E. Stephen, 1908
5.57 – 5.70      The Later years
5.62. I am convinced it is a great art to know how to grow old gracefully, and I am determined to practice it…I always thought I should love to grow old, and I find it even more delightful than I thought. It is so delicious to be done with things, and to feel no need any longer to concern myself much about earthly affairs…I am tremendously content to let one activity after another go, and to await quietly and happily the opening of the door at the end of the passage way, that will let me in to my real abiding place.
—Hannah Whitall Smith, 1903
5.71 – 5.85      Death and Dying
5.84. And this is the comfort of the good, that the grave cannot hold them, and that they live as soon as they die. For death is no more than a turning of us over from time to eternity. Death, then, being the way and condition of life, we cannot love to live if we cannot bear to die.
They that love beyond the world cannot be separated by it.
Death cannot kill what never dies. Nor can spirits ever be divided that love and live in the same Divine Principle, the root and record of their friendship. If absence be not death, neither is theirs.
Death is but crossing the world, as Friends do the seas; they live in one another still. For they must needs be present, that love and live in that which is omnipresent. In this divine glass, they see face to face.
This is the comfort of Friends, that though they may be said to die, yet their friendship and society are, in the best sense, ever present, because immortal.
—William Penn, 1693
Chapter Six — Advices & Queries/Conseils et Questions
Introduction
As Friends we commit ourselves to a way of worship which allows God to teach and transform us. We have found corporately that the Spirit, if rightly followed, will lead us into truth, unity and love: all our testimonies grow from this leading.
Although the corporate use of advices and queries is governed by more flexible regulations than in the past, they should continue to be a challenge and inspiration to Friends in their personal lives and in their life as a religious community which knows the guidance of the universal spirit of Christ, witnessed to in the life and teachings of Jesus of Nazareth.
Advices and queries are not a call to increased activity by each individual Friend but a reminder of the insights of the Society.
Within the community there is a diversity of gifts. We are all therefore asked to consider how far the advices and queries affect us personally and where our own service lies. There will also be diversity of experience, of belief and of language. Friends maintain that expressions of faith must be related to personal experience. Some find traditional Christian language full of meaning; some do not.
Our understanding of our own religious tradition may sometimes be enhanced by insights of other faiths. The deeper realities of our faith are beyond precise verbal formulation and our way of worship based on silent waiting testifies to this.
Our diversity invites us both to speak what we know to be true in our lives and to learn from others. Friends are encouraged to listen to each other in humility and understanding, trusting in the Spirit that goes beyond our human effort and comprehension.
So it is for the comfort and discomfort of Friends that these advices and queries are offered, with the hope that we may all be more faithful and find deeper joy in God's service.
Advices & Queries
1. Take heed, dear Friends, to the promptings of love and truth in your hearts. Trust them as the leadings of God whose Light shows us our darkness and brings us to new life.
2. Bring the whole of your life under the ordering of the spirit of Christ. Are you open to the healing power of God's love? Cherish that of God within you, so that this love may grow in you and guide you. Let your worship and your daily life enrich each other. Treasure your experience of God, however it comes to you. Remember that Christianity is not a notion but a way.
3. Do you try to set aside times of quiet for openness to the Holy Spirit? All of us need to find a way into silence which allows us mto deepen our awareness of the divine and to find the inward source of our strength. Seek to know an inward stillness, even amid the activities of daily life. Do you encourage in yourself and in others a habit of dependence on God's guidance for each day? Hold yourself and others in the Light, knowing that all are cherished by God.
4. The Religious Society of Friends is rooted in Christianity and has always found inspiration in the life and teachings of Jesus.  How do you interpret your faith in the light of this heritage? How does Jesus speak to you today? Are you following Jesus' example of love in action? Are you learning from his life the reality and cost of obedience to God? How does his relationship with God challenge and inspire you?
5. Take time to learn about other people's experiences of the Light. Remember the importance of the Bible, the writings of Friends and all writings which reveal the ways of God. As you learn from others, can you in turn give freely from what you have gained? While respecting the experiences and opinions of others, do not be afraid to say what you have found and what you value. Appreciate that doubt and questioning can also lead to spiritual growth and to a greater awareness of the Light that is in us all.
6. Do you work gladly with other religious groups in the pursuit of common goals? While remaining faithful to Quaker insights, try to enter imaginatively into the life and witness of other  communities of faith, creating together the bonds of friendship.
7. Be aware of the spirit of God at work in the ordinary activities and experiences of your daily life. Spiritual learning continues throughout life, and often in unexpected ways. There is inspiration to be found all around us, in the natural world, in the sciences and arts, in our work and friendships, in our sorrows as well as in our joys. Are you open to new light, from whatever source it may come? Do you approach new ideas with discernment?
8. Worship is our response to an awareness of God. We can worship alone, but when we join with others in expectant waiting we may discover a deeper sense of God's presence. We seek a gathered stillness in our meetings for worship so that all may feel the power of God's love drawing us together and leading us.
9. In worship we enter with reverence into communion with God and respond to the promptings of the Holy Spirit. Come to meeting for worship with heart and mind prepared. Yield yourself and all your outward concerns to God's guidance so that you may find "the evil weakening in you and the good raised up."
10. Come regularly to meeting for worship even when you are angry, depressed, tired or spiritually cold. In the silence ask for and accept the prayerful support of others joined with you in worship. Try to find a spiritual wholeness which encompasses suffering as well as thankfulness and joy. Prayer, springing from a deep place in the heart, may bring healing and unity as nothing else can. Let meeting for worship nourish your whole life.
11. Be honest with yourself. What unpalatable truths might you be evading? When you recognize your shortcomings, do not let that discourage you. In worship together we can find the assurance of God's love and the strength to go on with renewed courage.
12. When you are preoccupied and distracted in meeting let wayward and disturbing thoughts give way quietly to your awareness of God's presence among us and in the world. Receive the vocal ministry of others in a tender and creative spirit. Reach for the meaning deep within it, recognizing that even if it is not God's word for you, it may be so for others. Remember that we all share responsibility for the meeting for worship whether our ministry is in silence or through the spoken word.
13. Do not assume that vocal ministry is never to be your part. Faithfulness and sincerity in speaking, even very briefly, may open the way to fuller ministry from others. When prompted to speak, wait patiently to know that the leading and the time are right, but do not let a sense of your own unworthiness hold you back. Pray that your ministry may arise from deep experience, and trust that words will be given to you. Try to speak audibly and distinctly, and with sensitivity to the needs of others. Beware of speaking predictably or too often, and of making additions towards the end of a meeting when it was well left before.
14. Are your meetings for church affairs held in a spirit of worship and in dependence on the guidance of God? Remember that we do not seek a majority decision nor even consensus. As we wait patiently for divine guidance our experience is that the right way will open and we shall be led into unity.
15. Do you take part as often as you can in meetings for church affairs? Are you familiar enough with our church government  to contribute to its disciplined processes? Do you consider difficult questions with an informed mind as well as a generous and loving spirit? Are you prepared to let your insights and personal wishes take their place alongside those of others or be set aside as the meeting seeks the right way forward? If you cannot attend, uphold the meeting prayerfully.
16. Do you welcome the diversity of culture, language and expressions of faith in our yearly meeting and in the world community of Friends? Seek to increase your understanding and to gain from this rich heritage and wide range of spiritual insights. Uphold your own and other yearly meetings in your prayers.
17. Do you respect that of God in everyone though it may be expressed in unfamiliar ways or be difficult to discern? Each of us has a particular experience of God and each must find the way to be true to it. When words are strange or disturbing to you, try to sense where they come from and what has nourished the lives of others. Listen patiently and seek the truth which other people's opinions may contain for you. Avoid hurtful criticism and provocative language. Do not allow the strength of your convictions to betray you into making statements or allegations that are unfair or untrue. Think it possible that you may be mistaken.
18. How can we make the meeting a community in which each person is accepted and nurtured, and strangers are welcome? Seek to know one another in the things which are eternal, bear the burden of each other's failings and pray for one another. As we enter with tender sympathy into the joys and sorrows of each other's lives, ready to give help and to receive it, our meeting can be a channel for God's love and forgiveness.
19. Rejoice in the presence of children and young people in your meeting and recognize the gifts they bring. Remember that the meeting as a whole shares a responsibility for every child in its care. Seek for them as for yourself a full development of God's gifts and the abundant life Jesus tells us can be ours. How do you share your deepest beliefs with them, while leaving them free to develop as the spirit of God may lead them? Do you invite them to share their insights with you? Are you ready both to learn from them and to accept your responsibilities towards them?
20. Do you give sufficient time to sharing with others in the meeting, both newcomers and long-time members, your understanding of worship, of service, and of commitment to the Society's witness? Do you give a right proportion of your money to support Quaker work?
21. Do you cherish your friendships, so that they grow in depth and understanding and mutual respect? In close relationships we may risk pain as well as finding joy. When experiencing great happiness or great hurt we may be more open to the working of the Spirit.
22. Respect the wide diversity among us in our lives and relationships. Refrain from making prejudiced judgments about the life journeys of others. Do you foster the spirit of mutual  understanding and forgiveness which our discipleship asks of us? Remember that each one of us is unique, precious, a child of God.
23. Marriage has always been regarded by Friends as a religious commitment rather than a merely civil contract. Both partners should offer with God's help an intention to cherish one another for life. Remember that happiness depends on an understanding and steadfast love on both sides. In times of difficulty remind yourself of the value of prayer, of perseverance and of a sense of humour.
24. Children and young people need love and stability. Are we doing all we can to uphold and sustain parents and others who carry the responsibility for providing this care?
25. A long-term relationship brings tensions as well as fulfillment. If your relationship with your partner is under strain, seek help in understanding the other's point of view and in exploring your own feelings, which may be powerful and destructive. Consider the wishes and feelings of any children involved, and remember their enduring need for love and security. Seek God's guidance. If you undergo the distress of separation or divorce, try to maintain some compassionate communication so that arrangements can be made with the minimum of bitterness.
26. Do you recognize the needs and gifts of each member of your family and household, not forgetting your own? Try to make your home a place of loving friendship and enjoyment, where all who live or visit may find the peace and refreshment of God's presence.
27. Live adventurously. When choices arise, do you take the way that offers the fullest opportunity for the use of your gifts in the service of God and the community? Let your life speak. When decisions have to be made, are you ready to join with others in seeking clearness, asking for God's guidance and offering counsel to one another?
28. Every stage of our lives offers fresh opportunities. Responding to divine guidance, try to discern the right time to undertake or relinquish responsibilities without undue pride or guilt. Attend to what love requires of you, which may not be great busyness.
29. Approach old age with courage and hope. As far as possible, make arrangements for your care in good time, so that an undue burden does not fall on others. Although old age may bring increasing disability and loneliness, it can also bring serenity, detachment and wisdom. Pray that in your final years you may be enabled to find new ways of receiving and reflecting God's love.
30. Are you able to contemplate your death and the death of those closest to you? Accepting the fact of death, we are freed to live more fully. In bereavement give yourself time to grieve. When others mourn, let your love embrace them.
31. We are called to live "in the virtue of that life and power that takes away the occasion of all wars." Do you faithfully maintain our testimony that war and the preparation for war are inconsistent with the spirit of Christ? Search out whatever in your own way of life may contain the seeds of war. Stand firm in our testimony, even when others commit or prepare to commit acts of violence, yet always remember that they too are children of God.
32. Bring into God's light those emotions, attitudes and prejudices in yourself which lie at the root of destructive conflict, acknowledging your need for forgiveness and grace. In what ways are you involved in the work of reconciliation between individuals, groups and nations?
33. Are you alert to practices here and throughout the world which discriminate against people on the basis of who or what they are or because of their beliefs? Bear witness to the humanity of all people, including those who break society's conventions or its laws. Try to discern new growing points in social and economic life. Seek to understand the causes of injustice, social unrest and fear. Are you working to bring about a just and compassionate society which allows everyone to develop their capacities and fosters the desire to serve?
34. Remember your responsibilities as a citizen for the conduct of local, national and international affairs. Do not shrink from the time and effort your involvement may demand.
35. Respect the laws of the state but let your first loyalty be to God's purposes. If you feel impelled by strong conviction to break the law, search your conscience deeply. Ask your meeting for the prayerful support which will give you strength as a right way becomes clear.
36. Do you uphold those who are acting under concern, even if their way is not yours? Can you lay aside your own wishes and prejudices while seeking with others to find God's will for them?
37. Are you honest and truthful in all you say and do? Do you maintain strict integrity in business transactions and in your dealings with individuals and organizations? Do you use money and information entrusted to you with discretion and responsibility? Taking oaths implies a double standard of truth; in choosing to affirm instead, be aware of the claim to integrity that you are making.
38. If pressure is brought upon you to lower your standard of integrity, are you prepared to resist it? Our responsibilities to God and our neighbour may involve us in taking unpopular stands. Do not let the desire to be sociable, or the fear of seeming peculiar, determine your decisions.
39. Consider which of the ways to happiness offered by society are truly fulfilling and which are potentially corrupting and destructive. Be discriminating when choosing means of entertainment and information. Resist the desire to acquire possessions or income through unethical investment, speculation or games of chance.
40. In view of the harm done by the use of alcohol, tobacco and other habit-forming drugs, consider whether you should limit your use of them or refrain from using them altogether. Remember that any use of alcohol or drugs may impair judgment and put both the user and others in danger.
41. Try to live simply. A simple lifestyle freely chosen is a source of strength. Do not be persuaded into buying what you do not need or cannot afford. Do you keep yourself informed about the effects your style of living is having on the global economy and environment?
42. We do not own the world, and its riches are not ours to dispose of at will. Show a loving consideration for all creatures, and seek to maintain the beauty and variety of the world. Work to ensure that our increasing power over nature is used responsibly, with reverence for life. Rejoice in the splendour of God's continuing creation.
Be patterns, be examples in all countries, places, islands, nations, wherever you come, that your carriage and life may preach among all sorts of people, and to them; then you will come to walk cheerfully over the world, answering that of God in every one.
—George Fox, 1656
Conseils et Questions (traduit du texte anglais, Groupe Languedocien de l'Assemblée de France)
1. Soyez attentifs, chers Amis, aux inspirations d'amour et de vérité dans vos coeurs, car ils viennent de l'Esprit. Ayez confiance, car elles nous amènent dans la Lumière qui nous montre nos obscurités et nous conduit à une nouvelle vie.
2. Amène la totalité de ta vie sous la direction de l'Esprit de Jésus. Es-tu ouvert à la puissance guérisseuse de l'amour? Chéris le divin en toi, que cet amour puisse grandir et te guider. Prends comme trésor ton expérience du divin, quelque soit sa façon de t'aborder. Rappelle-toi que notre foi n'est pas une notion, mais une voie.
3. Essaies-tu de réserver des périodes de tranquillité durant lesquelles tu peux t'ouvrir à l'Esprit divin? Nous avons tous besoin de trouver notre façon de rentrer dans le silence qui nous permet d'approfondir notre conscience du divin et de trouver la source intérieure de notre force. Cherche à connaître une tranquillité intérieure, même dans les activités de la vie quotidienne. Encourages-tu les autres et toi-même à chercher chaque jour la direction divine? Tiens-toi et tiens les autres dans la Lumière, sachant que tous sont chers à l'Esprit.
4. La Société religieuse des Amis a ses racines dans la chrétienté et a toujours trouvé de l'inspiration dans la vie et les enseignements de Jésus. Comment interprètes-tu ta foi dans la lumière de cet héritage? Comment Jésus te parle-t-il aujourd'hui? Suis-tu son exemple de l'amour en action? Apprends-tu, en regardant sa vie la réalité et le coût de l'obéissance à l'Esprit? Comment t'inspire sa relation avec Dieu? Quel défi cela représente-elle pour toi?
5. Prends la peine d'apprendre en observant la vie des autres, et leur expérience de la Lumière. Rappelle-toi de l'importance de la Bible, des écrits des Amis et de toute écriture qui révèle les chemins de l'Esprit. Tandis que tu apprends, est-ce que tu peux à ton tour donner librement de ce que tu as reçu? Tout en respectant les expériences et les opinions des autres, n'aie pas peur de dire ce que tu as trouvé et les valeurs auxquelles tu tiens. Sois conscient que le doute et les questions peuvent mener à la croissance spirituelle et à une conscience plus grande de la Lumière qui est en chacun de nous.
6. Travailles-tu joyeusement avec d'autres groupes religieux à la recherche de buts communs? Tout en restant fidèle aux intuitions quakers, essaie de rentrer avec imagination dans la vie et le témoignage des autres communautés religieuses, créant ensemble des liens d'amitié.
7. Sois conscient de l'Esprit à l'oeuvre dans les activités et les expériences ordinaires de ta vie quotidienne. L'apprentissage spirituel continue tout au long de la vie, et souvent de façons inattendues. De l'inspiration se trouve tout autour de nous, dans la nature, les sciences, les arts, et dans notre travail et nos amitiés; dans nos chagrins aussi bien que dans nos joies.  Es-tu ouvert à une lumière nouvelle, quelque soit la source d'où elle vient? T'approches-tu avec discernement des idées nouvelles?
8. Dans le culte nous répondons à notre conscience du divin. On peut y répondre en étant seul, mais en se réunissant avec d'autres dans une attente silencieuse nous pourrions découvrir un sens approfondi de la présence divine. Dans nos cultes nous cherchons une pleine participation au silence afin que tous puissent sentir la puissance de l'amour divin qui nous rassemble et qui nous guide.
9. Durant ces réunions de recueillement, nous entrons avec respect en communion avec le divin et nous nous efforçons de répondre aux inspirations de l'Esprit. Viens au culte le coeur et l'esprit préparés. Remets-toi et toutes tes préoccupations dans la Lumière et sous la direction du divin, afin que tu puisses trouver « le mal en toi s'affaiblir et le bien croître ». (Barclay)
10. Viens régulièrement au culte, même quand tu es triste, déprimé ou froid spirituellement. Dans le silence demande et accepte avec joie le soutien des autres qui t'entourent au culte. Cherche à trouver une intégrité spirituelle dans laquelle peuvent être incluses souffrance aussi bien que joie et reconnaissance. La prière venant des profondeurs du coeur peut, comme rien d'autre, apporter la guérison et l'unité. Laisse nourrir toute ta vie par le recueillement.
11. Sois honnête envers toi-même. Quelles réalités inconfortables éludes-tu? Quand tu reconnais tes erreurs, ne te laisse pas décourager. Au culte ensemble nous pouvons trouver l'assurance de l'amour divin et la force d'avancer avec un courage renouvelé.
12. Quand tu es préoccupé et distrait pendant le recueillement, laisse les pensées égarées et perturbatrices céder silencieusement à la conscience de la présence divine parmi nous et dans le monde. Reçois avec douceur et un esprit créatif le ministère vocal des autres. Cherche sa signification dans ses profondeurs, reconnaissant que, même si ce n'est pas un message divin pour toi, il peut l'être pour d'autres. Rappelle-toi que nous partageons tous la responsabilité pour le culte, que notre ministère soit par le silence ou la parole.
13. Ne présume pas que tu n'auras jamais à faire un ministère vocal. Fidélité et sincérité de parole, aussi brève qu'elle soit, peut ouvrir une voie pour un autre ministère plus ample par d'autres. Quand tu te sens poussé à parler, attends pour être sûr que l'inspiration et le moment soient justes, mais ne te laisse pas retenir par ta peur de ne pas être digne. Prie pour que ton ministère émerge d'une expérience profonde, aie confiance que des paroles te seront données. Parle clairement pour être entendu par tous, restant sensible aux besoins auditifs des autres. Évite de parler de façon prévisible ou de parler trop souvent, d'entrer en discussion, ou d'ajouter quelques paroles vers la fin du culte, quand il aurait mieux valu s'abstenir.
14. Est-ce que vos réunions de culte pour les affaires du groupe sont tenues dans un même esprit de culte et en se remettant à la volonté divine? Rappelez-vous que nous ne cherchons ni une décision majoritaire, ni même un consensus. Notre expérience est que, lorsque nous attendons patiemment la direction divine, la voie s'ouvre et nous sommes guidés vers l'unité.
15. Prends-tu part, aussi souvent qu'il t'est possible, aux réunions de culte pour les affaires? Abordes-tu les questions difficiles avec un esprit informé, de même qu'avec un coeur généreux et aimant? Acceptes-tu que tes intuitions et désirs personnels soient mis parmi ceux des autres et même mis de côté pour que l'assemblée cherche la bonne voie? Si tu ne peux pas être présent, soutiens l'assemblée par la prière.
16. Te réjouis-tu de la diversité de culture, langage et expression de foi dans notre Assemblée Annuelle et dans la communauté mondiale de la Société religieuse des Amis? Cherche à augmenter ta compréhension et à accueillir ce riche héritage et cette variété d'inspirations spirituelles. Soutiens ton Assemblée Annuelle et toutes les autres par la prière.
17. Respectes-tu le divin en chacun, même s'il s'exprime de façons qui ne te sont pas familières ou qui te sont difficiles à discerner? Nous avons chacun une expérience particulière du divin et devons chacun trouver comment y être fidèle. Quand des paroles te semblent étranges ou incongrues, essaie de sentir d'où elle viennent, et ce qui a pu nourrir la vie des autres. Écoute avec patience et cherche la vérité que peuvent contenir pour toi les opinions des autres. Évite de faire des critiques blessantes et d'utiliser un langage provocateur. Ne laisse pas la force de tes convictions te trahir et faire ainsi des déclarations injustes ou fausses. « Pense qu'il est possible que tu te trompes ».
18. Comment pouvons-nous faire de notre assemblée une communauté où chacun est accepté et nourri, où les étrangers sont accueillis? Cherchons à nous connaître dans les choses qui sont éternelles, portons le fardeau de nos faiblesses mutuelles et prions les uns pour les autres. Lorsque nous partageons les joies et les peines des autres, prêts à offrir et à recevoir de l'aide, notre assemblée peut être un canal pour l'amour et le pardon divin.
19. Réjouis-toi de la présence des enfants et des jeunes dans ton assemblée et reconnais les richesses qu'ils apportent. Rappelle-toi que l'assemblée entière partage la responsabilité pour chaque enfant sous ses soins. Cherche pour eux comme pour toi-même un plein développement des dons du divin et la vie abondante dont Jésus nous a parlé. Comment partages-tu avec eux tes convictions les plus profondes, tout en les laissant libres d'évoluer selon la direction de l'esprit divin? Les invites-tu à partager leurs sentiments? Es-tu prêt à la fois à écouter, à apprendre et à accepter ta responsabilité envers eux?
20. Consacres-tu assez de temps pour partager avec les autres dans l'assemblée, aussi bien les nouveaux que les anciens, ta compréhension du culte, du service, et de l'engagement aux témoignages de la Société? Donnes-tu une proportion adéquate de ton argent pour soutenir l'oeuvre quaker?
21. Fais-tu en sorte que tes amitiés puissent mûrir en profondeur, en compréhension et en respect mutuel? Dans des relations proches nous risquons de la peine aussi bien que de la joie. L'expérience d'un grand bonheur ou d'une grande douleur peut nous rendre plus ouverts à l'oeuvre de l'Esprit.
22. Respecte la grande diversité entre nous dans nos vies et relations. Évite des jugements remplis de préjugés sur les chemins de vie des autres. Cultives-tu l'esprit de compréhension mutuelle et de pardon que nous demande notre statut de disciple? Rappelle-toi que nous sommes chacun unique, précieux, enfant du divin.
23. Les Amis ont toujours compris le mariage en tant qu'engagement religieux plutôt que comme simple contrat civil; les deux partenaires s'unissent dans l'intention, avec l'aide divine, de chérir chacun l'autre pour la vie mentière. Rappelle-toi que le bonheur dépend d'un amour compréhensif et fidèle des deux côtés. En périodes de difficultés, rappelle-toi la valeur de la prière, de la persévérance et d'un sens d'humour.
24. Les enfants et les jeunes ont besoin d'amour et de stabilité. Faisons-nous tout ce que nous pouvons pour soutenir et conforter les parents et autres qui portent la responsabilité de pourvoir à ces besoins?
25. Une relation à long terme amène des tensions aussi bien que des plénitudes. Si ta relation avec ton partenaire subit des épreuves, cherche de l'aide pour comprendre le point de vue de l'autre et pour explorer tes propres sentiments qui peuvent être puissants et destructifs. Pense aux désirs et sensibilités des enfants qui peuvent être impliqués et souviens-toi de leur besoin continu d'amour et de sécurité. Cherche l'aide divine. Si tu dois subir la détresse de la séparation ou du divorce, essaie de maintenir une bonne communication afin que les affaires puissent être réglées avec le minimum d'aigreur et avec compassion.
26. Reconnais-tu les besoins et les dons de chaque membre de ta famille et du ménage, sans oublier les tiens? Essaie de faire de ton foyer un lieu d'amour amical et de joie où tous ceux qui y vivent et où les visiteurs puissent trouver la paix et le ressourcement de la puissance divine.
27. Vis ta vie comme une aventure! Quand se présentent des choix, prends-tu la voie qui offre le plus d'opportunités pour l'application de tes aptitudes au service du divin et de la communauté? Laisse parler ta vie! Quand il faut prendre des décisions, es-tu prêt à te joindre à d'autres pour chercher la clarté, demandant la direction de l'Esprit et offrant et recevant des conseils?
28. Chaque étape de nos vies nous offre des opportunités nouvelles. Répondant à la direction divine, essaie de discerner le bon moment pour entreprendre ou pour te dégager des responsabilités, sans fierté ni culpabilité excessive. Fais attention à ce que demande l'amour, cela n'est pas nécessairement un excès de zèle.
29. Rapproche-toi de la vieillesse avec courage et espoir. Autant que possible organise bien à l'avance tes affaires pour que tes besoins de soins ne se présentent pas comme un fardeau excessif sur d'autres. Bien que la vieillesse puisse apporter des aptitudes décroissantes et de la solitude, elle peut amener aussi de la sérénité, du détachement et de la sagesse. Prie pour que dans tes dernières années tu puisses trouver des façons nouvelles de recevoir et de refléter l'amour divin.
30. Peux-tu contempler avec équanimité ta mort et la mort de tes proches? En acceptant le fait de la mort nous sommes libérés pour vivre plus pleinement. Endeuillé, donne-toi le temps de faire ton travail de deuil. Quand d'autres sont en deuil, entoure les de ton amour et tiens les dans la Lumière.
31. Nous sommes appelés à vivre « en vertu de cette vie et pouvoir qui enlèvent les causes de toute guerre ». Maintiens-tu fidèlement notre témoignage que la guerre et la préparation de la guerre sont contraires à l'enseignement de Jésus? Découvre, dans ta propre façon de vivre, tout ce qui peut contenir la semence de la guerre. Soutiens avec ténacité notre témoignage, même quand d'autres font ou se préparent à commettre des actes de violence, mais rappelle-toi qu'eux aussi sont des enfants du divin.
32. Mets dans la Lumière divine toutes les émotions, attitudes et préjugés qui sont à la racine des conflits destructeurs, reconnaissant ton besoin de pardon et de grâce. De quelle façon t'impliques-tu dans le travail de réconciliation entre individus, groupes et nations?
33. Es-tu au courant des pratiques, à travers le monde, qui sont discriminatoires envers des personnes à cause de ce qu'elles sont ou à cause de leurs croyances? Sois humain envers tous, y compris ceux qui rompent les conventions de la société ou ne respectent pas ses lois. Tâche de discerner les courants nouveaux de progrès dans la vie sociale et économique. Cherche à comprendre les causes de l'injustice, des remous sociaux et de la peur. Travailles-tu pour une société juste et compatissante, qui permette à tous de développer leurs capacités et qui encourage le désir de service?
34. Rappelle-toi tes responsabilités en tant que citoyen pour la conduite des affaires locales, nationales et internationales. Ne recule pas devant le temps et l'effort que ton engagement peut demander.
35. Respecte les lois de l'État, mais que ta loyauté principale soit aux exigences de l'Esprit. Si tu te sens appelé par des convictions fortes à enfreindre les lois, consulte profondément ta conscience. Demande aux Amis de te soutenir dans la prière afin que tu puisses discerner le bon chemin pour toi.
36. Soutiens-tu ceux qui agissent « sous concern », même si leur chemin n'est pas le tien? Peux-tu mettre de côté tes propres désirs et préjugés tout en cherchant avec d'autres à trouver la volonté divine pour eux?
37. Es-tu honnête et dis-tu la vérité en toute circonstance? Maintiens-tu une intégrité rigoureuse dans les affaires et dans les transactions avec des individus et des organisations? Emploies-tu l'argent et les informations qui t'ont été confiés avec discrétion et d'une façon responsable? Prêter serment implique deux critères de vérité. En te bornant à affirmer, sois conscient que tu déclares ton intégrité.
38. Si tu subis des pressions pour baisser ton niveau d'intégrité, es-tu prêt à y résister? Nos responsabilités envers le divin et nos semblables peuvent nous amener à prendre des positions impopulaires. Ne laisse pas le désir d'être sociable, ni la peur de sembler excentrique, déterminer tes décisions.
39. Examine quelles voies vers le bonheur offertes par la société sont pleinement satisfaisantes, et quelles voies sont potentiellement corruptrices et destructrices. Sois sélectif en choisissant tes moyens de divertissements et d'information. Résiste au désir d'acquérir des possessions ou des revenus par des investissements non-éthiques, de la spéculation ou des jeux de hasard.
40 Étant donnés les dégâts causés par l'emploi d'alcool, de tabac et d'autres drogues addictives, examine si toi-même tu limiteras ou abandonneras leur emploi. Rappelle-toi que leur emploi, même en quantité mesurée, peut diminuer le jugement et mettre en danger la vie autant des autres que de l'utilisateur.
41. Tâche de vivre simplement. Un style de vie choisi librement donne de la force. Ne sois pas persuadé d'acheter ce dont tu n'as pas besoin ou qui dépasse ton budget. Te tiens-tu informé des effets de ton style de vie sur l'économie et l'environnement global?
42. Nous les humains ne sommes pas propriétaires de la planète et ses richesses ne sont pas à notre seule disposition. Montre une considération d'amour envers toutes les créatures, et cherche à maintenir et conserver la beauté et la variété de la planète. Travaille pour assurer que notre pouvoir croissant sur la nature soit utilisé avec responsabilité, avec révérence pour la vie. Réjouis-toi de la splendeur continue de la planète.
Soyez des modèles, des exemples dans tous les pays, endroits, îles, peuples, partout où vous passez. Que votre comportement et votre façon de vivre puissent prêcher à toutes sortes de personnes; alors vous pourrez marcher joyeusement à travers le monde, répondant au divin en chacun.
—George Fox, 1656
APPENDIX: Letter from the Elders Gathered at Balby, 1656
Given forth at a General Meeting of Friends of the Truth at Balby in Yorkshire, in the ninth month 1656, from the Spirit of Truth to the Children of Light in the light to walk, that all in order may be kept in obedience, that He may be glorified, who is worthy over all, God blessed for ever. Amen." (Text quoted by William C. Braithwaite in The Beginnings of Quakerism)
The Advices in the epistle were originally expressed at somewhat greater length than they are in the following version. Even in this abridged form, however, which appears in the Book of Discipline of New York Yearly Meeting, 1995, they retain the core of the Elders' counsel.
 1. The settled meetings to be kept each first-day. General Meetings, as a rule to be on some other day of the week.
2. As any are brought in to the Truth new meetings are to be arranged to suit the general convenience, without respect of persons.
3. Persons ceasing to attend meetings are to be spoken to. Persons who walk disorderly are to be spoken to in private, then before two or three witnesses; then, if necessary, the matter is to be reported to the Church. The Church is to reprove them for their disorderly walking, and, if they do not reform, the case is to be sent in writing "to some whom the Lord hath raised up in the power of the Spirit of the Lord to be fathers, — His children to gather in the light" so that the thing may be known to the body and be determined in the light.
4. Ministers to speak the word of the Lord from the mouth of the Lord, without adding or diminishing. If anything is spoken out of the light so that the "seed of God" comes to be burdened, it is to be dealt with in private and not in the public meetings, "except there be a special moving to do so."
5. Collections to be made for the poor, the relief of prisoners, and other necessary uses, the moneys to be carefully accounted for, and applied as made known by the overseers in each meeting.
6. Care to be taken "for the families and goods of such as are called forth in the ministry, or are imprisoned for the Truth's sake; that no creature be lost for want of caretakers."
7. Intentions of marriage to be made known to the Children of Light, especially those of the meeting where the parties are members. The marriage to be solemnized in the fear of the Lord, and before many witnesses, after the example of scripture, and a record to be made in writing, to which the witnesses may subscribe their names.
8. Every meeting to keep records of births, or of burials of the dead that died in the Lord. Burials to be conducted according to scripture, and not after customs of "heathen."
9. Advice to husbands and wives, as in 1 Peter iii:7. Advice to parents and children, as in Ephesians vi:1–4.
10. Advice to servants and masters, as in Ephesians vi:5–9.
11. Care to be taken "that none who are servants depart from their masters, but as they do see in the light: nor any master put away his servant but by the like consent of the servant; and if any master or servant do otherwise in their wills, it is to be judged by Friends in the light."
12. Needs of widows and fatherless to be supplied: — such as can work and do not be admonished, and if they refuse to work, neither let them eat. The children of needy parents to be put to honest employment.
13. Any called before outward powers of the nation are to obey.
14. "That if any be called to serve the Commonwealth in any public service which is for the public wealth and good, that with cheerfulness it be undertaken and in faithfulness discharged unto God, that therein patterns and examples in the thing that is righteous yet may be to those that are without."
15. Friends in callings and trades are to be faithful and upright, and keep to yea and nay. Debts to be punctually paid, that nothing they may owe to any man but love to one another.
16. None to speak evil of another, nor grudge against another, nor put a stumbling-block in his brother's way.
17. None to be busybodies in others' matters.
18. Christian moderation to be used towards all men.
19. The elders made by the Holy Ghost are to feed the flock, taking the oversight willingly, not as lords, but as examples to the flock.
Dearly beloved, these things we do not lay upon you as a rule or form to walk by, but that all, with the measure of light which is pure and holy, may be guided: and so in the light, walking and abiding, these may be fulfilled in the Spirit, not from the letter, for the letter killeth, but the Spirit giveth life.
Sources
Abbreviations & Explanations
CFP = Christian Faith and Practice in the Experience of the Society of Friends (London Yearly Meeting, 1960)
CQP = Canadian Quaker Pamphlet Series (Argenta, BC: Argenta Friends Press)
PHP = Pendle Hill Pamphlet (Wallingford, Pennsylvania: Pendle Hill Publications)
QFP = Quaker Faith and Practice (London: Britain Yearly Meeting, Religious Society of Friends, 1995)
SPG Lecture = Sunderland P. Gardner Lecture
The CF = The Canadian Friend (Argenta BC, Argenta Friends Press)
Extract (number), CQP 40 refers to Extracts from Canadian Yearly Meeting Minutes 1955-1993 (Argenta, BC: Argenta Friends Press, 1994)
George Fox, Journal, refers to The Journal of George Fox, ed. by John L. Nickalls (1952).
1.7  George Fox, Extract 20.23 in QFP. Originally published as Epistle 227 (1663) in his A Collection… of Epistles (1698), 99.
1.20 Edith Miller, "My Understanding of Faith and Practice," The CF 94, no. 3 (June 1998), 28.
1.53 Canadian Yearly Meeting, from the outgoing Epistle in CYM Minutes (1985), 113.
1.66 Lynne Phillips, message to Quaker-C e-list, 2001.
1.90 Margaret Dyment, "Why I Am a Christian or in What Way I Am a Christian," The CF 95, no. 5 (December 1999), 11-12.
1.102 John Woolman, Extract 50 in CFP. Originally published in Journal and Essays, ed. A.M. Gunmere (1922), 254. Entry for 1763.
2.5 Jan Hoffman, Called to be a People, SPG Lectures 1998, CQP 48 (1998), 14.
2.15 Toronto Monthly Meeting, Memorial Minute for Nancy Meek Pocock, in CYM Minutes (1998), 4-5.
2.23 Ranjit Chetsingh, "The Ground on Which You Stand Is Holy Ground," Friends World News, Spring 1975, 2.
3 Introduction: Deborah Haight, Meeting, SPG Lecture 1987, CQP 26 (1987), 5-6.
3.1 Caroline E. Stephen, Extract 246, in CFP. Originally printed in Light Arising (1908), 68-9.
3.17 The Discipline of Canada Yearly Meeting (London: Canada YM, 1932), 6.
3.31 Marty Grundy, "Clerk's Message," Lake Erie Yearly Meeting Bulletin, Summer 1991.
3.43 London Yearly Meeting, Extract 2.88, in QFP.
3.57 New Brunswick Monthly Meeting, Becoming a Member of the Religious Society of Friends (New Brunswick MM, 1998).
3.66 Canadian Yearly Meeting, Extract 10.28 in QFP. Originally, "The Cost of Discipleship," in Friends Quarterly 23 (1983-1985), 306.
3.78 Arnold Ranneris, "The Creative Word: Some Thoughts on the Meeting Library," The CF 67, no. 6 (December 1971-January 1972), 4-5.
3.89 Doris Calder and Gordon McClure, Our Common Strength – Together, CQP 52 (2000), 5.
4 Introduction: Francis Howgill, Extract 19.08 in QFP. Originally published in his "Francis Howgill's Testimony Concerning… Edward Burrough," 1663, in The Memorable Works of a Son of Thunder (1672), Prelim Leaf e3.
4.9 Ursula Franklin, in CYM Minutes (2000), 169.
4.17 Jane Orion Smith, "Whose Truth Do You Speak?" Sporadical, February 1994.
4.27 Canadian Yearly Meeting, "Towards a Culture of Peace" (CYM Minutes, 2006).
4.44 Anne-Marie Zilliacus, "What Canst Thou Say?" editorial, The CF 97, no. 1 (March-April 2001), 3.
4.48 Margaret Fell, in "Women's Speaking Justified…" in Margaret Fell Speaking, PHP 206 (1976), 28.
4.64 Keith Maddock, Beyond the Bars: A Quaker Primer for Prison Visitors, PHP 342 (1999), 20-21.
4.77 Canadia Yearly Meeting, Extract 95, CQP 40. Report of Special Interest Group. "Concern about the Environment," CYM Minutes (1992), 173.
5.15 Beth Curry, "Growing," The CF 95, no.1 (March 1999), 27.
5.26 Anne-Marie Zilliacus, "What Canst Thou Say?" editorial, The CF 95, no. 1 (March 1999), 3.
5.31 Joy Newall, "On Being a Peacemaker," The CF 93, no. 2 (March-April, 1997), 32.
5.32 Canadian Yearly Meeting Continuing Meeting of Ministry and Counsel and Discipline Review Committee, "Fostering Healthy Sexuality." Draft Document in Reports for CYM (2003), 78.
5.39 Canadian Yearly Meeting, "A Minute of Record," in CYM Minutes (2003), 56.
5.50 Friends Education Council, Extract 510, CFP. Originally published in Growing Up in Quaker Worship (1952), 14-15.
5.56 Caroline E. Stephen, Extract 524, in CFP. Originally in her Light Arising (1908), 130-131.
5.62 Hannah Whitall Smith, "The Unselfishness of God," in Daily Readings from Quaker Writings: Ancient and Modern, ed. Linda Hill Renfer (Grant's Pass, OR: Serenity Press, 1983), 338.
5.84 William Penn, Extract 22.95, in QFP. Originally, maxims in Some Fruits of Solitude (1693).
Contact
91A Fourth Ave,
Ottawa ON
K1S 2L1, CANADA
Tel: 613-235-8553
Toll Free Canada & U.S.A.:
1-888-296-3222
Fax: 613-235-1753
Subscribe to Our Newsletter