Education & Courses
This is part of an evolving web presence for the Education Program of Canadian Quakers. Over time, Friends will have access here to a variety of resources. The Education Program is administered by the Canadian Yearly Meeting Education & Outreach Committee (E&O), which can be reached at . E&O also administers several funds that support Quaker education and travel. Check out the courses and resources below!
Renewing Quaker Community with Ben Pink Dandelion
Renewing Quaker Community with Ben Pink Dandelion - Course details - 2024
Canadian Yearly Meeting Education & Outreach and Woodbrooke Quaker Studies are partnering to bring Canadian Friends:  Renewing Quaker Community with Ben Pink Dandelion
Does it ever feel like Quakers are shrinking?
Have you felt frustrated that there is more we can do as Quakers to spread the light? Do you want to gain momentum?
Please consider Renewing Quaker Community with Ben Pink Dandelion
In this workshop led by UK Woodbrooke Quaker Studies tutor and author Ben Pink Dandelion, we'll explore heartfelt moments of exploration around our Quaker communities. Ben will share his deep-felt experience with Quaker faith and practice over many decades. We will also share ideas on how Meetings might gain some momentum on renewal at a time of great change. We'll be reflecting together on some of the essential parts of the Quaker tradition in small group discussions.
This workshop is comprised of four sessions that will be approximately 1.5 hours in duration.
Event dates:
January 13, 2024
February 17, 2024
March 16, 2024
April 20 2024
Anticipated course times:
1:30pm Newfoundland/Labrador Time
1:00pm Atlantic Time
12:00pm Eastern Time
11:00am Central Time
10:00am Mountain Time
9:00am Pacific Time
Registration for this course
Past courses and other resources
Introduction to Quakers and Friends Ways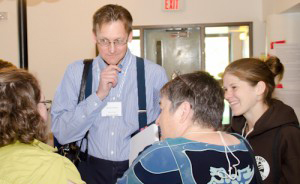 This six session learning resource can be used for self-study, in-person group study, or an online course. Its goal is to deepen understanding of the Quaker way while building community among the participants.
The course focuses on the early history of Friends, the history of Friends in Canada, Quaker testimonies and their origin, and how our Quaker community nurtures how we live, work, worship, and transact business. Although created to meet the needs of more recent attenders seeking to learn more about Quakerism, we believe that even longstanding members could benefit from this course.
Although created to meet the needs of more recent attenders seeking to learn more about Quakerism, we believe that even longstanding members could benefit from this course.
For information concerning the dates of the next course and how to register, email .
Ce cours est aussi disponible en français:
"Uh oh, Was That a Leading?" Course
This is an on-line course developed by David Summerhays for Canadian Yearly Meeting which can also be used by face-to-face meetings. The course contains 5 or 6 two hour sessions including:
Exploration of the concept of "leadings"
Readings and discussion on how early Friends and Friends throughout history have understood "leadings"
Jokes
Discernment of what is and what is not a "leading"
Practice explaining Quakerism to newcomers
Exploration of what participants learned in the course
There are readings for each session. The full course descriptions, readings and resource materials and facilitator guides are available here.  The course includes worship, storytelling, reflections from readings, and the application to one's own life of what is learned.
Study of Canadian Yearly Meeting's Faith & Practice
Published in 2011, Faith & Practice is a collection of writings and quotes selected by Canadian Friends to serve as a living reference of our values, witness, and tradition.
This course was developed by Majory Reitsma-Street and Gale Wills as a tool to explore and study Faith & Practice. It was first used in Vancouver Island Monthly Meeting.
It is available as an online course and a self-study course, which you can access below:
"Being Peace, Being Quaker: Walking Through Conflict Together"
Quaker testimonies, discipline, and instruction in faith and practice focus on the positive value of good relationships among us. However, conflicts do arise from time to time, and we hope that Quakers will seek to be faithful in addressing these conflicts and walking through them together.
Addressing Conflict Amongst Friends (PDF) is a new resource jointly produced by Canadian Friends Service Committee and Continuing Meeting of Ministry & Counsel. Written specifically for Quaker Meetings, the resource highlights common points of tension and conflict, showing both the challenges and opportunities for growth and deepening of community that they present, if navigated with care.
This booklet highlights that Friends have powerful and successful conflict transformation processes – but they may take time, and so sticking with the process is essential.
It also identifies the centrality of worship in transforming conflicts, shares several stories, and offers multiple approaches that Quaker Meetings have used.
Are We Done Fighting? Building Understanding in a World of Hate and Division is a book that Friends dealing with conflict might also find invaluable. Matt Legge wrote the book as part of his work as program coordinator the Canadian Friends Service Committee, the service arm of Canadian Quakers.
Are We Done Fighting? collects and shares wisdom from remarkable peacebuilders from all over the world, both Quaker and non-Quaker. It brings together fascinating research findings on how to build peace and understanding, all in an easy format that will helps the reader build practical skills
Are We Done Fighting? offers short chapters full of tips, exercises, and plenty of evidence to explain what's happening when violence and hate rise, and when peace does.
Here are some other resources that have been developed or collected for Canadian Yearly Meeting, which are offered with the hope that Friends will find them useful: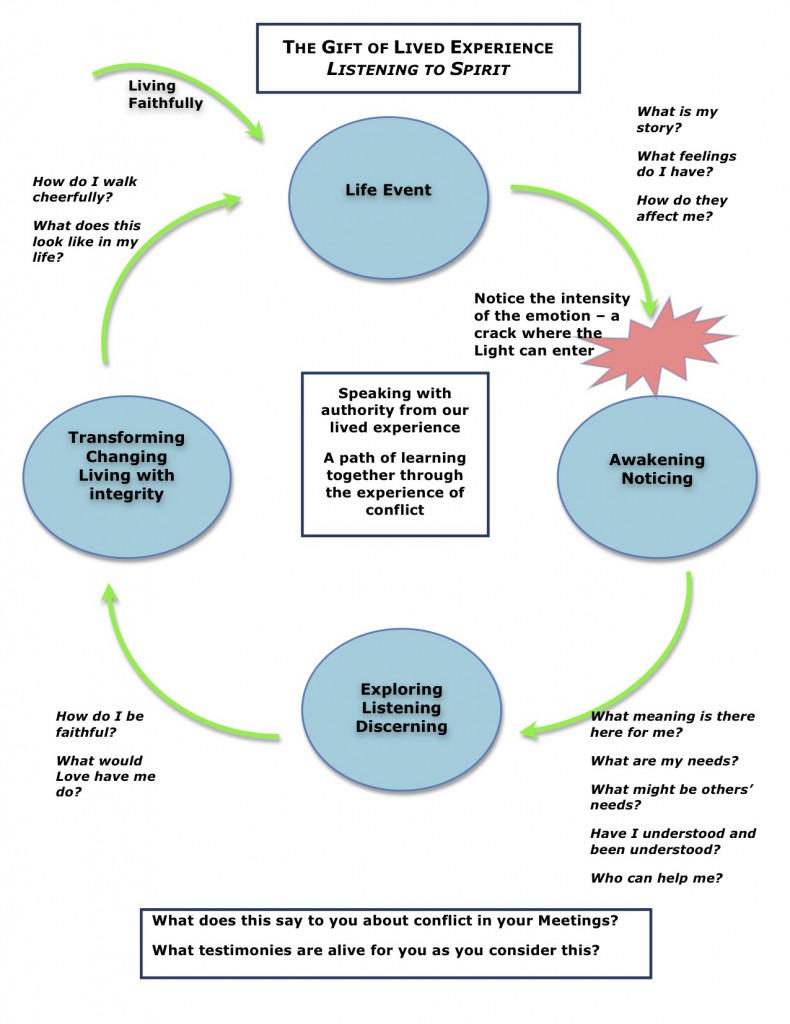 Outline of "Being Peace, Being Quaker: A Course on Being in Conflict"
This guide for a 6-part learning session is offered as part of the Canadian Yearly Meeting resources for individual and Meetings in conflict. It is based on Quaker Process and the Non-Violent Communication (NVC) approach developed by Marshall Rosenberg. Those interested in the course can contact .
Session 1:
 Welcome and Introduction
– A practical, life-affirming approach to being peace, being Quaker
– Introduction of the Non-Violent Communication approach and link with Quaker faith and practice
Session 2: 
Being Peace Being Quaker
– Peace within myself
– Understanding my needs, exploring, inquiring to find them behind feelings and thoughts
– Practicing self-empathy, distinguishing between needs and strategies
Session 3: 
Speaking Peace, Speaking Quaker
– Peace with another
– Listening to hear, understanding and acknowledging others' needs
– Expressing empathy, listening where there's hurt
Session 4:
 Speaking Peace, Speaking Quaker
– Peace with another
– Speaking truth without judgment, seeing the unmet needs behind thoughts and expressions of judgment, making requests (not demands) of others
Session 5:
 Living Peace, Living Quaker
– Answering that of God – in self and in others
– The power of empathy, sustaining a practice of Spirit-led, peace-full communication
Session 6: 
Living Peace, Living Quaker
– Peace where others are in conflict,
 or there is a difficult question without resolution
– What would Love have us do? How do we support others in listening, in speaking truth with compassion?
– How do we contribute to moving through conflict in the Blessed Community?
Learning at CYM in Session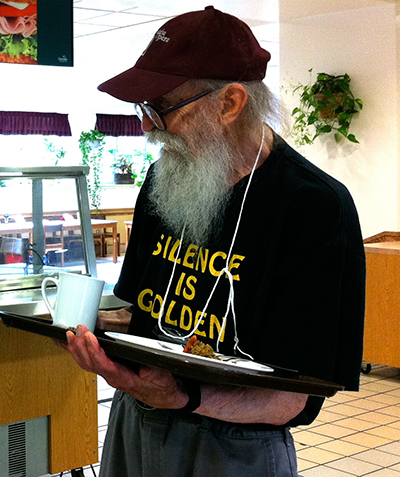 Canadian Quakers gather annually for CYM in Session, where there are many opportunities for learning
Specific information will always appear on the coming year's program (once it's available), but here are typical examples of learning opportunities at the yearly gathering:
Pre-gathering retreats – sometimes silent retreats, sometimes on specific topics
Welcoming and gathering activities that involve learning more about our community and who we are as Friends
The Sunderland P. Gardiner Lecture – a kind of keynote address, usually sharing wisdom from a seasoned Friends on how Spirit has moved in their lives. For the audio and video of some past lectures, go to quaker.ca/resources/audio-and-video
The Quaker Study or Bible Study – 4 or 5 daily sessions on specific topics of interest to Friends. Again, for audio and video of past studies, go to quaker.ca/resources/audio-and-video
Workshops on topics like welcoming first-timers, leading worship-sharing or worship-study groups, the role of Listeners at CYM in Session, and training for those working with youth
Special Interest Groups (SIGs) offered by a number of Friends or Committees. Past SIGS have included: presentations on local service projects, dealing with conflict, writing, collage, playshops, visitation, clerking Meeting for Worship for Business
Age-appropriate, engaging learning and play activities for children and youth
Sometimes we learn just by being in the presence of our elders.