Yonge Street Half Yearly Meeting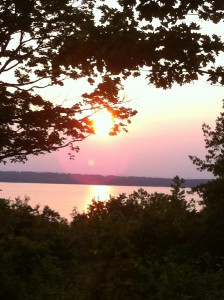 The first weekend of June was Yonge Street Half Yearly Meeting, bringing together Yonge Street, Toronto, Hamilton and Simcoe Muskoka Meetings. Held at Camp NeeKauNis, this year was the biggest turn out they've had in a while with over 60 people of all ages present. There were lots of opportunities to hang out in informal groups, to listen as people shared people's experiences of living their Quakerism, visiting over meals, and joyful moments of discovery with toddlers!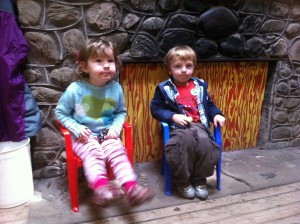 It was lovely to hear the State of Society reports during the Business sessions and I felt warmly welcomed by all. Meeting for worship Sunday morning was held on First Hill over looking Sturgeon Bay, with the sounds of nature, delighted small children and occasionally the highway.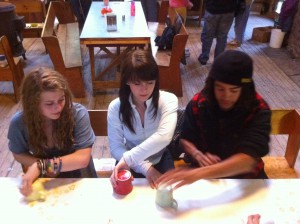 YAFs were involved in lots of Camp upkeep and maintenance; putting in the dock at the beach, mowing the grass, building fires to keep the buildings warm as well as participating in inter-generational games, talent night and programming. I spent a couple hours talking with a few younger and older Friends-of-NeeKauNis who are passionate about seeing camp become more accessible to Friends from across Canada. It was an inspiring conversation and distracted me enough that they trounced my team at Euchre.
The waterfront at Camp NeeKauNis provided ample opportunities for getting ones feet wet, discovering wildlife (the crowd is looking at a huge turtle), sitting in contemplative silence and just getting out and going for a walk when the weather would allow it.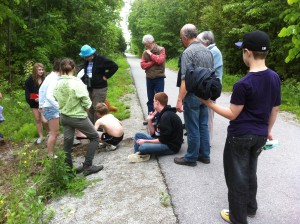 Unfortunately I missed hearing John and Diana Lampen speak and lead a workshop on Making Friends with Conflict. They are Quaker Peace educators and writers. For twenty years, they worked with emotionally disturbed adolescent boys at Shotton Hall School. Later they moved to Derry in Northern Ireland, where they worked in the communities with young people seeking reconciliation. Currently, Diana and John Lampen run the Hope Project, a small training and consultancy agency based in Stourbridge, England, which works for peace in partnership with local organizations in Britain, Belarus, Bosnia, Croatia, Uganda, and Ukraine.
I left the weekend feeling grounded, motivated by the group energy and conversations I had and excited at the connections I had made. A project I am feeling strongly about supporting is taking the opportunity to work with OAFs (Older Adult Friends) to capture their experiences of being Young Friends, their hopes for the future of Quakerism and tidbits of their spiritual journeys to share with Younger (Adult) Friends.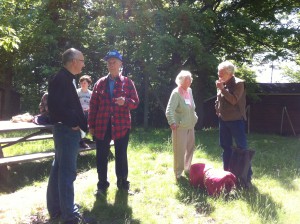 https://quaker.ca/wp-content/uploads/2022/08/Quaker-dot-ca-updated.png
0
0
Bruce Dienes
https://quaker.ca/wp-content/uploads/2022/08/Quaker-dot-ca-updated.png
Bruce Dienes
2011-06-14 16:07:01
2011-06-14 16:07:01
Yonge Street Half Yearly Meeting