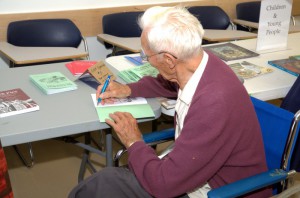 The 2016-2017 Book List #38 is available here.
Quaker Book Service has served Friends' needs for books pertaining to Quaker education, development and entertainment for 35 years. Our aim is to make books of specific interest to Quakers more readily available, and we bring in books from Britain as well as from the United States. We also sell pamphlets issued by Canadian Yearly Meeting on occasional topics, and CYM's official documents: 'Organization and Procedure' and 'Faith and Practice'. We report annually to Publications and Communications Committee of CYM.
Quaker Book Service does not have a telephone, but we can be reached at the mailing address and email listed below. Books can be purchased most Sundays in Ottawa, as well as at Yearly Meeting, and some half-yearly meetings. Quaker Book Service does not have the resources of a commercial bookseller, so in general we are unable to make special orders. Book lists are sent to Meetings and by request to individuals, and are posted on this site. We review and stock new books throughout the year and update lists. Books are paperback unless otherwise specified, and prices are in Canadian dollars. Prices are for present stock and may change.
We are currently conducting a survey about our services. Please help us by completing the survey as soon as possible, and sending it by mail or email to one of the following addresses. Please let us have your comments and suggestions.
For all correspondence write: Quaker Book Service Box 4652 Station E Ottawa, Ontario K1S 5H8 Email: quakerbookservice@quaker.ca