Needed: Child & Youth Program Coordinator and Youth Program Leaders
Canadian Yearly Meeting (CYM) in-session will take place in August in Barrie, ON and after a fallow year, we are excited to gather in community again!  We value the time we spend together and as we know there are many facets to organizing a successful Gathering.
One integral part of our Gathering and spiritual growth is providing an enriching Youth Program.  We've been able to offer wonderful Youth Programs in the past and wish to continue this valued gift… but this is where we need your help!  Would you consider volunteering your service toward the Youth Program this summer?
We are actively searching for the following:  Child & Youth Program Coordinator and Youth Program Leaders.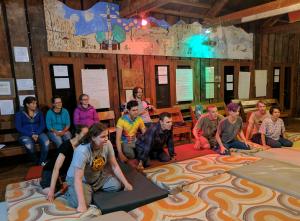 We are looking for people to help lead our Youth Program this summer at CYM. The Youth Program is an incredibly fun place to be at CYM – there is enthusiasm, laughter and joy; but we need great leaders to bring a wonderful program together. If you can serve CYM by being the Youth Program Coordinator or a leader in the Program we want to hear from you! Your responsibilities would include working in collaboration to put together a program at CYM (there will be volunteers to help). The program needs to include worship time, Quaker study time and outings. There are many resources available to help you. We cannot run a program for children and youth without leaders!
Travel, meals and lodging are covered by CYM as these are Required Services positions.
Anyone involved in the Youth Program will need a current Police Check.
There are usually 3 age groups in the Youth Program. The  Coordinator  manages the program and leads an age group, while Leaders are responsible for the other age groups.
For more details, read the Coordinator job description:
Child and Youth Coordinator Job Description 2018 (PDF)
Questions? Want to apply? Contact the Yearly Meeting Office.
https://quaker.ca/wp-content/uploads/2022/08/Quaker-dot-ca-updated.png
0
0
editor
https://quaker.ca/wp-content/uploads/2022/08/Quaker-dot-ca-updated.png
editor
2018-01-26 01:28:36
2018-01-29 22:55:39
Needed: Child & Youth Program Coordinator and Youth Program Leaders