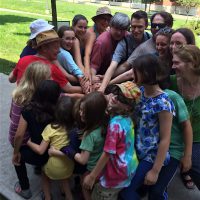 Early registration for Canadian Yearly Meeting helps us plan and you save money – and will run until June 30. If you need more time, no problem – registration will run until July 15. (Families with children, please register by July 1 to allow time to organize the Youth Program.)
What is Canadian Yearly Meeting? It is a gathering for Canadian Quakers which will be held this year in Winnipeg from August 2-10. The Business Meetings at the gathering are the main decision-making body of Quakers in Canada. There's also lots of time for fun and games, socializing, and sessions focusing on spiritual development, social justice, and Quaker history.
To register, you need to fill out one of the following sets of forms:
For more information – including info on financial assistance, the schedule, programming, the youth program, and a lot more — head on over to the CYM 2019 webpage.