Canadian Yearly Meeting in 2020
New Challenges, New Opportunities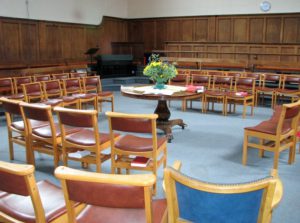 During this pandemic year, our planned in-person CYM in Session has been cancelled. This means the work of Program Committee has been laid down until August 2020, at which time we will continue to plan for CYM 2021.
New Committee, New Ways of Gathering
We have formed an enlarged Program Committee during 2020 in order to offer some parts of our usual programming to Canadian Quaker members, attenders, and inquirers. The Interim Program and Support Committee (IPASC) includes a core group from Program Committee, as well as representatives of Education and Outreach Committee (E&O), Publications and Communications Committee (PubComm), Canadian Young Friends Yearly Meeting (CYFYM), Contributions Committee (Contributions), and Continuing Meeting of Ministry and Counsel (CMM&C).
IPASC will be working on an on-line version of Yearly Meeting, as well as investigating ways to support Friends by making connections among local Meetings, increasing opportunities for on-line learning, and experimenting with other ways for Friends to connect across CYM with those outside their local Meetings. Suggestions and offers of assistance are welcome.
Experiments with Worship, Business, Fellowship
Many Quaker meetings across Canada have been finding ways to use technology to gather in Meeting for Worship, Meeting for Worship for Business, and informal coffee groups. A popular videoconferencing technology for doing this is Zoom, but Friends in Halifax have been using Jitsi. Woodbrooke College has compiled useful guides to meeting online as Quakers, for those looking for help or even just advice on best practices.
There is an unofficial Canadian Quakers group available to those who are on Facebook. As of May 2020, the group included more than 440 Canadians.
We are among Friends worldwide
We will be compiling links to other opportunities for Friends.
We are planning another page that will be on the business side of our site, where we will be able to share more details without exposing ourselves to bots and trolls. When ready, detailed info will be available on our CYM in Session 2020 page. (Please note that to access this page you will be prompted log-in to the business side of our site or to create an account for it. All members and attenders who are part of CYM are entitled to access to this side of the quaker.ca. If you're having a hard time logging in or creating an account, contact our web editor at editor@quaker.ca.)
Questions? Need more info? Send comments using this form.