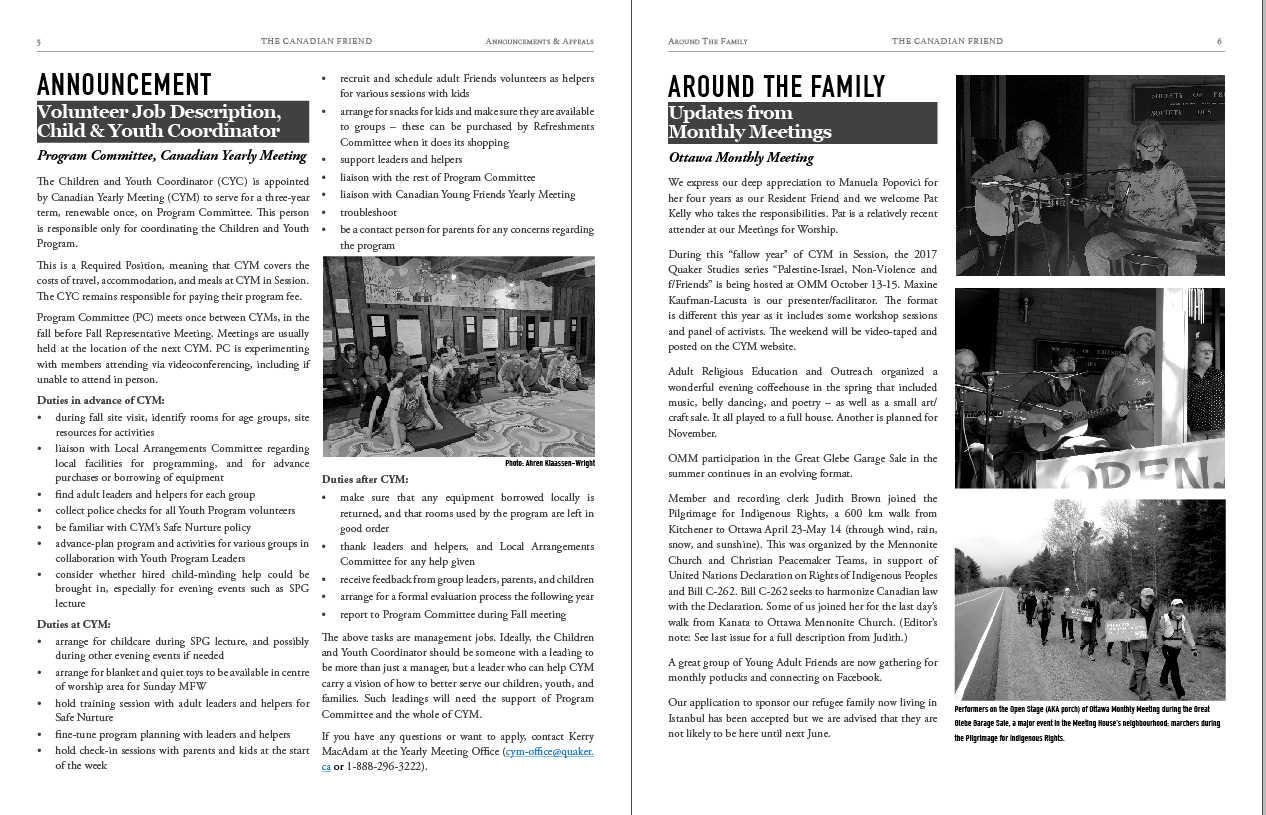 New issue of The Canadian Friend
The latest issue of The Canadian Friend, our national magazine/newsletter, has reached most of our subscribers by mail now,  and is also available electronically.
The Canadian Friend – Winter 2018 (PDF)
The Canadian Friend – Winter 2018 (Online)
This issue includes articles on Basic Guaranteed Income, the Palestine-Israel Quaker Study, and Electronic Surveillance, as well as an interview with CYM's new secretary, news, reviews, and a lot more.
Next Issue & Submissions
The next issue is scheduled for June, and we're still seeking submissions. The due date has been extended to April 15.
Many kinds of submissions are welcome:
pieces pertaining to the issue's theme of polarization (see below)
suggestions and submissions for "Gleanings & Quotations"
photos and captions for our caption contest (see p. 42 in the latest issue)
photos and artwork generally
suggestions and submissions for the "Meet a Friend" feature
Quaker-related news and announcements
anything that might be of interest to Canadian Friends.
Send submissions to The Canadian Friend's editor, Timothy Kitz, at or c/o CYM Office, 91A Fourth Ave., Ottawa, ON, Canada, K1S 2L1. Articles should generally be 500-1200 words; exceptions are possible, but best first discussed with the editor.
Theme: Polarization

The world seems to be getting more and more polarized – politically, economically, religiously, etc. The middle class is evaporating, while the 1% gets richer and the rest get poorer and more precarious.
Confidence in liberal democracy seems to be waning, leading to a revival of fascist and revolutionary leftist groups. Even our weather is swinging to extremes as climate change deepens.
How can Quakers respond to the world's polarization?
What do we make of polarization within Quakerism and Canadian Yearly Meeting (CYM) – between liberal, conservative, and evangelical Friends, for example? What does it mean that CYM has examined the idea of literally splitting through a simulation exercise? When CYM defines itself by taking particular positions on prison abolition, earthcare as a testimony, or Palestine-Israel, is this a constructive kind of polarization or separation from the norm – as opposed to a less-defined, all-embracing position?
Back-Issue Archive
To take a trip down memory lane or seek inspiration, The Canadian Friend back issues are available online. If your library is missing one, you can even download back issues and print them.
Subscriptions and Advertising
You can order a print subscription to The Canadian Friend by contacting the editor. The Canadian Friend also accepts advertising! Send camera-ready or clear, readable copy to the editor, by e-mail. For rates and details, contact the editor (, again).
https://quaker.ca/wp-content/uploads/2018/03/Screen-Shot-2018-03-27-at-1.10.54-AM.png
815
1266
editor
https://quaker.ca/wp-content/uploads/2022/08/Quaker-dot-ca-updated.png
editor
2018-03-29 00:59:15
2018-03-27 02:13:40
New issue of The Canadian Friend