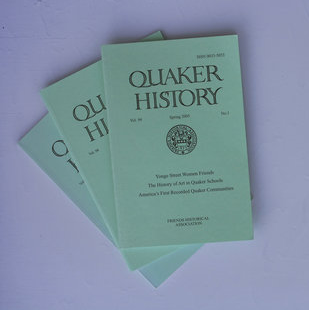 Job Announcement: Quaker History Editorship
Position Announcement: Editorship of the Journal Quaker History
Friends Historical Association (FHA) seeks an editor for its journal Quaker History to begin duties by May 2018. The editor receives a stipend of $2,500 for each issue ($5,000 a year).
About Friends Historical Association:
The Friends Historical Association is devoted to the study, preservation and publication of material relating to the history of the Religious Society of Friends (Quakers). Founded in Philadelphia in 1873, FHA has become an organization that is international in membership and interests and which anyone, Friend or not, is invited to join. The Annual Meeting in the Fall, and a historical pilgrimage in the Spring to an area associated with the history of Quakerism are important activities of the Association. The Association publishes the American journal Quaker History twice a year.
About Quaker History:
Quaker History is the official journal of the Friends Historical Association. Published semi-annually in the Fall and Spring, Quaker History consists of articles on all aspects of the history of the Religious Society of Friends (Quakers). The journal also contains reviews of current scholarship and an annual annotated bibliography of new publications in the field. In addition to its print run, Quaker History is available online through JSTOR and Project Muse.
Duties and responsibilities:
Upholds the mission and scope of the journal
Develops and maintains the quality of the intellectual content of the journal
Seeks out and solicits manuscripts for inclusion that provide new, original and important contributions to the field
Oversees the review process to ensure it is timely, fair, and thorough
Consults with the journal's Book Review Editor
Works with contract designer and a part-time FHA Office Manager who assist with publication duties
Periodically attends (in person or by phone/video) meetings of the FHA Board of Directors
Qualifications:
Experience and knowledge in the field of Quaker history
Experience in conducting research and writing historical narratives
Editing experience in publishing or journalism
Ability to quickly edit articles for content, grammar, and style and to work with writers to ensure content meets high editorial standards
Experience with academic style manuals
Excellent oral and written communications skills
Technical capacity to work in an electronic environment
Self-motivation
Ability to delegate
Strong organizational skills
Ability to set and meet firm deadlines
Strong interpersonal skills and the ability to work in a team environment
Application procedures:
Please send the following documents via email in Word or PDF format to John Anderies, chair of the Quaker History editorial search committee: :
Cover letter outlining the qualifications, experience, and skills you possess to do this job
Copy of your resume
Names, addresses, phone numbers, and email addresses of two professional references
Deadline:
April 15, 2018
https://quaker.ca/wp-content/uploads/2018/03/Quaker-history-square.png
310
309
editor
https://quaker.ca/wp-content/uploads/2022/08/Quaker-dot-ca-updated.png
editor
2018-04-01 01:39:48
2018-03-26 01:51:17
Job Announcement: Quaker History Editorship