Youth and Militarism Conference – April 24-26th 2015
Thank you to everyone who helped to plan and those who participated in the conference!
Conference Zine
The participants and leaders in the East have put together a zine outlining the highlights of the workshops given at the conference. Get a copy here!
[slideshow_deploy id='1072′]
About the Conference
Education and Outreach Committee of CYM is hosting a conference entitled Youth and Militarism from April 24-26, 2015, for youth aged 15-35. The conference will be held concurrently in two locations: Nogojiwanog (Peterborough, ON) hosted by Peterborough Friends Meeting, and at Cranberry Commons, Burnaby. The conference in Burnaby will only take place on April 25th. The two conferences will share information, discussions, updates through social media. Some lectures will be broadcast live from one conference to the other.
Youth in Canada, and particularly young people of faith, are increasingly concerned about militarism in our society and how it affects them. The Youth and Militarism Conference hopes to bring together dedicated and interested youth to discuss and learn about militarism in Canada, to gather wisdom from one another, and to build a common and effective voice to create change. We hope that youth from your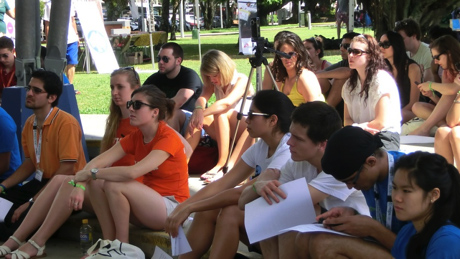 community will be able to join us to discuss the presence of militarism in our lives and envision a future where war is no longer an answer.
The conference will provide workshops and lectures to Canadian youth, covering various topics at the Eastern Conference such as: Christian Peacemaker teams, peacebuilding opportunities and skills, community action and event planning, surveillance, the criminalization of dissent, the militarization of police, the military in Canadian universities and schools, ties between food systems and war, food as a form of resistance, and at the Western Conference: restorative justice, nonviolent communication, countering militarism by cultivating peace, the history of peace movements in Canada, Christian peacemaking, and more!
Connect on Facebook: www.facebook.com/quakeryouthandmilitarism
Conference Specific Information
Eastern Conference
Western Conference
Registration Information
Fees
The conference fee covers food and accommodation expenses for the weekend at the Eastern Conference. There is no cost for the Western Conference which will only run for one day.
Participants 15 and over: $65
Children 7-12: $30
Children 6 and under: Free
Please note: The actual cost per person is around $205. Please consider an extra contribution, if you are able, to help cover the true cost. It would be greatly appreciated.
Important Deadlines
All registration fees and documents, including the registration form, parental release form, and application for travel assistance for Quaker Youth and non-Quaker Youth are due! The deadline was April 1st but we are still accepting applications!
Requests for billets in Peterborough at the Eastern Conference must be sent in by April 18th.
Register Now!
Eastern Conference Registration Form
Registration for the Western Conference is not required.
Please send completed registration forms and payments to the CYM Office by April 1st, 2015 (EXTENDED DEADLINE OF APRIL 18TH):
Mail:
91A Fourth Ave
Ottawa ON
K1S 2L1
CANADA
Fax: 613-235-1753
If You Are Under 18
Underage youth aged 15-17 if attending in ON must complete a Parental Release Form and send it to the CYM Office (). A parental release form is not required for the Western Conference. The form is included in the registration document and also available separately here in a more printer friendly format. This form requires parents to provide health care information and a stand-in guardian for their child. This stand-in guardian must be 19 or over and must be in attendance at the conference.
Download Eastern Conference Parental Release Form here.
Please note: If you are unable to find an older Youth who will be attending the conference and who is willing to be a guardian, please contact Matthew Webb for the Eastern Conference (). He will do his best to find a suitable stand-in guardian.
The deadline to submit the Parental Release Form is April 1st, 2015 (EXTENDED DEADLINE OF APRIL 18TH).
Information on Travel Assistance
For Quaker Youth
Education and Outreach Committee has made funding available to cover travel expenses for Quaker Youth wishing to attend the Youth and Militarism Conference. Applications for travel assistance can be found at the following link under the heading "Application Process for Education Grants and Loans". Please indicate the amount requested for travel assistance under the category of "other".
Please note: A minute of support from your Monthly Meeting is required in order to apply for travel assistance from E&O. Along with a minute of support, participants are encouraged to approach their Monthly Meeting for assistance both for travel fees and conference registration fees.
Applications for travel assistance and Monthly Meeting minutes of support can be sent directly to .
The deadline to apply for travel assistance from Education and Outreach is April 1st (EXTENDED DEADLINE OF APRIL 18TH).
For Non-Quaker Youth
Travel bursaries are available for non-Quaker Youth from PeaceQuest. Download the form below, fill it out, and email it to  before April 1st (EXTENDED DEADLINE OF APRIL 18th).
PeaceQuest Travel Bursary Application
If you have questions about the application please call Jolene at 613-583-2569.
Conference Partners
Statement of Respect
In order to create an environment of respect and safety, the organizers of the Youth and Militarism Conference ask that no weapons, illegal drugs, nor alcohol are brought to either conference venue. Participants should also be aware that the conference is an inclusive space for people of diverse backgrounds, ages, cultures, faiths, genders, sexual and gender orientations, lifestyles, economic circumstances, abilities, personalities, education, work and life experience, etc. Please come to the conference with humility and an open mind.