Register Now!
Eastern Conference Registration Form
Please fill out, save, and email this form to the Canadian Yearly Meeting Office (). We are still accepting registrations! Billets in Peterborough must be requested by April 18th.
Connect to the Facebook event at: www.facebook.com/events/440077762813612/
Eastern Conference Workshops
Christian Peacemaker Teams
Presented by Peter Haresnape
All too often, militarism is promoted as the only alternative to capitulation to the forces of evil in whatever guise they are taking at the relevant moment (Nazi Germany, The Soviets, Saddam, ISIS, etc). However, there have always been alternative ways to resisting evil without resorting to perpetual warfare and the resulting cost to the environment, our lives and our faith in humanity. Christian Peacemaker Teams is one of those experiments in nonviolent peacemaking. Come and discuss transforming violence and oppression through an inclusive, committed, trained, nonviolent presence. Learn more here about Christian Peacemaker Teams.
Youth 4 Global Change & End Immigration Detention Peterborough
Presented by Kristen Lloyd, Myles Conner, Michelle Fraser, and Caileigh McKnight
Our workshop will be jointly facilitated by End Immigration Detention Peterborough and members of the Youth 4 Global Change group. We'll focus on linking issues of forced migration to imperialism and borders, and connecting it to the more localized issue of immigration detention and Canada's immigration and citizenship policies and practices, as Canada's immigration laws leave a lot of logic to be desired, and on a more macro level because we are imprisoning people who are fleeing conditions in the Global South caused directly by Western imperialism and neocolonialism.
PeaceQuest: Event Planning for Peaceful Communities
Presented by Jolene Simko
 Gain organizational and networking skills by hosting peace-building events in your community – think of this workshop as "Event Planning 101". This workshop will cover a brief history of PeaceQuest and provide you with tools to get started building a peace dialogue in your community. Includes helpful guidelines for networking with seemingly disparate groups to bring them together under a common goal: Peace for all!
PeaceQuest is a 4-year project dedicated to examining Canada's role on the international

stage during the 100 year anniversary of World War 1 2014-2018. As a young person in this snapshot of time, this is an opportunity for you to gain key organizational and networking skills by holding peace-building events and activities in your community! This workshop will cover a brief history of PeaceQuest, examples of events and activities done to-date, as well as provide you with all the tools, templates, and recipes needed to get a community dialogue active in your home town. Learn to network with seemingly disparate groups in your community and bring them together under a common goal: Peace for all!
Three Generations of War Resisters Speak Out
Frank Showler, WWII resister, Tom Riley, Vietnam war resister, and Dean Walcott, Iraq War resister will be sharing their experience and involvement with the War Resistors campaign to stop the deportation of Vets back to the US.
Ontario Public Interest Research Group (OPIRG) Peterborough
The workshop will give the participants tools and resources for mapping the state of their school's ties to / complicity with Canadian militarism and imperialism, thus identifying strategic issues to organize around. The workshop would explore the different ways in which Canadian universities are complicit, such as through permitting military recruitment, supporting weapons research, holding investments in arms companies. This workshop may be provided in conjunction with Demilitarize McGill.
Food Not Bombs
Presented by Rachelle
We will focus on food justice, anti-colonial struggle and the history of people's resistance to war and occupation at home and abroad through grassroots social, environmental and political justice movements.  We will at look the history of food and agriculture as it inter relates with a history war, work and commodification.  We will address war manufacturing and the ties that bind war profiteers directly to those who created and profit from our current food system.  We will look at the policies that empower these ties.  We will look at how food has and continues to be used as a weapon and explore together the ways in which people have and are fighting to reclaim a direct connection to land, food and life- in resistance to an industrial- military- agricultural complex.
Contested Terrain: How Canadian War Commemoration Has Changed … and Been Changed
Presented by Jamie Swift
Canada's wars have been noble causes. Soldiers invariably defend peace and freedom. At least, that's the Official Story. Yet myths of valour and sacrifice play an important role in shielding militarism from critique. Jamie Swift will examine the contending cultures of commemoration, exploring how and why we remember war.
Kingston writer Jamie Swift is the author (with Ian McKay) of Warrior Nation: Rebranding Canada in an Age of Anxiety.
Venue
Sadleir House
A historical building in Nogojiwanog (Peterborough, Ontario) turned into a non-profit community and student centre. This building is home to many different community and socially minded organizations and is where Peterborough Monthly Meeting worship each Sunday.
For more information about Sadleir House, visit:
http://sadleirhouse.ca/
Accommodation
Conference participants can be provided with billets at the homes of local families in Peterborough. If you need a billet, please request one by April 18.
Directions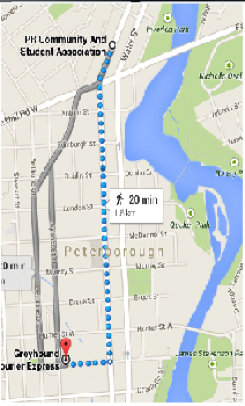 P. R. Community & Student Association
(Sadleir House Facility)
751 George St. N.
Peterborough, ON
From Greyhound Station
– On Simcoe St. head East toward the river
– Turn left on George
– Walk 1.6 km until you pass Parkhill Road
– Sadleir House is on the west side of the street
Food  
Catering will be provided by the local Peterborough chapter of Food Not Bombs, a grassroots organization focused on bringing attention to food politics. FnB raises awareness around food sovereignty, food waste, locally concerned from where the food comes from and who is able to access that food. All meals will be vegan and accessible to all who are hungry. If you have any dietary issues such as food allergies that need to be addressed please indicate those on the registration form. If you are a meat eater and don't think you can go the weekend without it please look after yourself and prepare what you need ahead of time or check out one of Peterborough's amazing restaurants nearby.
For Those Attending with Children
The conference fee for children aged 7-12 is $30. Children 6 and under are free. If you are attending with children and/or a spouse please indicate on your registration form and we will arrange a billet for your family to stay together with. At the venue there will be childcare provided so parents can feel free to take in and learn as much as they can.