CYM2020 Announcements and Notices
Come back to this page to check for the Daily e-Quacker and other notices. Scroll to the bottom to submit an announcement.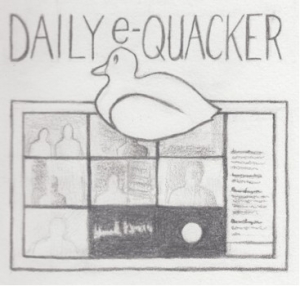 Daily e-Quacker
CYM2020 Daily Quacker for Thursday (PDF)
CYM2020 Daily Quacker for Wednesday (PDF)
CYM2020 Daily Quacker for Tuesday (PDF)
CYM2020 Daily Quaker for Monday (PDF)
Gleanings
Gleanings are things that you hear during CYM that strike you as deeply meaningful, funny, or possibly both. It is our custom to collect gleanings and to share them at the end of CYM-in-session in our minutes and as a presentation during the Family Night. As we have neither minutes nor a Family Night this year, we will be publishing them in the next issue of the Canadian Friend.
Click here to submit a Gleaning.
Joys and Sorrows
Joys and Sorrows since we met last year in 2019.
Submit to the Daily e-Quacker
Each day we will publish a Daily e-Quacker with events of the day and items that Friends submit. Use this form to submit something to the Daily e-Quacker.
Remember that the Daily e-Quacker will be publicly available, so don't include private information.
[raw][contact-form subject="CYM2020: Submission for Daily e-Quacker" to=""] [contact-field label="Daily Quacker Submission" type="textarea" required="true"/] [/contact-form][/raw]
Thank you to Ruth Pincoe for offering to be the first editor of the Daily e-Quacker.
Ruth would be happy to share this joy with others, preferably by passing on the reins to the next editor! Submit your offer through the Daily e-Quacker form below. Thank you!
Set up your own events!

Use the Daily e-Quacker to notify Friends about group discussions you would like to have.
Interested in hearing about good books people have read?
Want to set up a discussion on Peace and Social Justice work?
Put the information in the Daily e-Quacker. May we suggest organizing a conversation on the CYM 2020 Discord server?