Links to Zoom meetings are now in the schedule
You can join the CYM2020 Discord server to chat with others outside the scheduled Zoom sessions
Welcome to the page for CYM2020 events, our grand adventure in on-line Canadian Yearly Meeting offerings for this pandemic year. This is the place to come for the very latest information and links.
To learn more about using Zoom to join CYM2020 – and our Discord server to talk to other participants, outside of formal sessions – skip down to the section on Tech Use & Support.
Registration for worship sharing groups is now closed. If you have registered for a worship sharing group, you will receive an invitation to a Zoom meeting for your group by email.
2020 has been a year of challenges, but also a year of experimentation and successes. Please bear with us as we try this for the first time.
Daily e-Quackers now available
The Daily Quacker is a longstanding tradition at CYM-in-sesssion – a daily, one-sheet collection of reminders, updates, and announcements
CYM2020 Daily Quacker for Thursday
CYM2020 Daily Quacker for Wednesday
CYM2020 Daily Quacker for Tuesday
CYM2020 Daily Quaker for Monday
We will be publishing another e-Quacker each morning. Send  your submissions in through the form on the Announcements page.
---
Joys and Sorrows Page
9 August, 2020
Joys and Sorrows now have their own page, including memorial minutes. Submit news using the form on the Comments and Questions page.
---
Special Presentations During CYM2020
5 August, 2020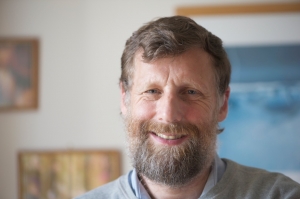 While many exciting things are scheduled for CYM2020 (full schedule here), there will be 4 special presentations during CYM2020. This includes Alastair McIntosh's talk "Quaker Leadings and our Calling in these Times." Some will know Alistair for for his delivery of the Sunderland P. Gardner lecture at CYM 2015, entitled, Decolonising Land and Soul: a Quaker Testimony.
Read more about Alistair's talk, as well as other presentations on CYM's future, defunding criminal "justice," and experiential truth and reconciliation.
---
Tech Use & Support
29 July, 2020
Aside from this website, two pieces of tech we will use to host CYM 2020 online are Zoom and Discord. If you're not familiar with these, never fear! Support is available.
Zoom First
All you need is Zoom, a videoconference app, to attend all of the events of CYM2020 and participate fully. The three practice sessions for Zoom have now passed. For those who would benefit from more explanation and instructions, have a look at the Quaker guide to online worship and meetings created by Woodbrooke College, which includes detailed instructions on using Zoom. You may also wish to read Pendle Hill's advice for Friends attending on-line worship.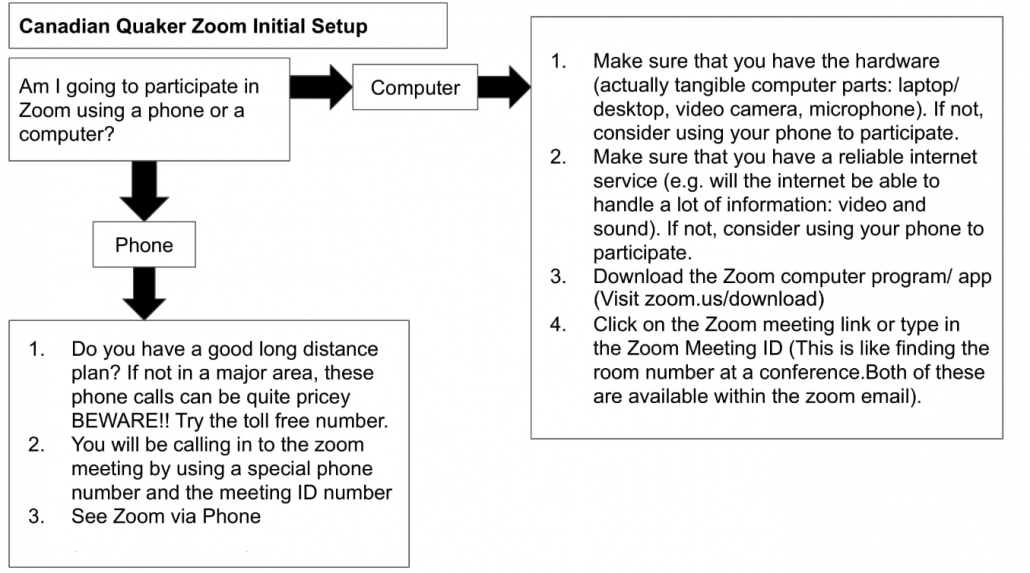 If you need more help, please ask local Friends who are able to help, or email .
Zoom via Phone
It is also possible to access Zoom sessions by telephone. Please dial your local Zoom number and enter the Meeting ID listed below. (Some local numbers for Canada are listed here.)
If you do not have a local Zoom number, if you are having trouble, or if this sounds like gobbledygook to you, email or leave a message at 1-888-296-3222.
Individual Support
We know there are members who are hesitant to use the internet and need support to use it successfully. Others don't have access to a strong enough connection. We want to ensure that all who want to attend this year, can.
Please contact or leave a message at 1-888-296-3222 to be connected to a Friend who will support people who have challenges with the internet and Zoom in particular. Our Friendly approach and technical knowledge will try to help find creative participation for all at CYM in Session.
Optional: Discord For Conversations (text and voice)
We are experimenting with Discord, a powerful chat and messaging application, that will allow Friends to talk and share information during Yearly Meeting. Think of it as a space to talk informally and leave messages between the official sessions on Zoom.
There is no requirement to use Discord, but we hope that Friends will try it out. Already there are a number of Friends on the server who are 70+. It's not just for the tech-savvy or the young. Check out this guide to getting started with Discord if you would benefit from further explanations and instructions.
To join the CYM2020 server, you will need to have a Discord account (free, set up on discord.com). Once you have an account, you can join the CYM2020 server by clicking this link. 
Initially, access to the server is limited. After you introduce yourself in the #introduction channel, someone will change your account to give you more access. This is done by a person, so it may not be immediate.
---
Register & Volunteer

20 July, 2020
You can now register for our online Yearly Meeting by filling out this form:
Registration for CYM 2020 (google form)
NOTE: registration for worship sharing groups is now closed.
To pull this off, we will need help! Please consider volunteering for Yearly Meeting. The areas where we need help are in the registration form.
---
Schedule
18 July, 2020
The schedule for CYM 2020 is now available. These sessions will mostly focus on spiritual development, opportunities to socialize and connect, and social and environmental justice.
There will no business sessions; the business that normally would have been Yearly Meeting 2020 is being addressed in series of Representative Meetings running this spring and summer, meetings which can be conducted online more easily. (Quakers who have an account on our business site can sign in to read Representative Meeting minutes and documents, then pass the fruit of their discernment onto their representatives. Those without accounts can request one here.)
---
Survey Results

29 June 2020
A summary of feedback from our survey on what Friends want to see in place of an in-person Yearly Meeting in Session is now available:
Summary of Survey Responses – What do Friends want to see this year? (PDF)
We look forward to using this feedback to plan our messy adventure together during this pandemic year.
---
Planning for an online Yearly Meeting
20 May 2020
New Challenges, New Opportunities
During this pandemic year, our planned in-person CYM in Session has been cancelled. This means the work of Program Committee has been laid down until August 2020, at which time we will continue to plan for CYM 2021.
New Committee, New Ways of Gathering
We have formed an enlarged Program Committee during 2020 in order to offer some parts of our usual programming to Canadian Quaker members, attenders, and inquirers. The Interim Program and Support Committee (IPASC) includes a core group from Program Committee, as well as representatives of Education and Outreach Committee (E&O), Publications and Communications Committee (PubComm), Canadian Young Friends Yearly Meeting (CYFYM), Contributions Committee, and Continuing Meeting of Ministry and Counsel (CMM&C).
IPASC will be working on an on-line version of Yearly Meeting, as well as investigating ways to support Friends by making connections among local Meetings, increasing opportunities for on-line learning, and experimenting with other ways for Friends to connect across CYM with those outside their local Meetings. Suggestions and offers of assistance are welcome.
Experiments with Worship, Business, Fellowship
Many Quaker meetings across Canada have been finding ways to use technology to gather in Meeting for Worship, Meeting for Worship for Business, and informal coffee groups. A popular videoconferencing technology for doing this is Zoom, but Friends in Halifax have been using Jitsi. Woodbrooke College has compiled useful guides to meeting online as Quakers, for those looking for help or even just advice on best practices.
There is an unofficial Canadian Quakers group available to those who are on Facebook. As of May 2020, the group included more than 440 members.
We are among Friends worldwide
We will be compiling links to other opportunities for Friends.
We are planning another page that will be on the business side of our site, where we will be able to share more details without exposing ourselves to bots and trolls. When ready, detailed info will be available on our Business page. (Please note that to access this page you will be prompted log-in to the business side of our site or to create an account for it. All members and attenders who are part of CYM are entitled to access to this side of the quaker.ca. If you're having a hard time logging in or creating an account, contact our web editor at .)
Questions? Need more info? Send comments using this form.