UPDATE: This page is no longer being actively updated. For those attending CYM 2019, please go to the CYM in Session 2019 page for the most detailed and up-to-date info (e.g., an updated schedule with room locations, business agendas, documents in advance, etc.).
Please note that you will need to login to the business side of our site to access this page. Going to the page will automatically prompt you to login if you aren't already, and to create an account if you don't have one. If you're having a hard time logging in or creating an account, contact our web editor at .
Getting to CYM:
CYM is taking place at Canadian Mennonite University's south campus, which is at 600 Shaftesbury Blvd in Winnipeg. More information on the site and transportation there is available at the bottom of this page.
When you arrive, come to the administration building to register and receive further directions – marked with a red star in the map: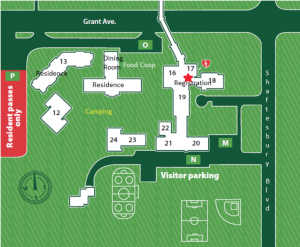 CYM 2019 Gathering: August 3-10, Canadian Mennonite University
(South Campus, 600 Shaftesbury Boulevard, Winnipeg, MB)

Canadian Yearly Meeting's annual gathering is open to all. Its Business Meetings are the main decision-making body of Quakers in Canada. There's also lots of time for fun and games, and sessions focusing on spiritual development, social justice, and Quaker history.
Questions? Need more info?
For questions about CYM 2019, registration, or the financial application email .
For questions about this page or the electronic files, email the web editor ().
CYM 2019 Schedule At-A-Glance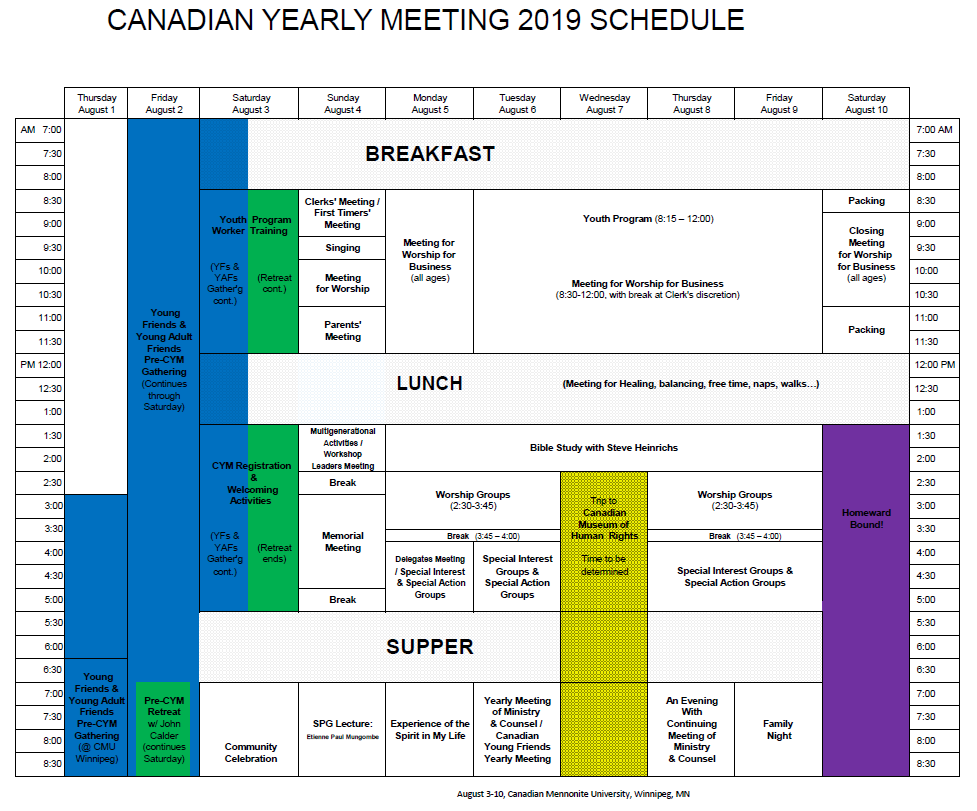 PDF Schedule
Detailed CYM Schedule
Detailed CYM Schedule
SATURDAY AFTERNOON, Aug 3
WELCOME, WELCOME, WELCOME!
Join us in the CYM 'settling in' space (watch for signs) Saturday afternoon, from 2-5:30 pm. Make Friendly connections, re-connections, and deeper connections. First-timers are especially encouraged to hang out here and start to explore the richness of Friends gathering from all across the continent (and abroad!).  We'll have plenty of activities to help you be present: games, art materials, puzzles, refreshments, even a reading corner where you could settle with a cup of tea – and maybe a new/old F/friend!
SATURDAY EVENING, AUG 3
Community Celebration
Come be welcomed, be seen, and see who is here from where, while we "make a joyful noise" together.  Our welcome session will include our now familiar practice of acknowledging, thanking and being welcomed by an Elder where we meet.
'First-timers' – young AND old – will receive a special welcome; Quaker music talents will shine. Group fun will help Friends of all ages connect or reconnect with people in their own Meetings and from across the country. A must-come, sing-move-salute-and-celebrate opening evening – see everyone there!
SUNDAY MORNING, AUG 4
Meeting for Worship
All who attend CYM are welcome, including children, for whom some worshipful AND fun activities will be provided.
SUNDAY, AUG 4, 1:30-2:45 pm:
All Generations Community Building
Come intentionally build community through laughter and play! All CYM attendees are greatly encouraged to participate in a sequence of fun activities that support getting to know each other, sharing space, and developing trust. The activities are designed for the inner-child in all of us, and will be appropriate for all ages, stages, and abilities (accommodations will be joyfully offered).
This time is purposefully scheduled so all generations can attend (except for Worship Group leaders – sorry!), and is designed to engender a sense of connection among those who come to be part of the 2019 CYM in-session community. We look forward to a joy-filled afternoon together!
SUNDAY AFTERNOON, AUG 4, 3-5 pm
Celebration of the Grace of God in the Life of Friends
Also known as Memorial Meeting, this is a time for reflecting on and rejoicing in the grace of God in the lives of Friends who have died in the past year. We gather in silence, the names of those Friends are read, and we remember them as we worship together. This year, the Memorial Meeting will be clerked, not just in the reading of the names, but in ensuring that the ministry offered is surrounded by sufficient silence to allow appropriate reflection.
We urge Monthly Meetings to ensure that the names of Friends who have died since CYM 2018 are sent to the CYM office so that all may be included.
SUNDAY EVENING, AUG 4, 7-9 pm
The Sunderland P.Gardner Lecture
Etienne Paul Mungombe will present "African Refugee Journeys:  Listen, Love, Learn, Act."
Etienne Paul Mungombe is a birthright Friend from Uvira, in the Democratic Republic of Congo. Paul was forced to flee to Tanzania as a refugee in 1996 due to the First and Second Congo War. In the refugee camp, he completed theological training and was ordained as a Friends Church pastor.
In 2008 Paul's family was moved by the United Nations High Commission for Refugees (UNHCR) to Kakuma refugee camp in Kenya, where he started and pastored Kakuma Friends Church. While in Kakuma Paul completed training in peace making, Healing and Rebuilding our Community (HROC, an Alternatives to Violence program) and other de-traumatization education, and led workshops to support refugees and displaced people recover from trauma. Paul completed his teaching diploma and started studies through Friends Theological College in Kenya. In 2012 Paul helped to create Hope and Voice for Disabled People, a community based organization in Kenya that does peace work through games and workshops.
In 2016 Paul and his family were offered refugee settlement in Canada. They arrived in July 2016. Since then Paul has established a Friends Church in Montreal and is associated with Montreal Monthly Meeting. With other refugee Pastors Paul has been involved with founding Union des Églises des Amis/United Friends Churches (UFC) in Quebec.
MONDAY–FRIDAY, AUG 5-9, During the lunch hour (12-1 pm)
Meeting for Healing
Friends who feel a need for healing for themselves, or who know of others who may be troubled or ill and whom they would like to hold in the Light, are welcome to come together for this daily time of prayerful community.
MONDAY EVENING, AUG 5, 7-9 pm
Experience of the Spirit in My Life
Hosted and clerked by Continuing Meeting of Ministry and Counsel, this worship-sharing time is an inspiring way to proceed with our week together. In a settled silence of worship, Friends share experiences that they feel show the workings of the Spirit in their own lives. Each contribution is supported in silence before and afterward. All who attend CYM are welcome.
TUESDAY EVENING, AUG 6, 7-9 pm
Meeting of Yearly Meeting of Ministry and Counsel
All members of Monthly Meetings of Ministry and Counsel or their designates, and the designates of Monthly Meetings without M&C, should attend.  We will share our concerns and joys, determine where special attention may be needed, and consider names for nomination to CMMC.
WEDNESDAY AFTERNOON, AUG 7, 2:30-8:00pm
TBD
THURSDAY EVENING, AUG 8, 7-9 pm
An Evening with CMMC
This is an opportunity for all Friends to join Continuing Meeting of Ministry and Counsel to explore ways to minister effectively to isolated Friends and estranged members. We'll share our ideas and strategies through small-group skits: helpful AND fun!
FRIDAY EVENING, AUG 9
FAMILY NIGHT
Don't miss this opportunity to share your talent!  An evening of songs, stories, laughs and the ever-popular reading of gleanings!  Entertainment starts at 7:00 pm.  Young and young-at-heart are welcome to attend and participate!
MONDAY THROUGH FRIDAY, 1-2 pm
BIBLE STUDY
Steve Heinrichs will present on "The Cost of Colonialism, the Joy of Jubilee: Re-Imagining Christian Identity and Practice in Canada."
Steve is a settler Christian from Winnipeg, Manitoba — Treaty 1 territory and the homeland of the Métis Nation. The director of Indigenous-Settler Relations for Mennonite Church Canada, Steve is a student of activism who loves to march with his partner, Ann, and their children Izzy, Aiden, and Abby.
Young Friends Gathering
THURSDAY AUG 1 to SUNDAY AUG 4
YOUNG FRIENDS GATHERING (Ages 13-35)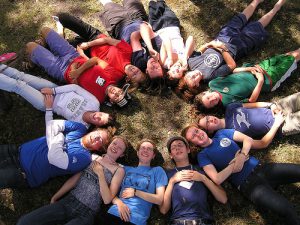 Join us for fellowship and community building! There will be lots of games, crafts, singing and group discussions between meals and worship sharing. Come get to your know fellow Young Friends on this relaxed, fun and friendly retreat.
Funding is available! Contact the CYM Secretary (Cam Fraser, ) for details.
Registration for the Young Friends Gathering is part of registration for CYM 2019, so please see the Registration section and form below.
For all the details on the Gathering, please see the full invitation to the Gathering, the Young Friends Facebook group, and the Facebook event page.
Here is newly-released schedule: Young Friends Gathering Schedule – Winnipeg 2019 (PDF)
Pre-CYM Retreat
FRIDAY EVENING AUG 2 to SATURDAY AFTERNOON, Aug 3
PRE-CYM RETREAT 2019 – A WITNESS TO THE FOUNTAIN
Early Friends took a radical view of the scriptures. Robert Barclay, the 17th Century Quaker theologian, claimed that the scriptures were "a witness to the fountain but not the fountain itself." George Fox proclaimed that "Christ is come to teach his people himself." While other Christians at the time referred to the scriptures as the Word of God, early Friends proclaimed that what they variantly called the root, the light, the seed, or the living spirit of the divine, was the Word of God. God had yet more Light to break forth from his Word.
What is our experience today of the written scriptures? What role have they played in our own spiritual journey? How have they influenced our faith community, and how do we respond to both the positive and negative role they presently play in the world?
Our retreat will take the form of a meeting for learning. As in Meeting for Worship we will gather as equals, seeking the truth, willing to share and explore together for deeper understanding.
John Calder of New Brunswick Monthly Meeting has agreed to facilitate this retreat.
Registration for the Pre-CYM Retreat is part of registration for CYM 2019, so please see the Registration section and form below.
Youth Program
Youth Program
There is something for everyone aged 0 to 17 years at the CYM Youth Program. And there are many opportunities for Friends over the age of 17 to play a part as well. Sharing your gifts and talents with our young folk is a vital service to Friends — and it's a lot of fun!
IMPORTANT MESSAGE! In order to provide programming for your child(ren) you MUST register by July 1st. If you register late, you should assume that your child(ren) will be in your care for CYM. (They are welcome to join programs that are already running, however we will only run programs for age groups that are registered by the registration date.)
Program overview:
Sunday, August 4
For all age groups: A fun multi-generational gathering in the afternoon, with stories, movement, and more.
Monday to Friday, August 5-9
For children 0-5: Crafts, play-time, music, stories, daily worship and sharing circle, games, multi-generational activities and age-appropriate field trips. Schedule: 8:15-12:00 & 1:30-5:30 pm
For children 6-11: Creative, active fun including daily worship, sharing circle, board games, outdoor games like soccer and capture the flag, balancing, arts and crafts, drama, and music. Field trips and multi-generational activities, including community building and workshops. Schedule: 8:15-12:00 & 1:30-5:30 pm
Youth 12-17: The youth will have many activities geared specifically for teens. There will be a choice of activities, depending on interest and age. This will include board games, drama and improv, song writing and activism, balancing, a chance to experience Quaker worship in many different forms, Special Interest Groups and Special Action Groups, service, arts and crafts, field trips. Schedule: 10:00-12:00, 1:30-5:30 and every evening.
Are you called to volunteer?
Please consider whether you feel led to volunteer. A successful children's program is only possible with volunteers. Your volunteer time can be one of the things that make CYM fun for young participants — and their parents! It is also a way to have some of your CYM expenses covered.
To be compliant with CYM's policy Safe Nurture of Vulnerable Persons in Our Care and our insurance, ALL volunteers with the Youth Program (whether a Coordinator, Leader or even a driver to an activity), MUST complete and submit a Police Check form to the CYM office prior to the gathering. You can obtain a Police Check form from your local detachment. Police Checks are kept in confidence and in a secure location.
We are looking for Leaders for the following age groups:
Birth to 5 years; 6 to 11 years, and 12 years and older (groupings may change depending on participant numbers and interests). These positions will involve planning ahead, along with Youth Program Coordinator, for the week of programming. During CYM, it will involve daily time with the children's program. Note: You will not be responsible for all the programming, nor are you expected to spend all your time with the children's program.
Financial Support: Each Youth Program Leader will be supported with funds for travel, meals, and lodging.
Vulnerable person's police check/child abuse registry check will be required, as well as references. All programs will be run in accordance with our policy for "Safe Nurture of Vulnerable Persons in Our Care."
Additional volunteers needed: Perhaps you want to participate but not coordinate a program. Great! We can use you! Bring us ideas and let us know what you would like to do. Possibilities include leading a workshop for kids, organizing arts, crafts or games, being an extra pair of hands one day, or helping to supervise a field trip. See above re: Police Check requirements.
We want to provide a Youth Program that is just as inspiring as the CYM main session. Please help us create a wonderful week for our young attenders.
Special Interest Groups & Special Active Groups
Special Interest Groups & Special Active Groups
SIG/SAG Descriptions and Schedule (PDF)
Special Interest and Special Active Groups (SIGs/SAGs) are concurrent sessions that offer opportunities to gather in smaller groups. Their purpose could be to educate, discern, share, explore, or participate in an activity of community building. The topics may span the breadth of individual and corporate Quaker interests.
A SIG could be an opportunity for early exploration of an emerging concern with a group of Friends who may be similarly led, or it could offer an opportunity for the final stage in discernment of a concern that has already received some threshing at the Monthly or Half-Yearly Meeting level or a committee of CYM, before it is brought to Business Meeting.
A SAG could be more experiential, community-building activities, and could include Friends of all ages. Past offerings have included worship-sharing, art, music, story-telling, and spiritual or physical practices.
Worship Groups
Worship Groups
Worship Groups will take place from 2:30-3:45 pm, Monday to Friday. Friends have a choice of the following forms of worship:
Chant:  Friends wishing to worship through music are welcome to join voices in simple, repeated chants which grow as we sing together, creating new harmonies and beauty. No musical experience is required.
Silent Worship: A place is set aside for those selecting this option.
Walking Meditation and Worship: Listening for the Spirit in silence doesn't have to be a sedentary activity. During the worship group period, Friends who choose this option will walk together in silence for about a third of the time, sit in worship for another third, then walk back to the campus, again in worshipful silence.
Worship Fellowship Groups: These groups have no assigned topic and meet for reflective sharing, as participants are led. The facilitator will introduce worship sharing for the benefit of those new to it and will help guide the group in what may be a deeply worshipful experience.
Worship Sampler: Friends who choose this offering will be able to participate in different forms of Quaker worship throughout the week. The group(s) will experience silent worship one day, join the chanting group another, do a walking meditation and worship, and have worship sharing and worship study sessions, with the schedule always open to modification by those who sign up.
Worship Study Groups: Study groups provide an opportunity for further reflection on the subject of the day's Bible Study, with a leader to facilitate worshipful sharing. Groups may either consider suggested questions or take the topic in whatever direction they are led.
Listeners
Listeners
Yearly Meeting can be both a joy and a challenge – sometimes both these things for the same person! Also, even if we try not to, we may bring some of our struggles from home along with us.
Are you in need of someone to listen to you during Yearly Meeting? Is there a joy or a concern you would like to share? Listeners are available.
Please speak to someone on Ministry and Counsel to arrange some time with one of the volunteer Listeners.
Volunteer Ministry
Volunteer Ministry
Friends are encouraged to volunteer for 1 or 2 of the following ministries during Canadian Yearly Meeting.
Adult Friend Volunteer Ministry involves miscellaneous jobs up to a maximum of a 2-hour time period.
Bellhop/Greeter/Guides help Friends with luggage both to and from their rooms, at the beginning and end of the week.
Blog Coordinator(s) write and upload blog posts about Yearly Meeting Session on quaker.ca.
Clean-Up Volunteers are able-bodied Friends willing to help put chairs and tables back, remove signage, go through rooms to ensure they have been emptied, etc.
Committee of Care involves serving on a short-term Committee of Care on behalf of Continuing Meeting of Ministry and Counsel (only during the week of Yearly Meeting).
Correspondence Committee organizes the sending of greetings to Friends, known to those attending Yearly Meeting, who have been prevented from being present. The committee posts a sheet of paper asking for appropriate names to be listed, with current addresses. Cards and stamps will be provided.
Daily Quacker Editor(s) produce our daily newsletter for the week of YM Session.  The Editor would gather submissions and work with volunteers to produce and lay out the newsletter.  Photocopying services are available on-site.
Doorkeeper(s) hold late-comers at the door during Meeting, shepherding them in at an appropriate break. A rota will be set up for this task by those volunteering.
Epistle Committee prepares the text of the Yearly Meeting's Epistle. The committee meets once or twice during the week. Typically, members reflect in silence on the unfolding events and then share their views concerning the most significant aspects.
Evening Babysitter(s) are available to parents of very young children so that they may attend evening events, between 7:00 pm and 9:00 pm, Monday to Thursday.
Family Night Helper(s) enlist and organize acts for Family Night and may help emcee.
Gleanings Committee collects short quotations, heard in any place, at any time, which catch the spirit of the Yearly Meeting. Gleanings are read back during Family Night.
Medics deal with minor issues which need attention, such as stomach upsets, insect bites, etc.. First-Aid certification is a requirement.
Meeting Room Set-up involves making sure the major meeting room(s) are set up in appropriate form (a rota will be set up); these volunteers may be asked to help set up for other events.
Microphone Walkers transport cordless microphone between Friends during Meetings for Business.
Minute Review Committee reviews the minutes that were written in each day's business sessions and offers editorial advice concerning them. Members try to identify any factual errors such as committee titles, the spelling of names, membership designations, etc. They may suggest rewording, where necessary, for clarity and coherence. Any alteration of substance must be referred to the Clerk to be taken to the next business session.
Silent Worship Leader(s) lead a small group in Silent Worship.
Technical Support provides assistance with audio/visual as needed.
Translators help with translation from French to English and/or sign language, according to their ability.
Walking Meditation Leader(s) lead Friends on a silent walk around campus grounds followed by worship.
Worship Fellowship Leader(s) lead a Worship Fellowship group.
Worship Study Leader(s) lead a Worship Study group.
Youth Program Helpers work with specific age group(s) under direction of YP Coordinator. All Youth Program Volunteers – even drivers – MUST complete and submit a Police Check form to the CYM office prior to the gathering. You can obtain a Police Check form from your local detachment. Police Checks are kept in confidence and in a secure location. FAMILIES: Please ensure you register BEFORE July 1 to allow the Youth Program Coordinator ample time to acquire proper leadership.
Craft Sales & Display
Craft Sale
There will be time set aside during the week to display and sell crafts. Please indicate on the appropriate section of the registration form if you need to reserve a table.
Displays
If you plan on having a display and cannot bring it with you, please ensure your material is sent directly to the site with "Please Hold for Canadian Yearly Meeting" clearly marked.
You are responsible for transporting your display material to and from the site and for its set-up and take-down. The school's address is:
Canadian Mennonite University
North Shaftesbury (Primary mailing address for sending display material)
500 Shaftesbury Blvd.
Winnipeg, MB  R3P 2N2
South Shaftesbury (where CYM meals/residence/tenting/Meetings for Business is held)
600 Shaftesbury Blvd.
Winnipeg, MB  R3P 2N2
Phone: 204.487.3300
Fax: 204.487.3858
Toll Free: 1.877.231.4570
Remember to check off on the registration form if you need to reserve a table.
All the documents for Business Meetings are now on the CYM in Session 2019 page.
Please note that you will need to login to the business side of our site to access this page. Going to the page will automatically prompt you to login if you aren't already, and to create an account if you don't have one. If you're having a hard time logging in or creating an account, contact our web editor at .
Site Map & Address
CMU South Campus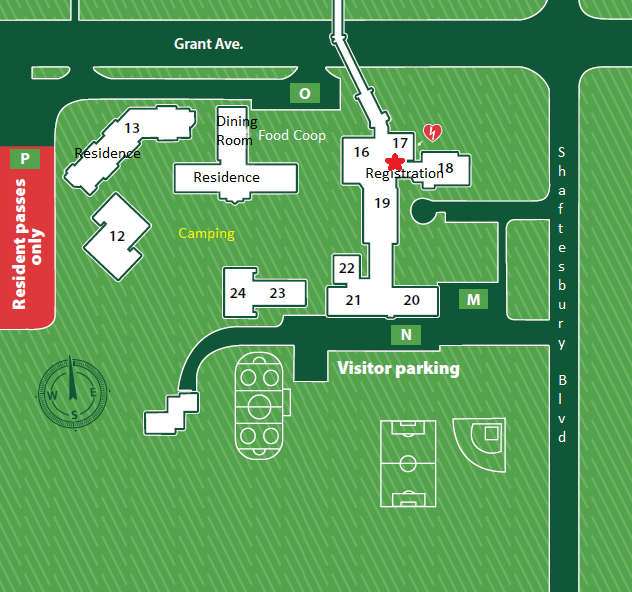 Site address: Canadian Mennonite University
North Shaftesbury (Primary mailing address for sending display material)
500 Shaftesbury Blvd.
Winnipeg, MB  R3P 2N2
South Shaftesbury (where CYM meals/residence/tenting/Meetings for Business is held)
600 Shaftesbury Blvd.
Winnipeg, MB  R3P 2N2
Phone: 204.487.3300
Fax: 204.487.3858
Toll Free: 1.877.231.4570
Site Rules & Information
Site Rules
Continuing Meeting of Ministry and Counsel reminds Friends that we are guests at Canadian Mennonite University. Everyone who attends, regardless of age, is by their participation at CYM, agreeing to respect the campus rules while we are on-site during our time together. Thank you in advance for your care.
Alcohol, drugs, and smoking are NOT permitted anywhere on the site.
Pets are NOT allowed on-site.
Laundry facilities are available.
Check‑out time is no later than after lunch on Saturday, August 10.
Parking is available.
On-site contact number: it is best to contact someone on their personal cell phone, however, if unavailable, the Campus Host phone is staffed 24/7 at 204-228-3962.  Campus Hosts can only take messages and pass them along – if you need emergency help, call 911.
Lodging
Lodging
Dormitory
Friends have the option of the following:
• Poetteker Hall: a single or double room with access to a common washroom in the hallway (less expensive option) – note that there is NO air conditioning in Poetteker Hall;
• Concord Hall: a single or double room with a shared washroom between 2 dorm rooms – note that air conditioning IS available in Concord Hall.
Rates are located on the registration form. All dormitory rooms are provided with 1 pillow, blanket, sheets, and a towel for each bed reserved. Bring your own soap and toiletries.
Tenting
There are designated areas on the site reserved for tents. Please check at the registration desk before setting up camp to make sure you are in the right location. The cost for camping is $19 per tent per night.
Meals
Meals
Dining Room
Please book your meals in advance, and plan ahead for any meals you may miss. There may be limited opportunity to add or cancel meals on-site for exceptional circumstances. Rates are found on the registration form. You have the option of selecting your meals in the dining room, Food Coop, or a combination of both.
Those with food allergies or medically-necessary diets (not just food preferences) are asked to register early to ensure that their needs are met. Refreshments will be served for all registrants in the afternoon and evening. Please bring your own mug and napkin.
Food Coop
This is an alternative to the dining room. Friends must be able and willing to share cooking, cleaning, and/or shopping tasks. Preparing and eating food together makes Yearly Meeting more accessible and it invites us to live simply, serve one another, and support local farm communities. The local Food Coop Committee will source food, menus, storage and on-site equipment. The Coordinator oversees purchases and food prep throughout the week and also instructs volunteers in related hygiene. Participants will share in the daily tasks. (Please consider serving on the Continuing Committee of the Food Coop which serves the Coop throughout the year.)
The individual fee for participants age 12 and over is $110 and it includes Saturday, Aug 3 supper to next Saturday, Aug 10 breakfast inclusive. Children ages 5-11 pay $45. Ages 4 and under are free. Occasional users and guests pay $8 per meal to the CYM registration desk.
About 2/3 of the revenue goes to food purchases. The other 1/3 pays for site, refrigerator rentals, other equipment purchases and rentals, coordination, propane, cleaning supplies, etc.
The Coop is friendly to those needing special consideration because of allergies, and will try to handle many food sensitivities. Please list your requirements on your registration form also identify yourself and your special needs to the Coordinator on arrival. However Coop food will be prepared in a facility containing nuts and other allergens, using equipment that may come in contact with nuts or other allergens. We ask Friends with severe or anaphylactic reactions to certain foods to please take this into consideration when registering. Persons with very restrictive diets should plan to bring the basics of their own food needs.
Menus will be simple, healthy, and hearty. Food comes from local growers wherever possible. When shopping we will be attentive to responsibly grown food, including fair trade.
The Food Coop succeeds because of volunteers. If you cannot do a full volunteer schedule, please advise the Coordinator. It may be possible to make special arrangements for you. We do, however, encourage Friends to carry their share of the workload. We suggest that Friends who cannot participate in any of the workload of the Coop register for meals in the Dining Room. Bring your own plate and/or bowl with cutlery, mug, cloth napkin and dish towel. And bring your cooperative spirit!
Transportation to Site
Transportation to Canadian Mennonite University (CMU)

Bus Route from the Airport to CMU (approx. 1 hour)
Board the #15 (Sargent-Mountain) bus immediately in front of the terminal. The stop is located along the median to the right of door 3. Ask for a transfer when paying the fare. The adult cash fare is $2.95. Seniors pay $2.45. Exact change is required.
Ride the #15 to downtown and get off at Portage Avenue and Vaughan Street, just beside the Investors Group Building. Walk south on Vaughan St. crossing Portage Ave. beside the Hudson's Bay Company. Proceed one block south to the south side of Graham Avenue. Transfer to a #66 (Grant Unicity) or a #65 (Grant Express) at bus stop #10704.
This bus will take you right to the Canadian Mennonite University (CMU) at stop 60521, south campus, situated on the southwest corner of Grant Ave. and Shaftesbury Blvd.
Return Bus Trip to the Airport
Catch #65 Grant Express (Downtown) or #66 Grant downtown at 60522 at Grant Ave. and Shaftesbury Blvd. Get a transfer.  Ride to Graham and Edmonton in downtown Winnipeg.  Walk north on Edmonton to Portage Avenue.  Cross to the north side of Portage Avenue.  Board the 15 Sargent – Airport bus at Portage Place, stop 20070 and ride to the Airport.
Bus Route from Union Station (Via Rail) at 123 Main Street to CMU
Take the #66 (Grant Unicity) or #65 (Grant Express) bus at Broadway and Main street (stop #10641). The bus will take you directly to the CMU south campus at Grant Ave. and Shaftesbury Blvd. (stop #60521).
Bus Route to Union Station (Via Rail) – can be used to access the Forks, by walking through the rail station
Ride 65 or #66 bus downtown at 60522, Grant Avenue and Shaftesbury Blvd.  Get off at Union Station.
For the most current routing, please consult Navigo on Winnipeg Transit Site, winnipegtransit.com.
 Taxi travel from the airport to CMU
Taxi will cost approximately $20 to $25, depending on traffic conditions. The route taken should be south on Route 90 to Grant Avenue and west on Grant Avenue to the south campus of CMU.
Tourism
Tourism
Depending on individual or family-time schedules, Friends may have the opportunity to take in events or tour the city while in Winnipeg.
For nature lovers there are three parks or nature reserves close by the site at Canadian Mennonite University (CMU). Next door on Grant Ave. is the Assiniboine Forest with very walkable trails and bike paths. It boasts significant wildlife observation opportunities in an urban setting. It has a large population of deer and a well-developed wetland site. Assiniboine Park, an easy walk north on Shaftesbury Blvd., has bike paths, a zoo, playgrounds, and restaurants.
The Fort Whyte Alive nature centre/reserve lies just south of CMU. It has educational exhibits, walking trails, and a herd of bison. It presents terrific opportunities for birders.
Rainbow Stage, Winnipeg's outdoor theatre is announcing its August production on January 21. Folklorama, the largest and longest-running multicultural festival in the world, runs August 4-17. The nearest pavilion is usually at the St. Demetrios Church at the northeast corner of Shaftesbury and Grant.
A significant point of interest is the Forks National Historic Site at the confluence of the Red and Assiniboine rivers. It has been a meeting place and trading site for millennia. It is located off Main Street immediately behind the Via station and is on the #66 (Grant Unicity) bus route. This is the site of the Canadian Museum for Human Rights.
For those interested in local Indigenous history, immigration to Manitoba, and natural history the Manitoba Museum has some excellent displays. The museum has a full-size replica of the ship, the Nonsuch, the ketch that was sailed to the Hudson Bay in 1668-1669. The Museum also has a planetarium. Just west of the Museum is the Exchange District, the site of the 1919 Winnipeg General Strike. Both sites are north of Portage and Main.
For further tourism information, the following websites are suggested:
www.travelmanitoba.com
www.tourismwinnipeg.com