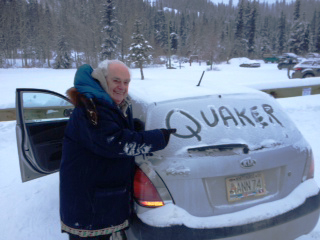 The first Quakers came to what is now Canada very early. Friends Mary Fisher and Hester Biddle travelled to St. John's, Newfoundland twice, in 1656 and 1659.  In the 18th century, Quakers from the American colonies settled in the Atlantic Provinces, as well as southern and south-eastern Ontario.  More Friends came from Britain in the 19th century, and by the 1870s there were 7,000 Quakers in Canada, mostly in rural areas. Ontario remains our centre, though there are now Meetings and Worship Groups from Victoria to St John's to Whitehorse.
Now most members are 'convinced' Friends (added by their own request), rather than 'birthright' Friends (born into Quaker families). Since 1945, Quakers have continued to come to Canada: we welcomed some Friends who left the United States over its involvement in Vietnam.
As of December 2014, the twenty-six different Monthly Meetings which make up Canadian Yearly Meeting had a total of 1085 members. Approximately 30% live in British Columbia and Alberta, 55% in Ontario and 10% in the Atlantic area. The rest are spread through the Prairie Provinces and Quebec. The largest Monthly Meeting has 139 members, but 14 meetings have fewer than 30 members. Regular "attenders" – who aren't actually members of the meeting they go to but often take an active part-are important to us, and we count nearly 500 such Friends. Larger Meetings have a Meeting House; others meet in rented premises or homes. Our small administrative centre is in Ottawa.
We are a Religious Society of Friends. That has a comforting ring to it, and we do try to be both Friends of the Truth and friends to others. At larger gatherings, at family programs of Camp NeeKauNis (on Georgian Bay, Ontario); in Young Friends activities, at Yearly Meeting and in our individual Meetings, we cherish a sense of being part of a loving and supportive spiritual community. This we depend on for the strength to reach out and witness, regardless of our small numbers.
For more detail on the history of Quakers in Canada, see "A History of Canadian Yearly Meeting."