Pendle Hill Resident Program 2012-2013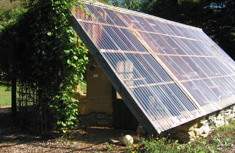 Dear Friends,
 I am excited to write and share offerings at Pendle Hill for the 2012-2013 Resident Program year.  Pendle Hill, known for its beauty and spiritual grounding, offers people a deep experience that is hard to find elsewhere.  It answers a deep longing for something more.  Pendle Hill is blooming across campus with beautiful flowers in season sprouting everywhere, as we welcome all faiths, of all Quaker persuasions, and from all parts of the world.  We offer a wonderful place to learn and reflect and gather, and we want to share this with Friends who are seeking this kind of spiritual experience.  I write to you today to ask how we might reach out to individuals or groups in your yearly meeting that might benefit from Pendle Hill.
 Many of you may know that, we offer a Resident Program that allows time for study, seeking experience in community living, deepening prayer and spiritual life, or being a point of transition in life and needing to discern a future direction.  We invite all to come and deepen the spiritual basis of life and work—to discover new sources of inward guidance, peace and power.  Our unique program supplies the container for transformational work and learning that prepares people for the work they aspire to do in the world.  The Resident Program, which consists of three ten week terms each year, draws together about 40-50 participants each year.   The typical age-range is 19-80.  People from diverse cultures, professions and walks of life produce a "sweet community" which is at the heart of Pendle Hill education experience. 
 We are looking for individuals  who might benefit from a stay at Pendle Hill and hope you will help us to identify wonderful candidates.  We have space in our fall, winter and spring term Resident Program, and offering scholarship as well.    In particular, we have not awarded the Henry J. Cadbury Scholarship or the Kenneth Carroll Scholarship, and would welcome Friends who might  be interested to apply.  I have attached  both applications which includes helpful information about the scholarships.  It would be appreciated if you would consider sharing this email about our programs with your Yearly and/or  Monthly Meeting.  I am happy to speak with Friends, and invite you to share my contact information—  , 610-566-4507 x161.
 It is a pleasure to reach out to all of you, and I look forward to your reply.
 In peace and friendship,
Darlene R. Walker
Director of Admissions & Recruitment
Pendle Hill
338 Plush Mill Road
Wallingford, PA  19086
610-566-3679 (Fax)
https://quaker.ca/wp-content/uploads/2022/08/Quaker-dot-ca-updated.png
0
0
https://quaker.ca/wp-content/uploads/2022/08/Quaker-dot-ca-updated.png
2012-06-26 09:01:19
2012-06-26 09:01:19
Pendle Hill Resident Program 2012-2013