First Youth Secretary for CYM!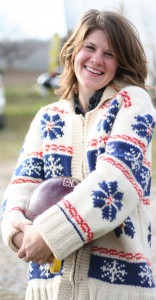 It is with great pleasure that the Youth Secretary Committee announces the appointment of Katrina McQuail as CYM Youth Secretary. Her position will take effect May 9, 2011.
Katrina is a member of Kitchener Area MM and grew up in the Lucknow Worship Group. She now lives in Guelph, ON where there is a lively YF presence. She has had considerable experience working with youth within Friends General Conference. She coordinates the High School program at FGC's Annual Gathering, serves on the Executive Committee and also serves on the Transforming Sub-Committee (previously Youth Ministries Committee).
Katrina has been involved in organizing retreats for YF at Camp Neekaunis for many years and attended the World Gathering of YF as a CYM representative in 2005. She has attended CYM sessions whenever possible and has served the YF community there as a recording clerk, program person, listener and representative to HMAC. She is a 2006 Business and Non Profit Management (minor in French) graduate of Earlham College where she interacted with Friends from the FUM and EFI traditions from both Indiana and Western YMs. After graduating she worked as assistant to the President of the College. Katrina also served on the Editorial Board for the Quaker Youth publication Spirit Rising: Young Quaker Voices.
Though Katrina is involved and passionate about Quakerism and Quaker youth, her interests are diverse and eclectic. She is also excited about social justice, community, and all aspects of food. Katrina has worked in higher education, as an organic farmer, as a cook, and with social change organizations, governments and businesses. With a focused interest in sustainability and building stronger communities, she keeps herself busy by volunteering, traveling, running youth programs, cooking, baking, and helping on her family's farm. When she can find the time, she likes activities from scuba diving to quilting and she is rarely found without a cup of tea. For the past two years Katrina has been working the land and caring for the animals with her parents on their farm near Lake Huron.
The position of Youth Secretary (YS) was first envisaged by the Consultation and Renewal working group (CnR) and a committee of adult Friends and Young Friends nominated by Canadian Young Friends Yearly Meeting ( CYFYM) has worked on the vision and eventual job description for this position. They saw the key responsibilities as being Spiritual Vitality, a Communication Resource and an Information Resource; all aspects which Katrina is well able and qualified to fill.  The committee also saw the role of support from Monthly Meetings and Worship Groups as being vital to the success of this position.
Katrina is enthusiastic about connecting with YFs & YAFs across the country and having  a strong relationship with CYFYM. She sees keeping YFs engaged and feeling supported by their spiritual community as a way of ensuring the future of the Religious Society of Friends in Canada, while also nurturing YFs' individual growth and development. She invites Friends of all ages to get in touch with thoughts, ideas and hopes for ways in which she can best serve the community.
https://quaker.ca/wp-content/uploads/2022/08/Quaker-dot-ca-updated.png
0
0
Bruce Dienes
https://quaker.ca/wp-content/uploads/2022/08/Quaker-dot-ca-updated.png
Bruce Dienes
2011-04-28 01:47:16
2011-04-28 01:47:16
First Youth Secretary for CYM!