Friends General Conference High School Gathering 2012

You may be wondering why the Canadian Yearly Meeting Youth Secretary is writing about FGC's High School Gathering program. However, it makes more sense than you may realize. Canadian Yearly Meeting is part of Friends General Conference (FGC) and the Gathering is one of many programs that FGC offers to support Quakers and seekers, and it has a really energetic and rewarding youth program. This year there were 100 high school aged F/friends in the High School Program. It's an experience worth thinking about participating in!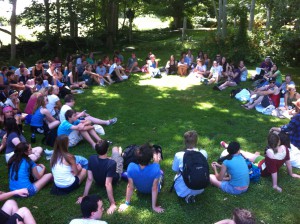 This year, the Gathering was in Kingston, Rhode Island at the University of Rhode Island campus. The High School Program had a staff of 15, 3 of whom were Canadian. The program is a week long intensive where all of the high school participants and staff sleep in a dorm together to create an intentional community while participating in the daily activities of the rest of the Gathering. There are a variety of awesome workshops which each participant pick one from that is the focus of their week.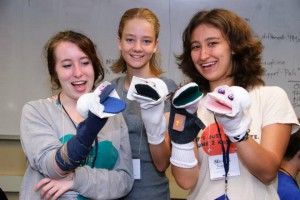 See the High School Program 2012 schedule here.
The OUT TRIP on Tuesday is one of the high lights of the week. The whole HS program leaves campus and goes to a location with lots of green space and water for the afternoon. We have a picnic lunch, play games, go swimming and take our group photo! It is a rocking good time. This year we went to Watson Farm, had a tour which included seeing animals and then spent the rest of the afternoon at their rock beach.
Other awesome things that happen throughout the week include:
2 Dances. The AYF (Adult Young Friends) program and the HS program join together to coordinate the All Gathering Dance. It is a fun time where the whole community can come together and celebrate through dance. The second dance is a High School dance that leads into our (optional) all night celebration. This is a rocking good time, generally a bit sweaty but worth every drop!
2 Meetings for Worship with a Concern for Business. Unlike the rest of the Gathering, the HS (and AYF) programs have a small amount of business to accomplish throughout the week. The program has some options to amend their guidelines and address issues that have come up. For some, their experience with a M4W4B is their introductory experience. Clerked by their peers; I believe it to be one of the most transformational and spiritually based M4W4B that I have ever attended.
Support Groups (SG). One of the most exciting things about being a High School Counselor is that you are part of a SG with 8-10 participants. This groups gets together for an hour each afternoon and again at midnight for "check-in". The idea is to create a smaller group of folks to get to know each other, support each other throughout the week, disseminate information, discuss any issues or topics that come up, play games and just have a great time!
All Gathering Capture the Flag. This is a staple of the Gathering. I can't remember a time when it didn't happen. The Monday afternoon of Gathering is spent in joyful intergenerational play!
Plenaries. Each evening there is a plenary session with a special guest, special activity or event. They are diverse and have appeal for many.
Affinity Groups. Depending on the energy of the HS community, the staff support them through having affinity groups- men's, women's and FLGBTQC are the usual ones. Though we are always open to others. These groups get together with those who self identify and want to participate to have conversations, do art and just delve into the topics at the forefront of their minds.
Nurturing & Discernment Committees. There are tons of opportunities to try new experiences of leadership and nurturing your gifts. A couple of these are serving on the Nurturing Committee and/or serving on Discernment. The Nurturing Committee is a group of participants who carry the concern for the spiritual and emotional well-being of their community for the week. They address any concerns as they come up and may send an item to M4W4B or to the staff, depending on what is appropriate. Discernment committee is the committee struck to discern the clerks for the HS program the following year.
WINK. Anyone who knows the game knows the wonder of wink. Anyone who doesn't is probably flummoxed by any description that is articulated. The only way to understand wink is to watch a couple rounds of it and then maybe, if you're feeling brave, join in.
Celebration. The celebration is the programs final closing. Starting with the closing worship Friday afternoon and continuing until parents/sponsors check the participant out of the program, it acknowledges the community that has been built, celebrates our being together and releases everyone until next time. Generally the celebration includes a top-secret staff designed theme, lots of food, a talent show, submitting the program evaluation, getting some sleep (hopefully), packing so that you're ready to leave, a sunrise walk and tons of time just chilling and having those final conversations and connections with each other.
https://quaker.ca/wp-content/uploads/2022/08/Quaker-dot-ca-updated.png
0
0
https://quaker.ca/wp-content/uploads/2022/08/Quaker-dot-ca-updated.png
2012-07-27 15:33:49
2012-07-27 15:33:49
Friends General Conference High School Gathering 2012