Friends General Conference Gathering 2011
Even though it isn't part of the Youth Secretary position, I thought it important to mention my time at Friends General Conference Gathering 2011 in Grinnell, Iowa.
Friends General Conference Gathering is an annual event that brings together Quakers of all ages from across North America (and other places!). A number of Friends from Canada attend FGC Gathering and quite a few of them are Young Adult Friends who serve in the FGC Gathering by working in their High School, K group (Jr. High) or younger Youth Programs.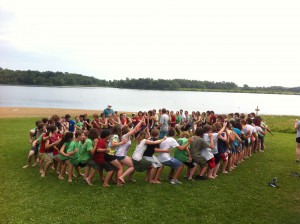 I have the opportunity to work with the High School (HS) program. This year we had a smaller group (the whole FGC Gathering was smaller) of 85 participants and 16 staff. It was a packed week, with staff training and orientations for parents and participants, workshops for participants and staff meetings in the mornings, free time (full of activities, sports and relaxing) in the afternoons with smaller "support" groups to facilitate getting to know a smaller group of people better, and then evening activities.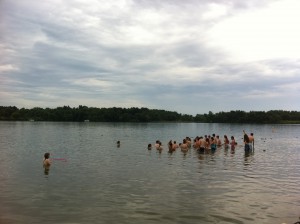 Special high lights were the out-trip to Rock Creek State Park where we spent an afternoon as the High School community, playing games, chilling, swimming and eating our lunches. There was an epic group sit (see photo) and a lot of laughter. There were also two dances (one inter-generational and one HS-YAF only), water play, capture the flag, two business meetings, closing meeting for worship and an (optional) all-night celebration on the last night. oh- and wink. did I mention wink?!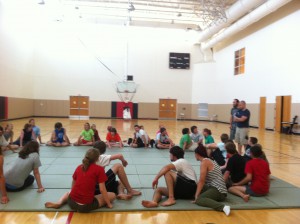 (For those of you that don't know, Wink is a game that many Quaker groups I know play- check out the Wikipedia site on it: http://en.wikipedia.org/wiki/Wink_%28game%29)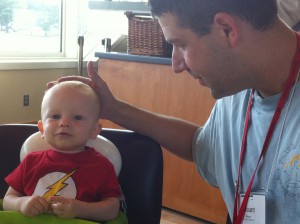 For families or Younger Friends who are in more isolated situations, whether geographically or because you are the only ones with children or in your age group, consider making the effort to get to FGC Gathering or Camp NeeKauNis because there is something incredible about having a critical mass of Quakers in your own (or your children's) peer group together with the opportunities to worship, play and work together.
There are many opportunities for volunteering with FGC Gathering, which provides opportunities to off-set costs, follow a leading or ministry and to gain experience in servant leadership. If you're interested in the Gathering or other programs that FGC provides, check out their website: http://www.fgcquaker.org/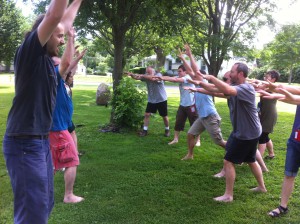 FGC Gathering moves around. Next year 2012- it will be in Kingston, Rhode Island and in 2013 it will be in Greenly, Colorado.
https://quaker.ca/wp-content/uploads/2022/08/Quaker-dot-ca-updated.png
0
0
Bruce Dienes
https://quaker.ca/wp-content/uploads/2022/08/Quaker-dot-ca-updated.png
Bruce Dienes
2011-09-06 12:27:24
2011-09-06 12:27:24
Friends General Conference Gathering 2011