Epistle from the Ontario Young Friends Thanksgiving Retreat at Camp NeeKauNis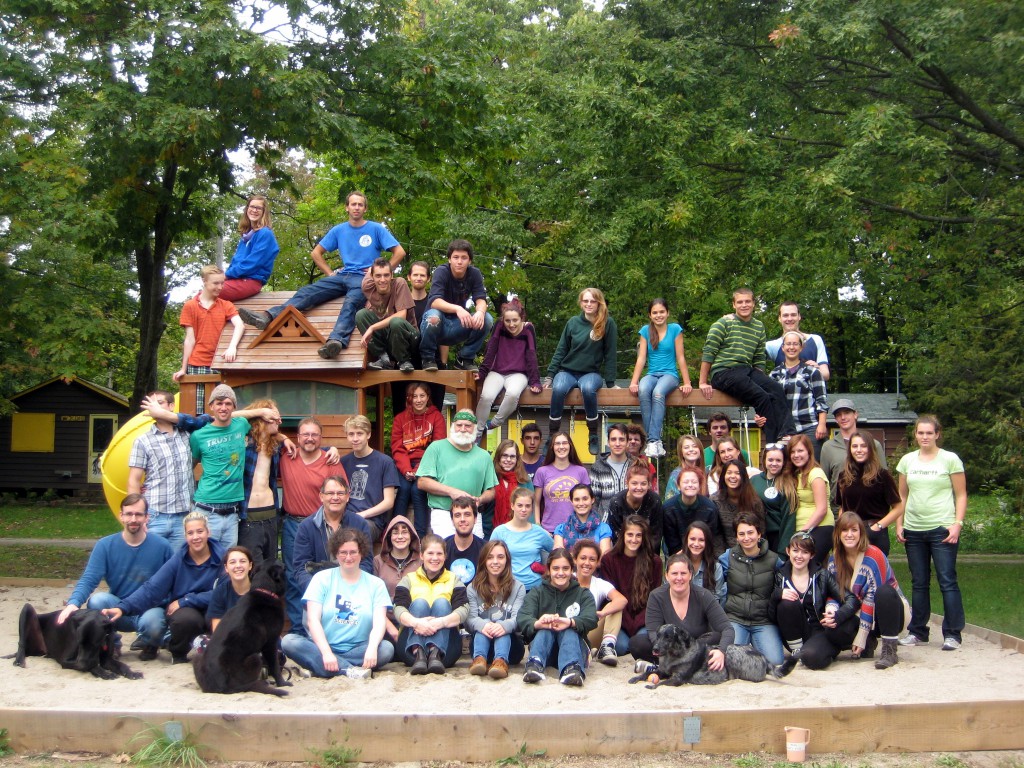 The Thanksgiving retreat at NeeKauNis this year was absolutely fantabulistic. We had Friends from all over the continent, including New Brunswick, British Columbia, Indiana and New York State. In total, there were over 50 people (and 5 dogs) who showed up to partake in the festivities. Surprisingly no one sustained any serious injuries from our exciting game of wink. On Saturday we set out completing various work projects around camp, involving cleaning up brush, wood splitting, preparing for winter as well as filling up and unloading canoes full of lakeweed for the gardens. Throughout the weekend many an intense card game was had.
As usual Aden and the kitchen staff out did themselves giving us a marvelous Thanksgiving feast ending with phenomenal fruit pies. On Saturday evening after the feast came an interesting and informative presentation by Lucy M and Rick T on their experience of the Quaker Youth Pilgrimage 2012. That night, before quiet time, we celebrated our time together by attacking each other ferociously with pillows. The following morning we had a wonderful Meeting for Worship outside on the hill, concluded by an enormous snail group hug.
Over the course of the retreat everyone was so welcoming and friendly that the entire group always felt included. This was aided by the numerous croissants and occasional half donuts* shared by Friends. What with the wonderful people, delicious food and fun of dancing around the kitchen during dishes; this weekend retreat was a definite success.
*note from the YS: When speaking about community and inclusivity, the shape of a croissant is considered inclusive and welcoming, while the shape of a donut feels exclusive and difficult to break into. 
https://quaker.ca/wp-content/uploads/2022/08/Quaker-dot-ca-updated.png
0
0
https://quaker.ca/wp-content/uploads/2022/08/Quaker-dot-ca-updated.png
2012-10-01 17:38:18
2012-10-01 17:38:18
Epistle from the Ontario Young Friends Thanksgiving Retreat at Camp NeeKauNis