Like cooking and the Food Coop @ CYM… This might be right for you!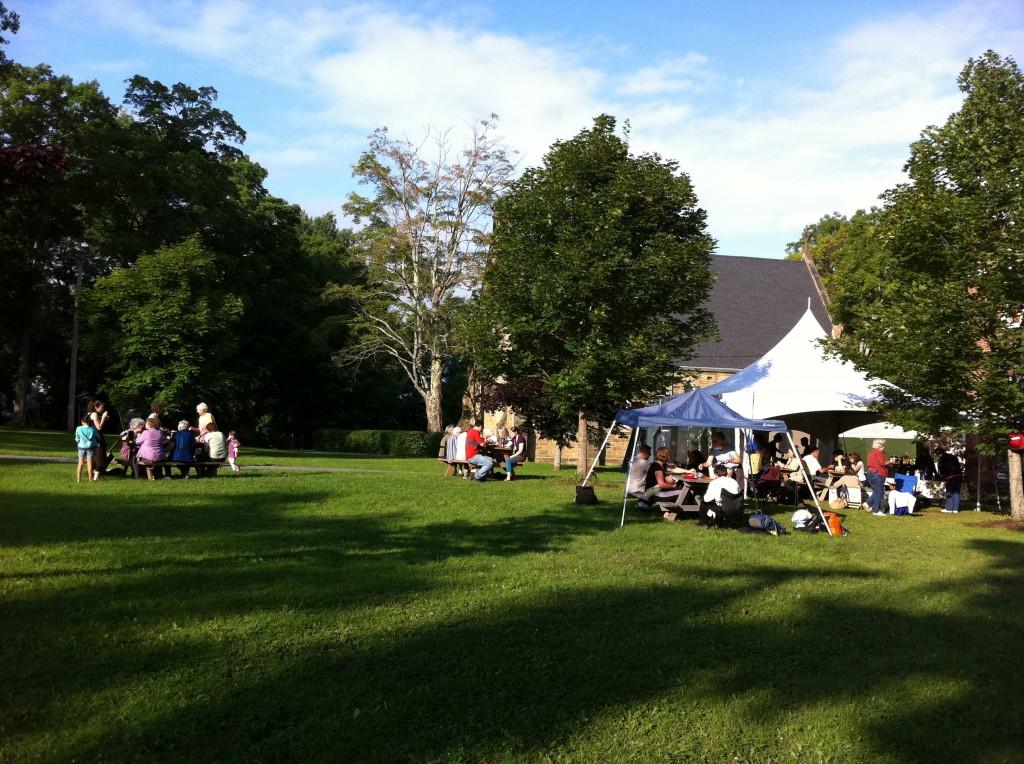 Food Coop Coordinator: Advertising for and terms of engagement. 
The actual agreement and additional understandings are made by the Food Coop Organizer in consultation with Program Committee and the Local Arrangement Committee.
Because we can not pre-determine the home of an applicant or their presence in the weeks leading up to the CYM the paragraph  " To be available on a phone or email basis to collaborate…." is left rather open and is subject to agreed interpretation at the time of negotiations to engage. 

Help Wanted: Respond with interest by December 31st!

FOOD CO-OP CO-ORDINATOR
To co-ordinate the food co-op at Canadian Yearly Meeting 2012 at Augustana University in Camrose, Alberta.
August 10-18, 2012
The coordinator plans shopping lists, and menu choices in consultation with the Continuing Committee of Food Co-op and the local arrangements committee, facilitates food preparation, manages food storage and ensures safe food-handling practices.
The coordinator has available a host of volunteers for site set up and maintenance, financial control, food shopping, preparation and clean up.
From Thursday Aug 9 to Saturday Aug 19. (A two day start-up shopping-planning period precedes the Saturday evening first meal).  Attends for four hours at each of two meals a day (Breakfast is completely in the hands of co-op members)
We are seeking someone who is familiar with volunteer organizations and sensitive to the Quaker values of simplicity and community building.  The person may or may not be a member of the Religious Society of Friends. An honorarium of $800. is available.
For further information and for application contact:
–Nathalie Brunet, Food Coop Organizer, (709) 437-1017
The above ad should have appeared in the December Issue of Canadian Friend L
 ADDITIONAL INFORMATION:
. The co-ordinator will  be adaptable to changing circumstances.  Weather and intense one-week existence of the food coop and the many different volunteers will require the coordinator's ability to change plans to fit with changing circumstances, and to communicate plans effectively with volunteers..
.To be available on a volunteer basis by phone or email to collaborate with local food-co-op arrangements committee members on appropriateness of site and food sourcing strategies and suppliers.  (This would take place during late spring and early summer to be sure we cover all bases appropriately.  NB the committee is responsible for site and sourcing but should have the expertise  and views of the co-ordinator available to them)  By agreement this liason and co-operation can be very close if the co-ordinator is from the local area.  If the co-ordinator is from a different region and will only be in attendance for the dates of engagement , liason will be by phone/email and the local food co-op committee will organize themselves to be more hands-on during the planning stages.
. NO accommodation is provided for in addition to the honorarium.
. Transportation is NOT provided for.  Volunteers will do most or all the shopping and hauling of site equipment.
. The coordinator will work closely with the lead member of the local food co-op organizing committee and lead volunteers who will take responsibility for most/all shopping and site set up and maintenance and take-down.
. Thursday , Friday and Saturday start-up will require direction of others in site set up ,shopping , storage, and safe-food-handling arrangements.
.A manual, developed by a country-wide continuing committee of food co-op is available for directions and suggestions on recipes, quantities and site operation.  While it can never be a perfect document because of the changing circumstances of sites, weather and total attendance numbers it will be a guide to decision made by self and in concert with lead volunteers.
.Quaker principles of simplicity and community are ever-present.  The emergence of a co-operative and supportive community is a yearly goal.  It is a rewarding experience to be making decisions that help build that community.
.The start-up days and the take-down day(s) will require hands on participation with volunteers.  Feats of strength can be left with others but  the start-up and take-down times are intense for decision making and setting the tone for tasks.
.Applicants.  Please reply with a short letter of your intentions and interest with your contact information to Nathalie.
https://quaker.ca/wp-content/uploads/2022/08/Quaker-dot-ca-updated.png
0
0
Bruce Dienes
https://quaker.ca/wp-content/uploads/2022/08/Quaker-dot-ca-updated.png
Bruce Dienes
2011-12-16 11:59:43
2011-12-16 11:59:43
Like cooking and the Food Coop @ CYM… This might be right for you!