Camp NeeKauNis Strategic Planning
Canadian Yearly Meeting: Camp NeeKauNis Committee.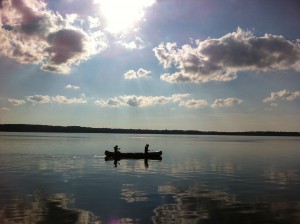 Camp NeeKauNis at 80!
"Born in a time of political and philosophical stress and turmoil, a legitimate child of spiritual self-searching and public protest, our Society has always had a genius for turning stress and turmoil into creative tension. Strongly held opposing views tied together by trust and love are truly creative. As the process of loving outreach dissolves the areas of brittle antagonism, legitimate differences are recognized as stimulus and broadening influence."
 Hugh Campbell Brown, 1970. From Faith and Practice, Canadian Yearly Meeting 3.41
The Adhoc Subcommittee for Strategic Planning invites you to a Meeting for a Concern for Planning. We extend this invitation to all committee members and associate members, present and past directors and interested alumni. This Meeting is the first of two meetings. 
When: Saturday November 26 2011, 10 am to 5:00pm as led. Lunch will be provided.

Why: To plan for the future of Camp NeeKauNis.
Those planning to come and those that cannot, please send us (Kris and George) your ideas about improving camp. It could be just one really important idea, or 10 things that would really make a difference. It could focus on waterfront, programs, how committee functions, or anything else. Do  you want to see a Pendle Hill North and/or a youth leadership development program? Should we sell camp and move elsewhere? All ideas will be recorded and brought forward for the first workshop.
An agenda will be forthcoming. 
Documents in Advance are posted on the website and include Minutes from a Meeting for a Concern held at Community Camp 2011, a report from an outside consultant, the second interim report from the subcommittee for holding Canadian Yearly Meeting at NeeKauNis (CYM@NKN) and a strategic vision document prepared by Ethan Chiddicks which includes a discussion of governance and financial direction. The website will also have some interesting archive material. 
We will work on immediate short term goals, midrange goals and long term goals and their implementation. An interim report from the November planning meeting will be prepared in advance of the January Committee Meeting. A second final report will be prepared after a second planning meeting on Feb 25 in Hamilton, for presentation in May. 
We encourage you to read this material as able, and to come with your comments and fresh ideas.
What speaks to your condition? What speaks to Camp's condition?
https://quaker.ca/wp-content/uploads/2022/08/Quaker-dot-ca-updated.png
0
0
Bruce Dienes
https://quaker.ca/wp-content/uploads/2022/08/Quaker-dot-ca-updated.png
Bruce Dienes
2011-11-14 17:05:27
2013-09-07 11:40:21
Camp NeeKauNis Strategic Planning