Perhaps it's a sign of changing times.  Perhaps it's CYM overcoming long held prejudices.  Perhaps it's that breakfast starts at 7am.  Whatever the cause, it's not just the Young Friends who are complaining that breakfast is too early this year.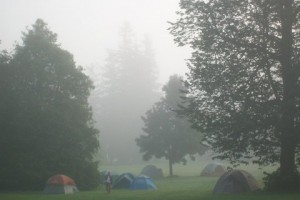 CYM opened with meeting for worship today.  In attendance were a number of Francophone Friends, so ministry was given in two languages.  Whether in translation or in broken French, each thought or prayer was reiterated to include all present.  After an hour of worship it became natural, and Friends expressed their joy at the novel flavour of our gathering.
In the evening was an annual fixture. The Sunderland P. Gardner Lecture was delivered, this time by our own Caroline Balderston Parry of Ottawa Monthly Meeting.  Borrowing from the writings of Friends, from essayists and mystics, Caroline addressed Friends in their own words, punctuating her speech with poetry and song. In three parts she explored different aspects of her topic, "the I don't know place" and its relevance to Quaker practice: how it is not a state to be embraced and not dreaded, its relation to prayer and how it might shape our worship, the roles that we can play for those near to us who find themselves in the "I don't know place".  At the end of each section Friends were given a few minutes bracketed by singing bowls and music to respond to queries in listening pairs.  We carry forward the incomplete responses, ours and our Friends', the fertile ground of discussion ploughed and sown for the week ahead.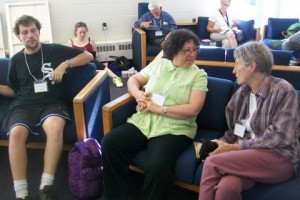 https://quaker.ca/wp-content/uploads/2022/08/Quaker-dot-ca-updated.png
0
0
Sue Starr
https://quaker.ca/wp-content/uploads/2022/08/Quaker-dot-ca-updated.png
Sue Starr
2013-08-19 13:58:30
2014-08-24 13:05:38
CYM 2013 – Sunday