CYM 2013 – Monday and Tuesday
As CYM gets underway, Friends are conducting business, special interest groups, and the un-programmed activity that constitutes our annual community.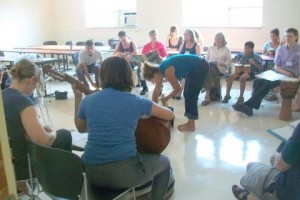 Ben Pink Dandelion of Britain Yearly Meeting began delivering his week-long Quaker study lecture series. In his entertaining, edifying style, he spoke on the history and theology of early Friends. In addition to his Quaker Study, he is spending time in worshipful discussion with Friends (young and not-so young) sharing his knowledge of Quaker faith and practice and helping us to find our truth.
On Monday evening there was a slightly unusual gathering of LGBTQ Friends and allies was held, with Friends sharing their experience and engaging in worship sharing. The event was organized at the last minute by a small group of concerned Friends who felt the need for an LGBTQ presence at CYM and collaborated to create a safe space. Though the concerns that were raised and the experiences related were difficult, and the dialogue was not without friction, the sense was overwhelmingly that this sort of presence has been lacking, and Friends hope to repeat it in the future.
https://quaker.ca/wp-content/uploads/2022/08/Quaker-dot-ca-updated.png
0
0
Sue Starr
https://quaker.ca/wp-content/uploads/2022/08/Quaker-dot-ca-updated.png
Sue Starr
2013-08-21 13:28:20
2014-08-24 13:05:44
CYM 2013 – Monday and Tuesday