Welcome Message from new CYM Secretary Cameron Fraser
Cameron Fraser has just taken on the new role of Canadian Yearly Meeting Secretary.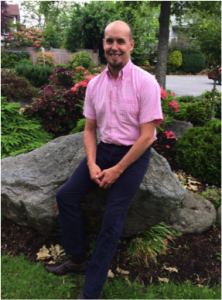 Greetings Friends!
I am exceptionally enthusiastic about beginning this role, and warmly greet you as Canadian Yearly Meeting (CYM) Secretary! The beginning of this role is a new chapter for CYM and myself. I have worked as a public school teacher and principal for the last fourteen years, and am deeply grateful to turn my energy and work toward supporting my faith community.
I had an opportunity to connect with Friends at the beginning of the summer while attending CYM Representative Meeting (Rep Meeting), Camp NeeKauNis as a representative of Education and Outreach Committee (E&O), and Friends General Conference (FGC) Gathering. I felt incredibly supported by Friends at Rep Meeting; the process seemed to lay the grounding for the commencement of my role as Secretary.
I travelled from Rep Meeting to Camp NeeKauNis to connect with the Young Friends and Young Adult Friends (YFYAF) to communicate E&O's commitment to supporting them along their spiritual journeys in a manner that suits them. I was greatly impressed by the number of Young Adult Friends in attendance, as well as their commitment to their spiritual community. YFYAF engaged in a number of Meetings for Worship for Business and were incredibly grounded in their approach and decisions, which included a deep commitment to building community.
I then travelled with a delegation of Young Adult Friends down to Niagara Falls, New York, to attend the first half of Friends General Conference Gathering. The conference was inspiring both on an operational front and as a community gathering. I made a number of significant connections with Quaker administrators, and took note of practices that CYM might utilize and/or learn from.
I returned home to Victoria, British Columbia, where I spent the rest of July enjoying summer with my young family. My wife Angela and I have two children, Ilia and Bryn, ages six and four respectively. Our family loves tent camping, as well as water and wheel sports. We spent a few weeks camping on Vancouver Island and visiting lakes, beaches, skateboard parks and bike parks.
I began my role as Secretary August 1, and have been working with Elaine Bishop, Mentoring Clerk of CYM, and Kerry MacAdam, CYM Office Administrator, to orient myself to the world of CYM. My overall mandate is to "foster growth and deepening of Quakerism within" CYM. This includes supporting CYM and Canadian Young Friends and Young Adult Friends. I look forward to building closer bonds with Meetings and members of CYM and collaborating with Education and Outreach and Finance Committees, Lorraine Burke, the CYM Bookkeeper, and other CYM Committees as way opens. My orientation will include a trip to Ottawa to meet with Kerry and Lorraine to work on how we build a collaborative CYM staff, while I am working in Victoria, and they in CYM's Ottawa office. I am especially excited about building toward CYM 2018 in Barrie, Ontario.
I will be working closely with the Clerks' Committee, my formal oversight committee, to set priorities, direct my energy and maintain a sense of the pulse of CYM. The Clerks have had a special concern about effective flows of information throughout CYM, so I will be working with Kerry to support this. I look forward to working collaboratively with Kerry to support CYM administration. The CYM Clerk(s), Kerry and I will regularly communicate to keep one another abreast of CYM concerns and operations as well as to ensure there is no duplication of efforts.
The establishment of a CYM Secretary is not changing the role that Kerry has so ably performed for the past 20 years. Kerry will continue to field most administrative questions, and will forward to me any correspondence needing my attention. I can be reached directly by email at .
I want to express my appreciation, in advance, to Canadian Friends for their patience and understanding as we move forward developing this new role, which may involve the prioritizing of requests.
I very much look forward to working with everyone to strengthen Canadian Yearly Meeting and our faith community!
In service,
Cameron Fraser
Secretary
Canadian Yearly Meeting
Religious Society of Friends
https://quaker.ca/wp-content/uploads/2022/08/Quaker-dot-ca-updated.png
0
0
editor
https://quaker.ca/wp-content/uploads/2022/08/Quaker-dot-ca-updated.png
editor
2017-08-14 09:20:38
2017-08-14 09:21:03
Welcome Message from new CYM Secretary Cameron Fraser