Stories, Poetry and Art Wanted for "The Canadian Friend"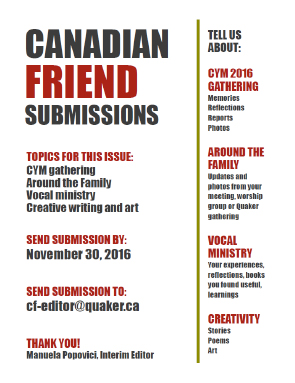 Do you have a story to tell, or a creative gift to share with Quakers in Canada?  Contributions are invited for the new issue of The Canadian Friend, the twice-yearly magazine of Canadian Yearly Meeting (CYM).  Prose, poetry, art, photos, etc. are welcome.
Topics could include this past summer's CYM gathering, updates or photos from your Monthly Meeting or Worship Group, books you've read, or something new you've experienced or learned.
To take a trip down memory lane or seek inspiration, The Canadian Friend back issues are available online.  If your library is missing one, you can even download back issues and print them.  For Friends who don't have internet access (and those of us who don't always check our email), consider distributing or posting paper copies of this Call for Submissions poster.
Submit To
Canadian Friend Editor
91A Fourth Ave.
Ottawa, ON, Canada, K1S 2L1
Submission Date
Nov. 30, 2016
Style Guide
When you submit, the editor will work with you to make your piece consistent with The Canadian Friend's technical guidelines, if necessary.  Reading through the guide in advance can help both you and the editor get your piece ready for print more quickly.
Subscriptions and Advertising
You can order a print subscription to The Canadian Friend by contacting the editor. The Canadian Friend also accepts advertising! Send camera-ready or clear, readable copy to the editor, by e-mail. For rates and details, contact the editor, above.
https://quaker.ca/wp-content/uploads/2022/08/Quaker-dot-ca-updated.png
0
0
muadminglen
https://quaker.ca/wp-content/uploads/2022/08/Quaker-dot-ca-updated.png
muadminglen
2016-11-07 14:17:36
2016-11-08 11:20:11
Stories, Poetry and Art Wanted for "The Canadian Friend"