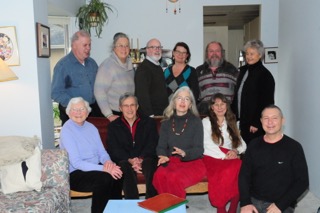 Psst. Hey you. Quaker Meeting. Yeah, you. I know about you. I read your minutes and your State of Society reports. I know what you're good at. You're good at hospitality: celebrations, potlucks, welcoming new people into your midst. Social justice: prisoners, refugees, small African countries, homeless folks. Discussion. Lord, you're good at discussion! It doesn't always lead to action – or even decision – but goodness can you discuss stuff!
I also know what you struggle with. Quaker process in business meetings. The quality of worship. Vocal ministry. Too much silence. Not enough silence. Teaching children and new Friends about traditional Quaker practices. Finances – having enough, knowing where you can spend them, knowing how to report them.  Knowing Quaker history. Conflict.
And I know what you love. You love visitors! It shines through all your minutes, reports, and newsletters. Visitors from other Meetings, other countries, other churches, other traditions. Visitors bring you together in community. They spark joy and interest. A visitor can teach you, help you with the places you struggle, and celebrate with you the things you do well. Visitors help you see yourselves through new eyes, and know yourselves better.
So why don't you have more visitors? You know you love it.  Go on, invite someone. It'll be wonderful. You'll both grow stronger.
https://quaker.ca/wp-content/uploads/2022/08/Quaker-dot-ca-updated.png
0
0
muadminglen
https://quaker.ca/wp-content/uploads/2022/08/Quaker-dot-ca-updated.png
muadminglen
2016-11-16 13:27:05
2016-11-16 13:27:05
Quaker Meetings