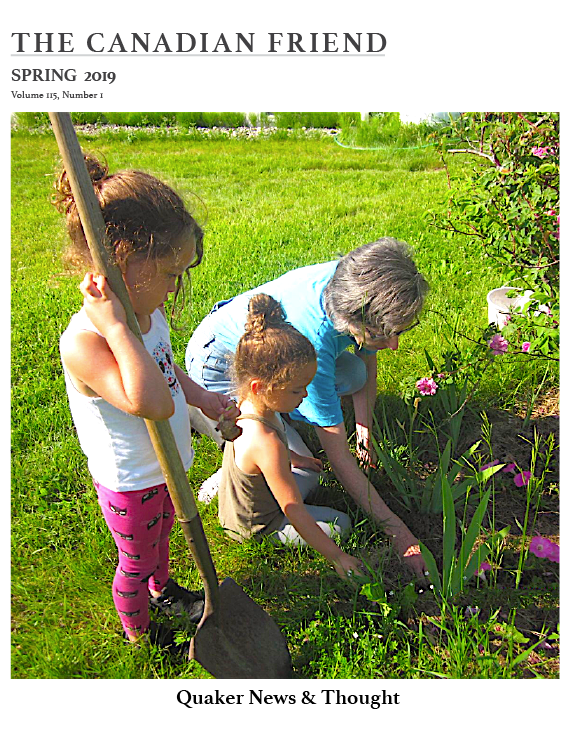 New issue of The Canadian Friend & Submissions for the Next
Those who are subscribers to The Canadian Friend, our national journal, should have received a copy in the mail by now.
It is also available electronically:
The Canadian Friend – Spring 2019 (Print-friendly PDF)
The Canadian Friend – Spring 2019 (Screen-friendly PDF)
The Canadian Friend – Spring 2019 (Online Version)
This issue includes articles on early Quaker history, the poetry of prison visiting, news from around the Canadian Quaker family, and a lot more. You can see the full Table of Contents here.
Forms and information on Canadian Yearly Meeting 2019, our yearly gathering, also went out with the issue. This material is also available here:
CYM 2019 Brochure & Forms (Screen-friendly PDF)
CYM 2019 Brochure & Forms (Print-friendly PDF)
For even more information – a veritable cascade of it – on the Canadian Yearly Meeting 2019 gathering, you can visit its webpage:
Yearly Meeting in Session
Next Issue
The due date for the next issue is coming up soon! It is May 10, though extensions can occasionally be obtained by asking the editor nicely.   
Please submit articles between 500-1200 words long. Submissions on any topic of potential interest to Canadian Friends are welcome. (Unusual topics or word-lengths are possible, but best discussed with the editor before submitting).
Photos, artwork, and interesting quotations are also warmly welcomed as submissions.
Send submissions to The Canadian Friend's editor, Timothy Kitz, at or c/o CYM Office, 91A Fourth Ave., Ottawa, ON, Canada, K1S 2L1.
For inspiration, or to take a trip down memory lane, The Canadian Friend back issues are available online.  If your library is missing one, you can even download back issues and print them.
Subscriptions
All members and regular attenders of the Monthly Meetings of CYM are entitled to receive a copy of The Canadian Friend. Donations to defray costs of producing the magazine are gratefully welcomed.
The annual individual subscription rate for Canada is $20, $30 for US addresses, and for all other countries $40.
To be added to the subscription list of The Canadian Friend, contact the ">CYM Office.
Advertising
The Canadian Friend also accepts advertising! For rates and details, contact the editor (, again). Please note that and the committees and bodies of Canadian Yearly Meeting (CYM) do not pay for advertising in black and white.
https://quaker.ca/wp-content/uploads/2020/11/TCF-cover-2018-spring.png
744
575
editor
https://quaker.ca/wp-content/uploads/2022/08/Quaker-dot-ca-updated.png
editor
2019-04-20 03:09:12
2020-11-19 21:56:56
New issue of The Canadian Friend & Submissions for the Next