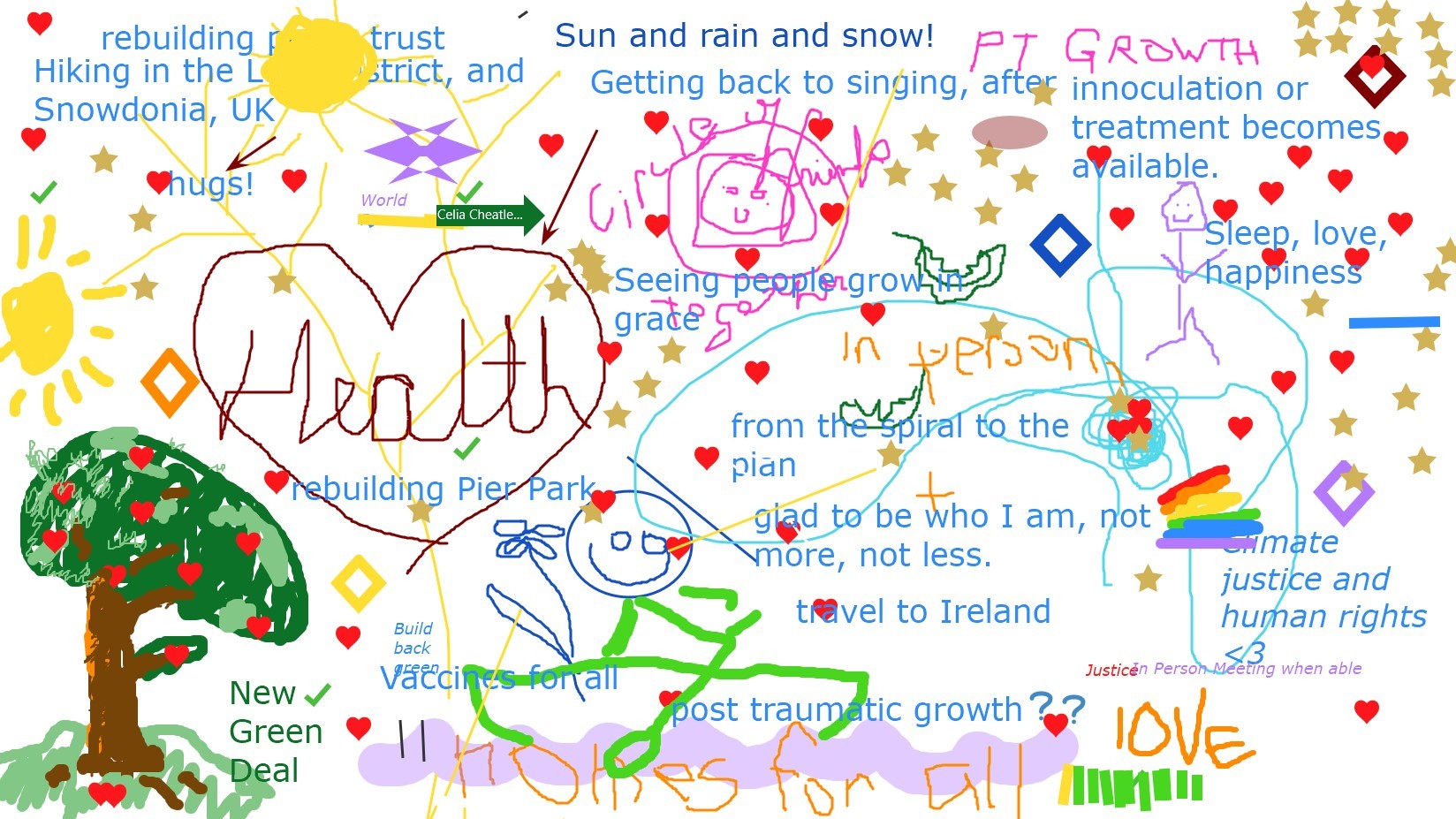 Epistle of Western Half-Yearly Meeting
Here is a message from the Friends who attended Western Half-Yearly Meeting, the second gathering this year for Quakers in Western Canada that has been conducted online.
To Friends Everywhere:
Greetings from Canadian Western Half-Yearly Meeting.
Friends met online for the Fall Western Half-Yearly session in the midst of a second wave of the Covid-19 pandemic in Canada. By now more people have become familiar with how to navigate Zoom videoconferencing, and Friends enjoyed being together once again. While it goes without saying that we would much rather be together in person, for the time being, this is the best option. The upside is that Friends that can't usually join us in person were able to. One Western Friend even joined us from the United Kingdom.
Friday evening, we participated in an intergenerational event. We played an online variation of 'The Big Wind Blows' and joined an online drawing activity. On Saturday and Sunday, Friends were spiritually nourished in Worship Sharing Groups to begin each day.
Friends participated in Special Interest Groups on the following topics:
Drawing Together: Meeting for Worship with Attention to Making
Canadian Yearly Meeting's Change and Sustainable Transformation Working Group
On Care for End of Life
Care for Youth in an Online World
Genealogy and Quaker Ancestors
Saturday evening, a Friend now living in St. Paul, Minnesota gave a powerful presentation while he shared his experience of the protests just after the death of George Floyd.
There was much discussion during Meeting for Worship with attention to Business about how we might meet at both Spring and Fall WHYM. Friends wondered if it would be possible to have a mix of in-person and online attendance. We also asked Nominating Committee to seek volunteers for a committee to aid us with technology.
There were some 45 Friends at Meeting for Worship on Sunday, including two young babies. The unusually silent online environment led a few of us to 'unmute' ourselves so Friends could hear fidgeting, coughing and baby sounds. We were reminded of the important role embodiment plays in our well-being; we miss the presence of each other at a deep level.
We shared our talent and love of being together at Family Night.
May you be as blessed as we are to gather among Friends.
https://quaker.ca/wp-content/uploads/2020/11/JPEG-WHYM_Intergenerational_Activity.jpeg
927
1648
editor
https://quaker.ca/wp-content/uploads/2022/08/Quaker-dot-ca-updated.png
editor
2020-11-25 04:24:18
2020-11-26 21:28:36
Epistle of Western Half-Yearly Meeting