CYM 2013 – Wednesday and Thursday
On Wednesday Morning CYM Meeting for Worship for Business heard the now-resigned Youth Secretary's final report. As expected, the report raises a number of heavy and complicated concerns. A myriad of difficult problems are raised by the report: a painful incident from last fall and the fallout surrounding it, the difficulty of separating personal relationships from business ones in a community as small as ours, the way that CYM handles human resources. Strong emotions and strong leadings were expressed, and it was decided that CMMC would hold an independent Meeting for Worship Sharing to help the Meeting find its sense.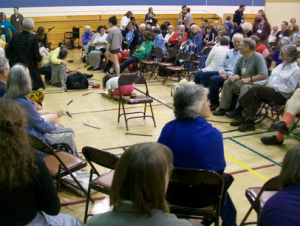 At the request of several Friends, here is the approximate text of the ministry offered by Maggie Knight (Vancouver Island MM, sojourning with Halifax MM) during our consideration of the former Youth Secretary Katrina McQuail's report at Wednesday morning's Meeting for Worship for Business, written up from her notes drafted while the report was read aloud.
Friends, we are a small community. Our relationships are murky and inter-tanged. I have been struggling with the question of how we appropriately raise and bear witn ess to concerns that we see–particularly in situations where in the world outside the Religious Society of Friends we would step aside out of concerns of conflict of interest–while being aware of ways that we may have blind spots or be less open to hearing truths different from our own.
I hope that we can all be open to th many personal truths,and to being mindful of the narratives we choose to tell about this situation.
Let us be mindful of the harm through our small community, and the ripples of that harm, that has been names, and to have deep compassion for all those who have struggled with this concern, but may not have had space or agency to name their harm. Disagreeing with others' truths does not make their experience of harm any less true, nor needs for healing any less acute. Let us be generous with our compassion and willing to exist in the "I don't know" place when it comes to attaching ourselves to one true narrative.
I want to thank those who have listened to what I have to offer throughout my witness in the process of trying to shape an organizational response to the Fall incident. I must also name that I find it difficult to trust at this time that I can find the language to help Friends hear me, not as a 24-year-old, or as a Friend working closely with Katrina in my role as co-clerk of Canadian Young Friends Yearly Meeting, or as a Friend with close relationships to many involved in the initial incident at Camp NeeKauNis, or the daughter-in-common-law of another Friend who ceased to be employed by Friends in a difficult fashion this past year. I am young, but I am lucky to live out a leading to foster stronger support for people–stronger Human Resources–in non-profits, including hiring, managing, evaluating, and firing staff, including discernment in a variety of complex and difficult situations. I hope that Friends can uphold me in finding the words that I may be heard for what expertise I can offer out of this leading.
Friends, my trust has been bruised this year. I am here seeking to rebuild it and serve this purpose as best I can. But I am past a point where words can reassure me, and I have an urgent and sharp need for transparency and communication about how we address these concerns. I am happy to see some of this work already unfolding.
Canadian Young Friends Yearly Meeting received a report during our Meeting for Worship for Business on Monday evening and we have shared deeply together. I ask that Friends hold us in the Light, particularly those younger Friends who are struggling with this concern in an absence of the details they desire as they seek to make sense of it.
Thursday's Meeting for Worship held by CMMC lasted for three hours. Friends canceled other programming in order to attend, and the intensity of the Ministry offered was unrelenting. Personal stories, many raw and vulnerable, were related. Frustration and outrage were much in evidence, but also compassion and careful hope that, now that problems have been brought to light, the hurt that has been caused and the circumstances which gave rise to it can be rectified.
Despite the intensity of internal affairs, there is other news as well. On Wednesday, CYM minuted its commitment to repudiate the Doctrine of Discovery, an archaic concept which nevertheless still runs through our legal system. Details can be found over at CFSC.
https://quaker.ca/wp-content/uploads/2022/08/Quaker-dot-ca-updated.png
0
0
Sue Starr
https://quaker.ca/wp-content/uploads/2022/08/Quaker-dot-ca-updated.png
Sue Starr
2013-08-24 21:15:51
2014-08-24 13:05:49
CYM 2013 – Wednesday and Thursday