Call for submissions: The Canadian Friend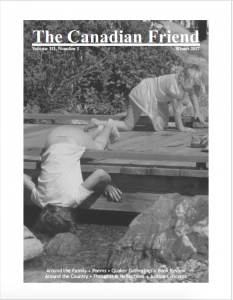 Calling all Canadian Quakers to submit artwork, articles, poetry, reflections and news for the next edition of The Canadian Friend!
The theme for our upcoming spring/summer issue is 'Faith in Action'.
What is the role for faith during the troubled times in which we are living?
Is there a special quality to activism motivated by God / a leading / love?
What does scripture / Quaker writings / Quaker experience say about taking action on social and environmental justice?
Have you had a personal experience of being spiritually moved to act on an issue or injustice?
If you are moved to submit something on this theme – or to send something entirely different – please send in your submission by June 15 to: .
If you have questions about what to submit, be inspired by The Canadian Friend back issues or contact me for details.
Camera-ready advertisements also most welcome.
Thank-you,
Reykia Fick
Editor, Quaker.ca and The Canadian Friend
https://quaker.ca/wp-content/uploads/2022/08/Quaker-dot-ca-updated.png
0
0
editor
https://quaker.ca/wp-content/uploads/2022/08/Quaker-dot-ca-updated.png
editor
2017-05-29 18:45:05
2017-05-29 18:45:05
Call for submissions: The Canadian Friend