Sacred Mountains, Sacred Work: Beyond the World Plenary
Post from Christina, February 4, 2016:
My experience at the FWCC World Plenary is one that will have lasting impacts on my life. In the past week since leaving Pisac, I have been going through a transition period in which I have just begun to process what I learnt and experienced at the plenary. This processing will continue for a long time, perhaps even popping up in contexts not seemingly directly related to the Quaker world. I look forward to this.
The last night and day of the plenary were intense with emotion and movement. This type of gathering encourages deep bonds to be formed quickly. Connections are formed that can last over continents and time; a light is ignited.
There are two last scenes from my experience of the plenary that I want to share….
~
It was Tuesday, the last full day of the plenary, and I was restless. I had been part of a beautiful small worship group in the early morning, over breakfast I had a wonderful conversation with a Kenyan Friend who works as a nurse in a rural health clinic, there had been a light-filled worship led by Friends from West African countries, a productive FWCC Business Meeting, and a Section of the Americas meeting. I had been soaking it all in all week, and this day was especially full of new information and rich learning.
I took a moment to myself to let the events of the week and this day sink in. Wandering up the mountain road behind the Royal Inca Hotel, I passed houses, steep little paths between eucalyptus trees, dogs that curiously pointed their noses in my direction.
I happened upon a grassy hill overlooking the valley where we had been meeting. I was struck by the sensation that we had been in a cradle all week. These cathedral-like mountains towered above us, at once heralds and protective shepherds. I snuggled myself into one of the nooks in the hill and lay back, letting myself sink into these sacred mountains. I felt a deep sensation of being held.
While the World Plenary had to do a lot with learning about new information, and meeting beautiful new people, it also confirmed things I already knew. It brought me closer to myself. It was an opportunity to expand outward and inward.
This sensation of being held continued…..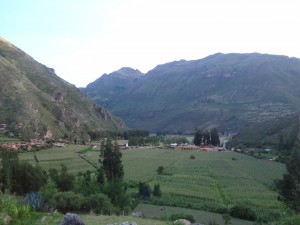 ~
Young Friends gathered on the last night of the plenary to carry on our discernment of our current needs and how to address these. Out of worship came a sense that we should form a committee (yes, a chuckle might be in order here) that would be composed of Young Friends from all of the FWCC Sections. This world committee would find out more about the challenges and needs faced by Young Friends in each Section and work to strengthen intra- and inter-Section bonds so as to address these. This committee would work for the present and future of Quakerism.
We separated into the four FWCC Sections (The America, Europe and the Middle East, Africa, Asia and the Pacific) and out of worship, named people we thought would serve well on this committee.
I was honoured to be one of the sixteen Young Friends from across the Section to be named and feel called to this work. The sixteen of us sat in a smaller circle enclosed within the larger one of more than 60 other Young Friends. We held hands and prayed. Prayed for the work we are going to do together, for all of the Young Friends who were not there with us, for the present and future of Quakerism. Friends from the enclosing circle slowly came and lay their hands on us, sharing their light, energy, hopes. I felt a deep upwelling of joy and light. I felt that same sensation of being held that I had up on that sacred mountain.
Thank you to those who were holding us in the light, to those who supported us in ways immeasurable, and those who will continue to support us in this work. I look forward to what is to come. To living the transformation. To living adventurously.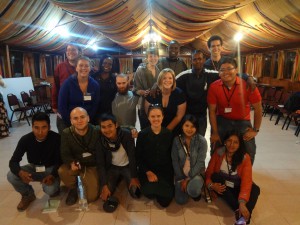 https://quaker.ca/wp-content/uploads/2022/08/Quaker-dot-ca-updated.png
0
0
Christina Tellez
https://quaker.ca/wp-content/uploads/2022/08/Quaker-dot-ca-updated.png
Christina Tellez
2016-02-04 11:30:20
2016-02-04 11:31:00
Sacred Mountains, Sacred Work: Beyond the World Plenary