REGISTRATION OPEN: Quaker Study Weekend in Ottawa: 'Palestine-Israel, Nonviolence, and F/friends'
Registration is now open for Friends wishing to attend this year's annual 'Quaker Study' session hosted by Ottawa Monthly Meeting on October 13-15. This year's workshop, 'Palestine-Israel, Nonviolence, and F/friends,' is facilitated by Maxine Kaufman-Lacusta.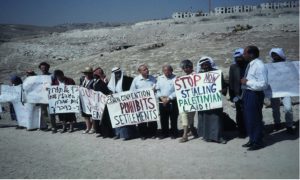 All Friends are invited to attend a weekend-long Quaker Study workshop hosted at the Ottawa Meetinghouse.
The workshop will explore historical and ongoing Palestinian nonviolent/ popular resistance, and support/ involvement by Israelis and by Quaker, Jewish, and other international organizations.
"The weekend will focus on experiences – ours and those of Palestinian, Israeli, and International activists – through film, unpublished interview excerpts, and personal sharing… and explore our own responses to the query, 'Friend, what cans't thou do?'" explains Maxine.
"I hope that F/friends will come away with a heightened sense of our power – as internationals with a commitment to nonviolence – to contribute to a just resolution in Israel-Palestine through actions in support of existing nonviolent Palestinian-led and Israeli initiatives, as we feel led."
Workshop costs are covered by Education and Outreach Committee and there will be billeting available for Friends to attend. Quaker Study is normally held at Canadian Yearly Meeting gathering and is this year being hosted by Ottawa Monthly Meeting.
Monthly Meetings and Worship Groups are asked to please share information about the workshop with members and attenders.
The deadline for registration is September 30th.
The event poster includes is a detailed workshop schedule.
Registration forms are available here. (Please include a note for the workshop organizer regarding any experience in Israel and/or Palestine, whether you've attended any of her book-related presentations (2010 – 2016) and/or have read Refusing to be Enemies.)
https://quaker.ca/wp-content/uploads/2022/08/Quaker-dot-ca-updated.png
0
0
editor
https://quaker.ca/wp-content/uploads/2022/08/Quaker-dot-ca-updated.png
editor
2017-09-08 08:20:24
2017-09-10 20:34:11
REGISTRATION OPEN: Quaker Study Weekend in Ottawa: 'Palestine-Israel, Nonviolence, and F/friends'