REGISTRATION NOW OPEN: Fall Western Half-Yearly Meeting Gathering
The 2017 Fall gathering of Western Half-Yearly Meeting will take place on Thanksgiving weekend (October 6-9) at the Shekinah Retreat Centre north of Saskatoon. We invite all Friends and friends of Friends to join us in this warm, intimate gathering.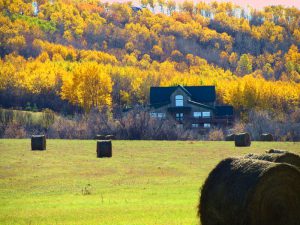 The usual items will all be included in the Half-Yearly Meeting schedule (worship-sharing groups, special interest groups, Meetings for Worship including Business Meetings, and the phenomenal Family Night sharing of talents and fun). Shekinah also offers us the chance to ride the fabulous "Flying Fox" zipline that has excited Young Friends of all ages (from about 4 to about 80) over the years.
This year's gathering will have a theme of Truth and Reconciliation, and will include the interactive Kairos Blanket Exercise on Indigenous history on Saturday evening, led by Elder Josephine Worm and Dale Dewar. Jolee Sasakamoose, an Indigenous professor at the University of Regina, will lead Meetings for Healing on both Saturday and Sunday. We particularly encourage Meetings who have been working on the Truth and Reconciliation Calls to Action to send representation so that we can discuss how to continue and deepen our work together.
Friends usually try to arrive on Friday evening (and late into the night), with activities all day Saturday and Sunday, and depart after a short closing Meeting for Worship on Thanksgiving Monday.
Saskatoon Meeting typically provides soups and breads that registrants can eat for dinner on Friday night. Meals on Saturday and Sunday (and Monday breakfast) are cooked by Shekinah staff and shared in close fellowship. Accommodations are bunk-room style (with various numbers of occupants per room) in a lodge, or alternatively there are campsites available. Pillows, linens, sleeping bags/blankets, and towels are not provided.
Driving directions are available here; it may be possible to arrange rides or shared transportation.
We hope that you will join us in Shekinah for Thanksgiving 2017!
In Friendship,
Joy Morris (Clerk)
Registration Information
Please be aware that WHYM's bank account is almost dry. We encourage Friends to approach their meetings for assistance in attending the gathering at Shekinah. We have also added a donation line to the registration form. If you are able to give more, it will help us with the subsidy we are providing for Young Friends to attend.
Note that if you are camping, you will also need to pay the day registration rate.
All children under 4 will not be charged for registration or accommodation.
We greatly encourage meetings to print and share the info and pdf registration with Friends who are not online. Please enable these forms to be scanned and emailed or Beth is happy to fill out forms for folks over the phone (306-540-2384). Forms can also be mailed to Beth at Box 909 Wynyard SK S0A 4T0.
Link to Registration Form (excel)
Link to Registration Form for Printing (pdf)
https://quaker.ca/wp-content/uploads/2022/08/Quaker-dot-ca-updated.png
0
0
editor
https://quaker.ca/wp-content/uploads/2022/08/Quaker-dot-ca-updated.png
editor
2017-08-17 10:38:34
2017-09-15 09:59:55
REGISTRATION NOW OPEN: Fall Western Half-Yearly Meeting Gathering