Canadian Yearly Meeting Online Courses: 'Quaker Faith and Practice' & 'Introduction to Quakers and Friends' Ways'
Canadian Yearly Meeting Education & Outreach Committee Announces its Online Courses for Fall 2017 and Spring 2018: 'Quaker Faith and Practice' and 'Introduction to Quakers and Friends' Ways.'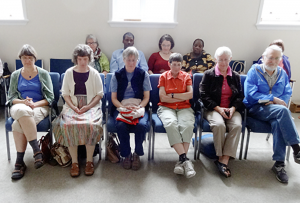 Facilitator(s): David Summerhays (Montreal Monthly Meeting) and potentially a new facilitator* if registrations warrant!
Friends across Canada are invited to participate in online courses that will begin September 2017 and January 2018. Both courses are tentatively scheduled to take place in September and January, but are dependent upon interest (registrations) and the availability of instructors. Registrants are asked to choose their ideal dates and course(s) of preference when registering, which will assist Education and Outreach Committee with scheduling the courses.
Introduction to Quakers and Friend's Ways
The course will address the early history of Friends, the history of Friends in Canada, the experiential nature of Quaker faith, the role of the Meeting in Quaker life, Quaker testimonies and their origin, and how our Quaker community nurtures how we live, work, worship, and transact business. This course was previously offered in 2012, 2015, 2016 and 2017.
Although created to meet the needs of more recent attenders seeking to learn more about Quakerism, we believe that even longstanding members could benefit from this course. We welcome inquiries from anyone who would like to learn more about Quaker ways, with priority given to Canadian Yearly Meeting Members and Attenders.
Quaker Faith and Practice
This course explores the experiential understanding of Quaker faith and practice, as presented in the foundational book Faith and Practice of the Canadian Yearly Meeting of the Religious Society of Friends, first published in 2011.
David Summerhays of Montreal Monthly Meeting, adapted the original course into an online course in collaboration with the authors. The course was originally prepared by Marjory Reitsma-Street, with assistance of Gale Wills and Catherine Novak, all Friends living in Victoria, B.C.
Marjory and Gale have doctorates from the University of Toronto, and are retired Professors in Social Work. Gale has served as clerk in local and national Quaker committees, while Marjory has concentrated on music and other service close to home. Catherine recently completed a Masters in Interdisciplinary Studies, works in digital marketing and communications (in addition to being a mother), and is currently serving on the Canadian Yearly Meeting Publications and Communications Committee.
The 'how' of online courses
Participants will meet once a week for six weeks using either video conferencing or audio conferencing technology. If you are unfamiliar with conferencing technology, don't worry, the facilitator and the Education and Outreach Committee are committed to making participation in the course as easy as possible for everyone.
Participants will be asked to do a short reading before each of the sessions. These readings can be viewed anytime at the Quaker.ca Education Page under 'Introduction to Quaker and Friends' Ways' and 'Quaker Faith and Practice'. The course will include worship, active exercises, reflections from readings, and the application to one's own life of what is learned.
How to Sign Up
The course is free of charge. To indicate your interest: please click here to register. The registration process (including a availability poll) will assist us with determining the course times.
CYM warmly welcomes any donations you are able to give. Canadian Yearly Meeting, 91A Fourth Ave, Ottawa ON K1S 2L1. To donate by credit card, call the CYM office at 1-888-296-3222.
What previous course participants are saying about the online course experience
The course "was very meaningful to me. I have been circling the Quakers for a few years now and it helped me decide that it's right for me."
"The real thing that made this course meaningful was the connection I made with other friends."
"I had an opportunity to communicate with Friends I did not know and that was worthwhile. A younger Friend seemed to appreciate my knowledge."
"As someone who is new to Quakerism, I found the outline very informative. I appreciated the conversation with others, as it prompted a wider perspective of the topic under discussion and also allowed me to see some of the variety of the Quaker culture beyond the meeting I have been attending. My meeting was interested in my experience of the course."
"The big Ah-Ha's for me were around understanding what waiting in the light means for me, and what that sense of being connected to God means for me."
"I encountered different ways of thinking about what was discussed that lead to different possible answers."
What previous course participants are saying about our current facilitator
"I think David has a real gift. He started and ended on time. He was able to move us along, without me feeling hurried. He asked open-ended questions, which moved the discussion to the most interesting places."
"He kept the flow going without impeding discussion. David was also very conscious of assisting those having technical/language difficulties."
"He has a welcoming and non-threatening approach and was very clear that he thought of himself as a participant eager to learn as much as everyone else from the experience."
"David did a great job making the space safe and promoting discussion. I didn't feel overly academic which was just fine by me."
*E&O is currently seeking and reviewing applications for people interested in facilitating these already well-seasoned courses. Interested persons are welcome to send a cover letter and resume to with the title "E&O Online Course Contractor" in the subject line.
https://quaker.ca/wp-content/uploads/2022/08/Quaker-dot-ca-updated.png
0
0
editor
https://quaker.ca/wp-content/uploads/2022/08/Quaker-dot-ca-updated.png
editor
2017-09-11 07:58:05
2020-11-25 22:09:00
Canadian Yearly Meeting Online Courses: 'Quaker Faith and Practice' & 'Introduction to Quakers and Friends' Ways'