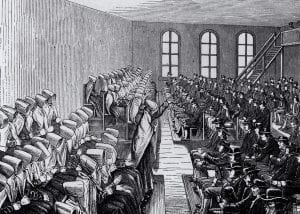 Canadian Young Friends Yearly Meeting (CYFYM) is an independent body of Young Friends whose role is to serve the Young Friends community in Canada and to represent them to other Quaker bodies, including Canadian Yearly Meeting.

In the first half of the 20th century, there were three Yearly Meetings in Canada who were meeting separately due to doctrinal splits. The roots of CYFYM began in 1928, during the the first joint meeting of Canada Yearly Meeting (Orthodox) and Genesee Yearly Meeting.
After meeting together in person, the Young Friends at that meeting decided to create their own unified body, and in five years time had also officially included Young Friends from Canada Yearly Meeting (Conservative).
CYFYM, the Canadian Friends Service Committee (CFSC), and Camp NeeKauNis (run by CFSC and CYFYM) were the only "unified" organizations at that time, and were instrumental in unifying the three yearly meetings in 1955.
Since then, CYFYM has continued as a body with varying levels of activity and energy. It has organized youth retreats, pushed for change within Canadian Yearly Meeting, and has been a "training ground" for many who have taken leadership roles among Friends.