The 2019 Fall gathering of Western Half-Yearly Meeting will take place on Thanksgiving weekend (October 11-14) at Camp Shekinah north of Saskatoon, Saskatchewan.
We invite all Friends and friends of Friends to join us in this warm, intimate gathering. Please note the registration deadline of September 18!
Practical Details
Driving directions and much more information on programming, accomodation, meals, and cost are available in the pdf information file:
Infopack on Fall Western Half Yearly Meeting (PDF) – right-click or command-click to save to your computer.
Meanwhile, here are a few info highlights:
The usual items will all be included in the Half-Yearly Meeting schedule – worship-sharing groups, special interest groups, Meetings for Worship including business Meetings, and the phenomenal Family Night sharing of talents and fun). At Shekinah, we also have the opportunity to ride the Flying Fox zipline one afternoon – fun for all ages!
The theme for the Saturday evening gathering and the weekend are still being discerned. More information will be provided as this is finalized.
The site opens at 4 p.m. on Friday, and Friends usually try to arrive on Friday late afternoon or evening (and late into the night), with activities all day Saturday and Sunday, and depart after a short closing Meeting for Worship on Thanksgiving Monday.
Accommodations are bunk-room style (with various numbers of occupants per room) in a lodge, or alternatively there are camp sites for tents. Pillows, linens, sleeping bags/blankets, and towels are not provided; bring your own, or ask someone local to bring some for you.
The meals do not include snacks or a Friday evening meal; participants who can do so easily are asked to bring snacks to share, and those who are able are asked to help with a pot-luck meal for Friday evening.
Again, for more details, look at the Infopack on Fall Western Half Yearly Meeting. Feel free to contact registrar Elizabeth Curry () with any questions.
Cost & Registration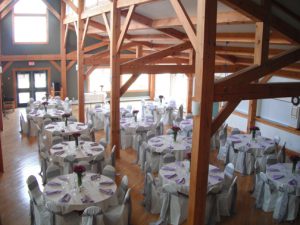 Site/accommodation fees are $300/adult for the entire weekend; this covers all meals. (Most dietary needs can be accommodated if advance notification is given).
Fees are collected on-site, but please fill out the registration form and send it to Registrar Elizabeth Curry at as soon as you can, or by the deadline of September 18 at the latest. This enables us to plan appropriately and to provide the site with the advance notice they require.
Registration Forms:
Fall 2019 WHYM Registration Form (EXCEL) – Use this to register purely electronically. Filling in each category should auto-populate the costs.
Fall 2019 WHYM Registration Form (PDF for printing) – If needed, print and fill out this version. You may need to right-click (Microsoft) or command-click (Mac) to save these files to your computer first.
Please send your completed registration form to Registrar Elizabeth Curry at .
We hope that you will join us at Camp Shekinah for Thanksgiving 2019!
https://quaker.ca/wp-content/uploads/2020/11/Shekinah-Zipline.jpg
425
640
editor
https://quaker.ca/wp-content/uploads/2022/08/Quaker-dot-ca-updated.png
editor
2019-09-05 13:04:58
2020-11-19 21:50:08
Come to Western Half-Yearly Meeting (October 11-14)