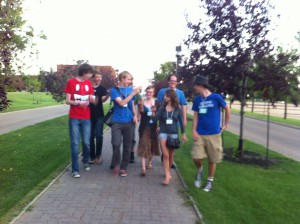 August 17th 2012
CYM Young Friends Epistle,
            This year has been a fun and exciting one for Quaker youth here at CYM in Camrose, Alberta. Much fun was had by all thanks to our Youth Secretary; Katrina McQuail, as well as many other hard working young friends. Throughout the week, young adult friends attended Special Interest Groups and meetings. Thanks to their efforts, the upcoming years will be filled with many new faces and opportunities.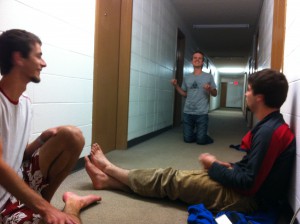 The week started late Friday evening when many exhausted friends arrived dreary from their trips. After making some first-time acquaintances over card games, young friends pitched their tents, made their beds, and fell into a well-earned sleep. The following morning all the young friends met officially for the first time and got to know each other better. We then explored Camrose and its respective 7-11's and Dairy Queen's. Later in the day we got to know each other's wild sides with some ice breaking card games. Sunday began with meeting for worship and ended curled up under the stars, telling jokes and watching the meteors fall from the sky.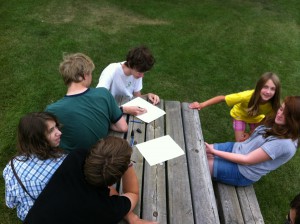 This year the young friends community was smaller than usual but because of this our relationships were also stronger and more intimate. Monday entailed more board games, which were becoming a reoccurring theme in our week. Later we had our first young friends business meeting. We discussed the exciting prospect of the Youth Challenge, an initiative to send as many as fifty youth to the 2013 Canadian Yearly Meeting.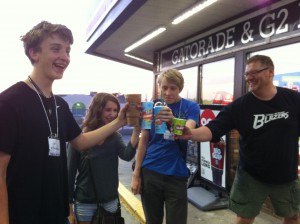 Tuesday commenced with a talk on relationships and sexuality from Bill and Dale, which provided us a new outlook on human relationships and responsibilities. Yet more board games were played to keep spirits high through an unusual Alberta rain. Quaker Trading Cards started appearing on Wednesday, cards created by the younger friends to raise money for CFSC. Much fun was had as cards were sold and swapped. After lunch many of the young friends made their way down to the local pool, where hours were spent sliding, and splashing through the waves. We capped off the day with a walk to Subway, and yet more games.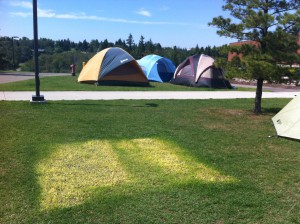 Thursday, exhausted from a week of fun we indulged in a morning of sleep, followed by a nature walk guided by Vince Zelazny. After a brief rest we toured a local Youth Center, "The Open Door", which proved to be very eye-opening. The day ended with young friends gathered, sharing stories and playing games, and much later, typing the dreaded epistle. In the half-asleep words of a young friend; Friday is half an hour young, Saturday is yet to come, and there's no Sunday – nope, nope, nope!
CYM Young Friends, 2012
Jane Ackerman, Shaun Bartoo, Ben Von Schulmann
https://quaker.ca/wp-content/uploads/2022/08/Quaker-dot-ca-updated.png
0
0
https://quaker.ca/wp-content/uploads/2022/08/Quaker-dot-ca-updated.png
2012-10-10 16:20:52
2012-10-10 16:20:52
Canadian Yearly Meeting 2012 in Camrose