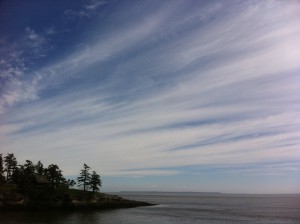 One week into the Youth Secretary position, I had the privilege of attending Western Half Yearly Meeting in Sorrento, BC. Before hand I spent a day visiting some Young Adult Friends (YAFs) who were not going to be there, out on Mayne Island and in Vancouver. It was a fabulous opportunity to see some YAFs on the West Coast and experience just how frustrating it must be for many Friends to get from where they are living to where there are other Friends or Meetings; though as someone who doesn't get to go on many ferry rides, I found them quite soothing if a bit constraining.
My drive up to Sorrento with 3 Friends from Vancouver Monthly Meeting was full of good conversation and insights as we drove further and further up into the mountains. I love hearing about how different Meetings function and what activities they do which make them unique. The Strawberry Social that Vancouver Monthly Meeting holds sounds super engaging and fun!
WHYM provided me with the great opportunity to meet with a number of Young Friends, YAFs and Friends of all ages, with whom I had engaging conversation about ideas and hopes for what the position of Youth Secretary might provide to Canadian Yearly Meeting and Quakers across Canada.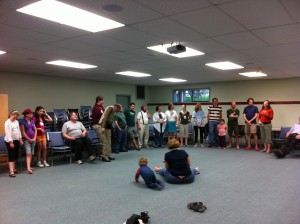 Introductions were done by family groups, which gave me a better understanding of the connections and relationships within the community. It was also remarkable the number of children 5 and under! I loved listening to the sounds of them finding joy together in the centre of our worship. I think I am better able to understand the need for "critical mass" gatherings of Friends. So many of us are isolated Friends in one way or another, even if we are geographically near other Quakers.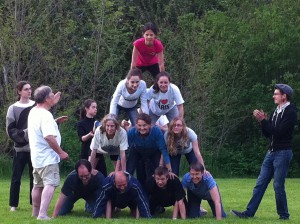 I hadn't initially understood why it was so important that Western Half Yearly be held over a long weekend, but as I met people and discovered the distances that they traveled to get there, it made much more sense. Western Half Yearly Meeting serves such a large geographical distance that it wouldn't be realistic to expect people to come if it were only a day or overnight gathering.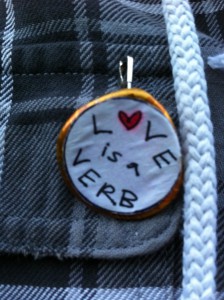 I was especially taken with one YAF's button "Love is a Verb". I think it is vitally important to Quakers as we live our Faith that we not forget the action part. I am interested in how I can do this more in my own life.
Western Half Yearly Meeting was full of many inter-generational activities. Balancing is a huge part of the Gathering, and for those of you interested in making balancing a part of your gatherings, please check out the Resources for Meetings page where I have posted the Stevenson's guide to Balancing.
Young Friend activities included doing a work project at the Sorrento Centre's farm. It is becoming an annual event where the Quaker's help them plant over 500 tomato plants each spring! There was also a bonfire down at the beach with marshmallows and hotdogs which was great fun despite the sprinklings of rain. And the family night had fabulous intergenerational participation and tons of talent! I hope to post some recordings of these talented presentations soon!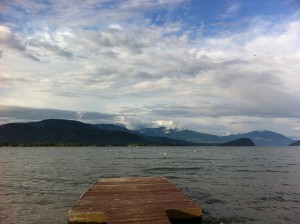 https://quaker.ca/wp-content/uploads/2022/08/Quaker-dot-ca-updated.png
0
0
https://quaker.ca/wp-content/uploads/2022/08/Quaker-dot-ca-updated.png
2011-06-10 14:16:51
2015-09-26 15:49:07
Western Half Yearly Meeting, Spring 2011