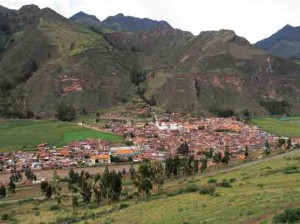 On behalf of Christina Tellez and myself, Steve Fick, I would like to invite Canadian Friends to join us at the FWCC World Plenary in Pisac, Peru, by way of our blog on the CYM website, which can be found here FWCC World Plenary.
The conference runs from January 19 to 27 and will take place in the beautiful Sacred Valley, running from Pisac toward Machu Picchu.
This gathering is similar to the World Conference that happened in Kenya in 2012, except that it is smaller and most of the participants are representatives of their respective home bodies, with fewer open spaces. Friends Peru and Bolivia are hosting Quakers from around the world, from all the various Quaker traditions, who have again come together to build connections of love and understanding, and celebrate our diversity.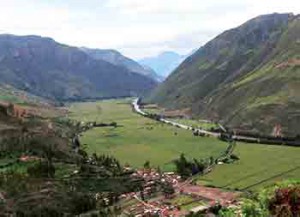 The first image below is a view of Pisac from the road that winds down into the valley from Cusco, the ancient Inca capital and the connecting point for most visitors to the area. The second image is looking north through the Sacred Valley.
Please hold Christine and me in the Light as we prepare ourselves for the conference. And visit our blog here on the CYM website at FWCC World Plenary.