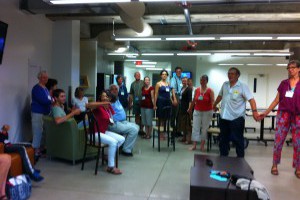 Canadian Yearly Meeting is a gathering once a year for all Canadian Quakers. Its Business Meetings are the main decision-making body of Quakers in Canada.
There's also lots of time for fun and games, and sessions focusing on spiritual development, social justice, and Quaker history.
In 2018, Yearly Meeting will be held August 3-11, at Georgian College, in Barrie, ON.  Stay tuned for schedule and registration details.
If you love working with kids, consider volunteering as a Child and Youth Program Leader or Co-ordinator.